Are Climate Scientists Ready for Trump?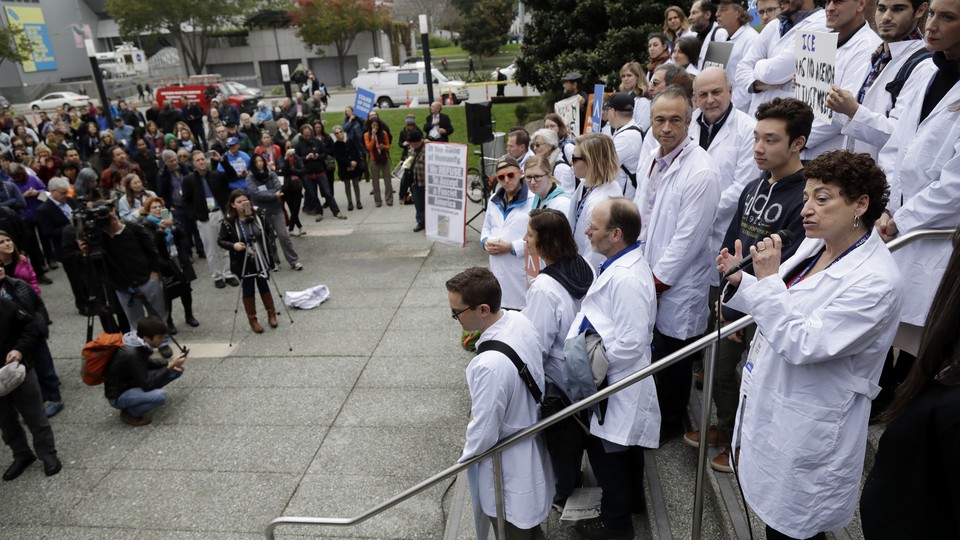 SAN FRANCISCO—How should climate scientists react to a president-elect who calls global warming a "hoax?" How much should they prepare for his administration? And should they ready themselves for the worst?
These questions loomed over the fall conference of the American Geophysical Union (AGU) this month, the largest annual gathering of Earth scientists in the world. How the scientific profession chooses to answer them may decide whether the United States can summon the political will necessary to finally vanquish climate-change denialism—or whether it will continue to muddle through on the issue, not really attending to it, as it has for the past three decades.
The meeting revealed a quasi-generational split. Many scientists continue to act like aloof and methodical professionals. They want to provide sound data and quietly advocate for good policies. When the profession is threatened, they will advocate for funding, but they will also respond to Trump like academic actuaries, sighing deeply and then getting on with their work.
Another group recognizes that a key fact of modern scientific understanding—that the Earth's climate is warming, thanks to the industrial burning of fossil fuels—has unfortunately become a central political issue of the era. They see it as their duty to correct the record, and they will respond to attacks on scientific fact as activists would: by organizing protests, educating the public, and shaming their local governments and national representatives into action.
At the conference, it wasn't clear which camp was coming out on top.
* * *
Each December, more than 20,000 scientists who study the Earth system—seismologists, geochemists, climatologists—assemble for the AGU fall meeting in San Francisco's Moscone Center, a set of three cavernous convention centers in the city's financial district.
It is an incredible sight. Researchers in flannel and marmot fleece spill out of auditoriums, meeting rooms, and nearby Starbucks shops. They fill a hall as large as a city block with dozens of rows of poster presentations. They talk about invigorating questions in science—seemingly basic queries like how the moon formed and whether global warming makes Western wildfires more likely.
This year, too, they talked about politics. On the first day of the conference, a set of climate scientists talked to a packed room about how best to communicate the reality of global warming. Naomi Oreskes, a historian of science at Harvard University and the co-author of Merchants of Doubt, urged researchers to keep their public messaging on the issue simple.
"For us as scientists, simple feels simplistic. This leaves people confused, and it leaves the door open for climate-change denial," she said. The solution was for researchers to just get over their fear of telling simple, emotional stories.
"Communicating science is not the same as doing science," she said. The standing-room-only crowd nodded along.
The next day of the conference saw a less docile gathering. At noon on Tuesday, climate-activism groups held a protest to assert the reality of climate change and "stand up for science." The rally was well advertised, and it was easy to get to, held at noontime only two blocks from the convention hall.
It was a frightening time for climate scientists. The Trump transition team had recently sent a lengthy questionnaire to members of the Department of Energy's civil service. The team sought the specific names of employees who studied climate issues for the government or who had accompanied Obama-era political appointees on trips to international climate meetings. The survey suggested that the new administration would fire scientists just for doing their job. The protest was an easy way to register their discontent.
The rally's "stage" was impressive. Scientists in white lab coats stood on steps of a Catholic church and held signs saying "PROTECT OUR COMMUNITIES, STAND UP FOR SCIENCE," and "ICE HAS NO AGENDA—IT JUST MELTS." Organizers had lined up an impressive set of speakers. Yet when the rally began, only a couple hundred people stood in the square.
"The bottom line is, we don't want to be here. None of us want to be here. We want to be in our labs, we want to be in the field, we want to be with our students," said Oreskes to the crowd from the rally stage.
"But we are at a moment in time, a moment in history, where we have to do something else as well. And that's stand up and be counted," she added.
Eventually, more scientists arrived from the hall, and the crowd grew to about 500. Organizers and protesters seemed pleased with the attendance.
But Kim Cobb, a professor of Earth sciences at Georgia Tech, told the audience that it was not enough.
"How many thousands of our peers are still in the poster halls and lunches with their buddies, or prepping talks in their hotel rooms?" she asked the crowd. "What is the nightmare scenario that will get you out of your hotel rooms? What will have to happen, folks? Because it's happening. It's time. It's past time. Please join us."
Later in the week, the Trump team would rescind the Department of Energy survey, calling it the mistake of a single employee. The integrity of federal science had won out, for now.
But the "stand up for science" rally was an easy way for those 20,000 conference attendees to express their dissatisfaction with the new regime's anti-science policies—a straightforward way to assert their political relevance during lunch. Thousands of people might have showed up, and they didn't. To be fair, there were also sessions ongoing at the conference at the time, including one on "the shifting landscape for science" under the Trump administration.
But when given the choice about whether to do their work, or whether to assert their political relevance in an easy way, thousands of researchers voted with their feet.
The 2016 meeting of the AGU was not supposed to feel like this. Back in October, its schedule had seemed upbeat. In addition to the usual seminars on earthquakes and atmospheric chemistry, there was a new slate of sessions that focused on how researchers could help improve the Paris Agreement. Events focused on "the path forward from Paris" and "shifting the energy mix in a post-Paris world."
Government science, too, seemed comfortable in its new era. President Barack Obama promised in his first inaugural address to "restore science to its rightful place," and he had successfully brought a generation of scientists, researchers, and policymakers into the federal government. With this team, Obama's administration crafted the Clean Power Plan, a set of domestic protections limiting carbon-dioxide emissions from the power sector. The Environmental Protection Agency strengthened processes limiting air and water pollution that had become sclerotic during the Bush administration.
And while the battle over outright climate-change denialism hadn't been won, it seemed possible that many Republicans, smarting over Donald Trump's shambolic presidential campaign, would finally drop the bizarre claim that the planet wasn't warming. Some of the party's members had already recognized the crisis. It even seemed plausible to hope that, by 2020, climate scientists could occupy a public role similar to the one held by seismologists or atomic scientists: respected arbiters of fact, sensible advisors of public policy.
Then Trump won.
The AGU scheduled emergency sessions that crowded out the post-Paris plenaries. Climate activists passed out fliers in front of the convention hall. And you could sense an entire slumbering ecosystem of scientific resistance rousing itself back to life.
It didn't always feel like a conference at war. In most quarters, it even felt normal. As Buzzfeed's Peter Aldhous writes, researchers young and old still compared notes over coffee, asked probing questions on the poster floor, and greeted old friends over beers at 3:30 p.m. (an AGU tradition).
But in private, many scientists fretted about what was to come. One morning, I asked a long-time EPA civil servant about the mood at the agency. (He asked not to be named out of fears about his job.)
"Have you ever seen the movie Titanic?" he replied. "There's a scene where, right after the ship hits the iceberg, everyone is just standing on the deck saying, 'Well, what the hell just happened?' They had no idea about what was coming for them. That's how it feels right now at EPA."
* * *
Climate science does, in fact, have a fairly robust professional lobbying infrastructure. Much of it was built to respond to the allegations that the Bush administration censored or tampered with federal science during the mid-2000s. The Union of Concerned Scientists helps federal scientists decide whether to blow the whistle on similar activity. (Many federal agencies now have internal scientific integrity policies, in response to the same allegations.) And thanks to more recent legal attacks on individual researchers, there is now a Climate Science Legal Defense Fund.
There is also an entire architecture of climate-action protest groups, like 350.org and the Sierra Club, some of which congealed around the People's Climate March in September 2014.
These two arms give the climate-change crowd an impressively deep bench. The climate movement already has a policy arm, a research arm, and an activist arm. With most climate scientists onboard, it could gain an even more impressive constituency. Climate scientists live in every state, in urban areas and rural areas, on the East and in the West. They are also often connected to locally respected institutions in their community.
The profession of climate science has already activated itself. It wasn't clear if individual climate scientists all realized they had a role to play too, beyond their research.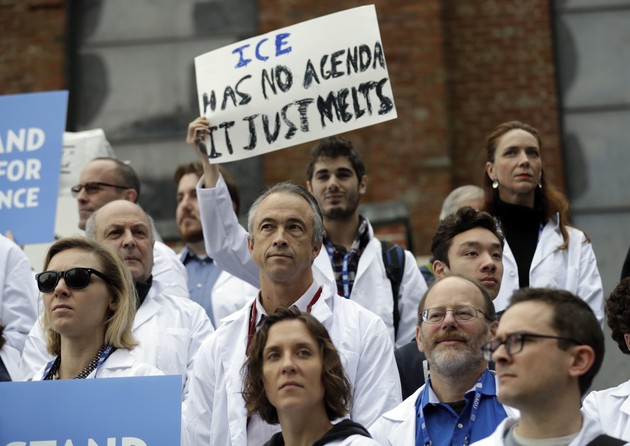 In part, this is because leaders argue that they need to wait to see what the administration does before organizing a resistance. "When the data come, when we have the evidence, when there is a line at which decisions have to be made, there may be fights that have to happen," said Thomas Zurbuchen, the head of NASA's space scientific mission, at a Monday session, according to Buzzfeed. He said that worried attendees should "behave like scientists" and wait to see what the administration does before opposing it.
Some had begun pre-emptive education. On Thursday, in the basement of a nearby Marriott, a set of policy leaders held a pre-emptive session meant to help federal scientists, like that EPA worker, carry on in the years to come. They counseled federal scientists on how they could continue their work even if the new administration was hostile to them.
The leaders said encouraging words, and they educated scientists about the support structures that were already in place. But they also don't know what's coming—because, frankly, no one does. It wasn't clear whether the Trump administration would attempt to discreetly tamper with government reports—or whether it would try worse.
"This is different from the Bush administration," said Andrew Rosenberg, the director of the Center for Science and Democracy, a nonpartisan advocacy group connected to the Union of Concerned Scientists. "You have people in place in the transition who are openly hostile, and have spent in some cases significant parts of their career, attacking the agencies they are now involved with. Attacking scientists directly for the work that they do. That's different."
Gretchen Goldman, the research director at the Center for Science and Democracy, added that the profession was now much more organized than it had been 15 years prior. Scientific professional organizations like AGU now consider it their role to take stands on non-partisan scientific issues.
"We're already mobilized. I think we are in a much better place," she said.
But some audience members believed the scientific agencies should take a more politically forthright role, and work closer with climate and environmental-justice groups.
"We as scientists have to become comfortable saying how we feel, even if it sounds political," said Jane Zelikova, an ecologist and a research fellow with the American Association for the Advancement of Science. "And we need an organization like the Union of Concerned Scientists to be less risk-averse, and yell louder, and be political."
Zelikova is also a member of 500 Women Scientists, a grassroots organization of female scientists who support a more inclusive scientific community and who oppose the "anti-knowledge and anti-science" tenets of the new administration. Though they were founded after the election, they now have 11,000 members.
Others agreed with her. "Activism gets a bad name," said Kathy Dervin, a board member at the U.S. Climate and Health Alliance. "It's a public service for us to do science."
She argued that scientific institutions could work more closely with health organizations, since public health agencies are highly trusted and often extensively use climate research. "The health sector has not been very active yet on climate change," she told me.
After the event ended, Goldman told me that this year's AGU had a different tone than previous years.
"Every year, [AGU] happens, and there's a million sessions, and there's a tiny corner for policy topics. We come and do our thing, but it's sort of just a side conversation," she said. "This year is entirely different. There's been, all week, conversations about policy and scientific integrity. Every keynote has touched on it. People come up and thank us for what we do. All of a sudden, I think people are seeing the value of engagement in a new light."
Other organizations working in the policy arm reported a similar uptick. Over the week, the Climate Science Legal Defense Fund held free one-on-one conferences with worried researchers. Lauren Kurtz, the fund's executive director, said that every block on her schedule was filled with researchers wanting to meet.
When researchers are concerned about new tactics from the Trump administration, they are concerned about people like Chris Horner and David Schnare. Both are members of the Trump transition team, and both have spent years suing individual climate scientists or trying to gain access to reseachers's emails through lawsuits. Schnare has also appeared on the conspiracy-theorist internet TV program Infowars.
* * *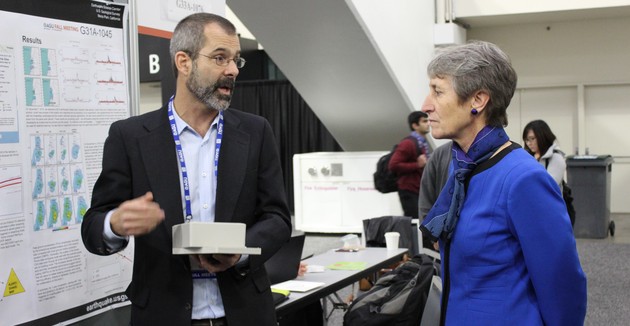 There wasn't only talk of politics at AGU; actual politicians were there too. On Wednesday, two different high-ranking Democratic leaders spoke at AGU, and both implored scientists to engage in public conversations about the science.
Sally Jewell, the U.S. Secretary of the Interior and the former CEO of REI, toured the poster hall on Wednesday morning and talked to federal scientists.
One display focused on the environmental costs of introducing a fracking well to public land. The scientist seemed hesitant to state the externality costs of fracking straightforwardly, instead preferring to describe it in terms of as competing priorities.
Jewell asked the scientist to frame her work in monetary terms and not scientific ones. "I think that for scientists like yourself, as we go into the next administration, making the business case will be important," she said. "How does this [fracking well] affect how many people decide to stay in hotels?"
Later that day, speaking to thousands of AGU attendees, she beseeched them to communicate their work clearly and confidently to the public. She also emphasized the importance of the federal scientific integrity policies that the Obama administration had put in place.
"The scientist's natural inclination is to be a bit introverted and focused on your work," she said. "Public investment in your work is critical but you must make that case. I am optimistic about the future—I am optimistic you will make a case for your work."
As CEO of REI, she said, she always tried to remember that with Congress and other policymakers, "if you're not at the table, you're on the menu."
"Instead of talking about the green of conservation, let's talk about the green of money," she added.
The scientists gave her a standing ovation. But the voice that stood out was that of Governor Jerry Brown of California, who stopped by for a last-minute speech on Wednesday morning. In his barnstormer of an address, which made national headlines, he asked young climate scientists to remain in the field.
"One of the vices in the spiritual life is called tepidity," he said. "We've had a lot of tepid climate fighters, people who are not really telling the full truth. But there is a paradoxical benefit when someone takes to an absurd length a completely erroneous position. That so unmasks the error that it allows everyone else to refute it."
He continued. "I'm not discouraged. I can't think of anywhere else to be than in climate science today. Fights are fun. And this fight is big. And it's gonna be attractive, and it's gonna take a lot of smart people."
How, exactly, those smart people should fight remained an open question. But climate scientists could learn from Brown's happy-warrior talk. Climate science can seem like a dire, dour science—the Earth really is warming, and the consequences of it really will be bad—but they also research an ecstatic and incredible subject. They study the whole planet! What an incredible privilege. Climate denialists are on the wrong side of scientific consensus, and they have been for 20 years. Scientists should feel happy to call them on their BS.
In that light, I suspect that the more activist scientists are right. If they so chose, climate scientists could become an incredibly powerful constituency. The climate-change movement has a well-distributed expert network already—if those experts so choose. Nothing stops climate scientists from talking to local churches or high schools nearby them, from sharing the story of climate science in a straightforward and non-condescending way. Nothing stops them from organizing protests. Nothing stops them for calling for local policies to mitigate catastrophic climate change.
Many climate scientists want to go about their lives focusing intently on their work and getting the research done. It is a laudable and pleasant dream. The problem is, climate denialists know that, in this fallen world, it really is just a dream—and they will exploit it until climate scientists engage.