What President Trump Will Mean for Earth's Climate
He could prove cataclysmic.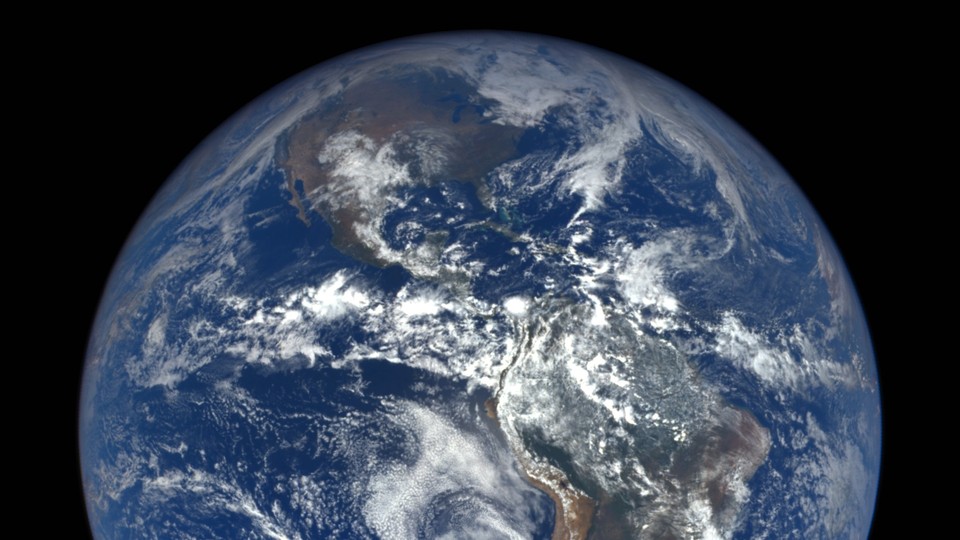 If he fulfills his campaign promises, President-Elect Donald J. Trump and his future administration could prove cataclysmic for the planet's climate.
Trump's policies will likely ensure that the global mean temperature rises higher than 1.5 degrees Celsius. While that may seem like a small amount of warming, it would have devastating effects on a planetary scale, pushing weather patterns far outside what human civilization has previously experienced and ensuring mass extinctions.
How could one president have so massive an effect?
First, because Trump said he would withdraw the United States from the Paris Agreement, the first international treaty to mitigate global warming. This could shatter the international consensus on reducing greenhouse-gas emissions, similar to how the second Bush administration's withdrawal from the Kyoto Protocol effectively ended that treaty's functional life within the United States. It could enable other countries to abandon their commitments and emit greenhouse gases at much higher rates.
"China, Europe, Brazil, India and other countries will continue to move ahead with the climate commitments they made under Paris no matter what the next president does, because these commitments are in their own national interest," said Alden Meyer, the director of policy and strategy at the Union of Concerned Scientists, in an email.
While the Paris Agreement became international law this week—making it technically impossible for a president to withdraw before 2019 or 2020—Trump could simply refuse to recognize the agreement's obligations, the vast majority of which are non-binding. Trump also said, late in the campaign, that he would cut off American support for UN climate science.
Second, Trump will almost certainly terminate President Obama's Clean Power Plan, a set of EPA regulations meant to reduce emissions from the power sector. Lux Research, a global energy consulting group, estimated before the election that Trump's policies would lead to the emission of an additional 3.4 billion tons of carbon dioxide into the atmosphere, as compared to Clinton's.
These two factors alone could push the world over the edge. The Intergovernmental Panel on Climate Change estimated that the planet could only stand another five years of emissions at current rates before it would become impossible to keep the global mean temperature from rising 1.5 degrees Celsius. If emissions increased under a Trump administration, as Lux projects, then the world could overshoot that carbon budget well before 2021.
Trump appears to doubt the existence of climate change itself. Though he later denied saying it, Trump tweeted before the campaign began that climate change was a hoax invented by the Chinese government to depress American industry.
"The Paris Agreement was signed and ratified not by a President, but by the United States itself. As a matter of international law, and as a matter of human survival, the nations of the world can, must, and will hold the United States to its climate commitments," said Carroll Muffett, the president and CEO of the Center for International Climate Law.
"Donald Trump now has the unflattering distinction of being the only head of state in the entire world to reject the scientific consensus that mankind is driving climate change," said Michael Brune, the executive director of the Sierra Club, in a statement. "No matter what happens, Donald Trump can't change the fact that wind and solar energy are rapidly becoming more affordable and accessible than dirty fossil fuels. With both the market and grassroots environmental advocacy moving us toward clean energy, there is still a strong path forward for reducing climate pollution even under a Trump presidency."
Indeed, Brune's statement hints at the next steps for climate activists. The Sierra Club has successfully retired more than 190 coal plants since 2003, leading a campaign that has relied more on local activism than federal support. Even if Trump seeks to expand the construction of coal-burning plants, those campaigns will likely continue.
Activists are also likely to seek the creation of emissions-restriction plans in individual states. While Washington defeated a carbon-tax referendum last night, that measure was opposed by the state's left. Other state efforts at mitigating climate change have found more success. Earlier this year, California passed a series of state laws that will dramatically alter that state's energy profile, granting its state agency the freedom to cut emissions by 40 percent by 2030. It seems likely that environmental leaders will seek similar measures in other states.
As Brune mentioned, wind energy and solar energy are also increasingly price-competitive with fossil fuels, especially in the sunny southwest and on the coast. If the United States embarks on the major round of new infrastructure construction that Trump has promised, then it would make economic sense for the country to build huge new wind and solar power plants.
"While there are divisions between the Democrats and Republicans on climate policy, there is bipartisan support for investments in clean energy and climate resilience.  The infrastructure initiatives that both Trump and Clinton put forward during the campaign present the opportunity to address both of these needs," said Meyer.
Indeed, a recent Pew poll found that 89 percent of Americans approve of expanding solar power. Eighty-three percent want to expand wind farms. Constructing renewable-energy infrastructure across the country would increase U.S. manufacturing's skill at building new solar and wind technologies, help reduce the cost of electricity for ratepayers, and entrench support for clean power among both parties.
Whether Trump, Paul Ryan, and Mitch McConnell sign on to such a plan, though, may be another story.