What a Legless Mouse Tells Us About Snake Evolution
Engineering animals with CRISPR can help biologists to understand the genes behind some of evolution's most dramatic changes.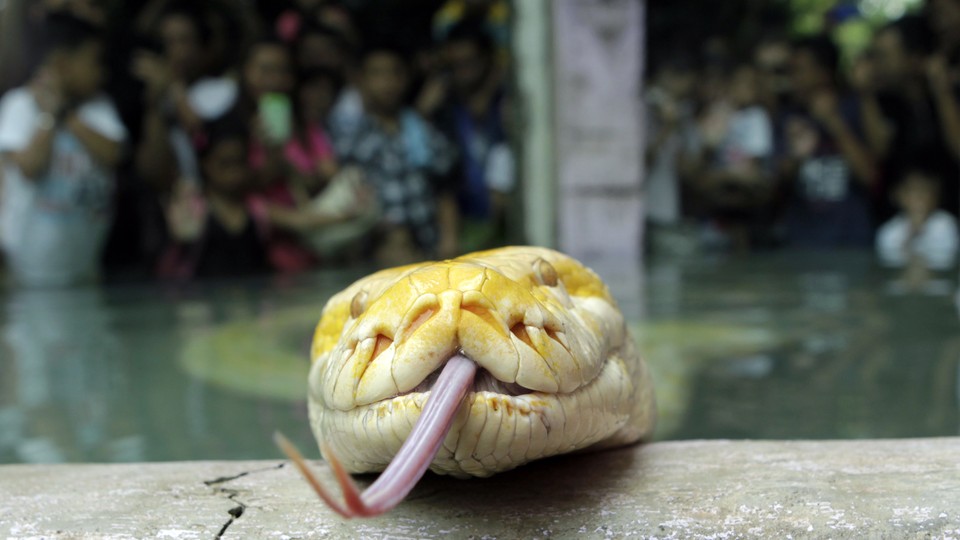 At a lab in Berkeley, California, there's a mouse with no legs. Its head, torso, and tail are normal. It just lacks limbs. It didn't lose those limbs; it just never grew them originally. And that's because a team of researchers led by Axel Visel at the Lawrence Berkeley National Laboratory had replaced part of its DNA—a small sequence known as ZRS—the equivalent sequence from a snake. That tiny change was enough to "serpentize" the mouse, to stop it from developing any limbs.
ZRS is not a gene itself. Rather, it's an enhancer—a stretch of DNA that controls the activity of genes. These sequences have long been thought to drive the wide variety of body shapes found in back-boned animals. By influencing when and where genes are activated, they can produce astonishing variety from the same basic toolkit, changing everything from the length of limbs to the number of toes.
"But it's been difficult identifying concrete examples of this," says Visel. Enhancers are hard to identify. You can't just eyeball a stretch of DNA and work out where the enhancers are. They also tend to sit far away from the genes that they control—they're like a sentence in a book that changes the meaning of a paragraph several chapters away.
Even if you identify one, working out what it does is tricky. In 2008, Visel's team showed that an enhancer called HACNS1 has changed rapidly during human evolution, ever since our ancestors split away from those of chimps. HACNS1 seems to be active in the limbs of embryos, in areas that eventually give rise to the shoulder, wrist, and—most excitingly—the thumb. This suggests that the enhancer may have influenced the evolution of our uniquely dextrous hands. But even so, the team only had circumstantial evidence for this.
That's why Visel turned to ZRS. It's probably one of the best studied enhancers, and its role is clear. By controlling a gene called sonic hedgehog (it's a long story), it governs the growth of limbs—and only the growth of limbs. Delete it from the genome of a mouse, and you get a legless rodent. Mutate it in humans, and you can get deformed limbs, including extra thumbs or fingers. What then, Visel wondered, does it do in snakes? "We wondered if it still works," he says. "Intuitively, you wouldn't expect it to."
To find out, team member Evgeny Kvon scanned the genomes of six snake species, and found that five of them still contain ZRS—albeit, in a heavily altered form. Since snakes split off from the other lizards from which they arose, their versions of ZRS have accumulated mutations at a breakneck pace.
Next, Kvon loaded mouse embryos with versions of ZRS from a variety of animals, including humans, sharks, playtpuses, bats, chickens, and the five snakes. In each case, he connected ZRS to a gene that produces a blue chemical, so he could see where the enhancer was being used. And he found that in almost all cases, the embryos developed blue patches in the back part of their small budding limbs.
Only the snake enhancers broke this trend: the python and cobra versions weren't active in the limb at all, and the rattlesnake version was just all over the place. "The activity pattern was either completely gone, or just became weird," says Visel. In other words, the enhancer wasn't enhancin'.
To prove that point, Kvon actually changed the ZRS of mice to match those of the other animals, using a now-famous gene-editing technique called CRISPR. Amazingly, he found that most of these changes did nothing. Even when he replaced the mouse version of ZRS with that of a coelacanth—a fish, with 400 million years of evolution separating it from a mouse—the rodent's limbs developed normally.
That wasn't the case when Kvon edited the mouse ZRS to match those of snakes. With the cobra version, they didn't develop legs at all. With the python version, they developed little stubs, but not full limbs. This implies that the python ZRS still works slightly, but the cobra one absolutely doesn't. (In an independent study, published at the same time, Francisca Leal and Martin Cohn confirm that mutations in the python ZRS do indeed curtail the activity of the snake's sonic hedgehog gene, and so halt the growth of its hind legs.)
This gradient of loss makes perfect sense. Pythons and boas belong to some of the earliest groups of snakes, and they still have remnants of legs—two tiny spurs on their undersides, each containing a mini-thighbone and a claw. Their semi-functional versions of ZRS probably control the development of these degenerate limbs, which they still use for holding onto mates during sex. By contrast, cobras and rattlers belong to more advanced groups of snakes that have lost all traces of limbs, and so their versions of ZRS are completely useless.
These changes played out over millions of years. By altering mice with CRISPR, the team could see their effects before his eyes. "We could follow in real time the evolutionary death of an enhancer," says Visel.
The experiments "are extremely impressive," says Doug Menke from the University of Georgia, "and well beyond what most research groups would realistically be able to do."
But as Aimée Zuniga from the University of Basel notes, "the loss of function of this enhancer is not sufficient to explain the loss of limbs in snakes, and may not even be causal." It's possible that mutations in ZRS set snakes down the path to leglessness. Alternatively, other changes could have started shrinking the limbs of snakes, rendering ZRS obsolete and allowing it to mutate without consequence.
Visel thinks the latter is more likely. "ZRS is only one piece of the puzzle," he adds. "Making a limb is a very complicated process so there's probably dozens, if not hundreds, of individual genes and enhancers involved in this. Once you lose the limb, so all the parts needed to make those limbs start to degrade." Indeed, other researchers have found signs of other enhancers that have become inactive in the limb during snake evolution. "It seem that loss of limb enhancer activity in snakes is likely to be a genome-wide phenomenon," says Menke. "Use or lose it."
Visel's study isn't just about snakes, though. It also shows how CRISPR can help biologists to understand the genes behind some of evolution's most dramatic changes, like the transformation of a striding, four-legged body into a slithering, zero-legged tube.
"It wasn't impossible to do these kinds of experiments but it was very tedious and prohibitively costly," says Visel. Kvon, for example, changed the ZRS of mice to that of humans, pythons, cobras, and coelocanths. A decade ago, any one of these would have taken two years. "Now, we can do it in a few months. It's a really exciting time for people studying molecular evolution."