The Sexist Response to a Science Book Prize
After Andrea Wulf won the Royal Society's highest honor for her book The Invention of Nature, a writer at The Guardian attributed it to a new fondness for "female-friendly" biographies among prize juries.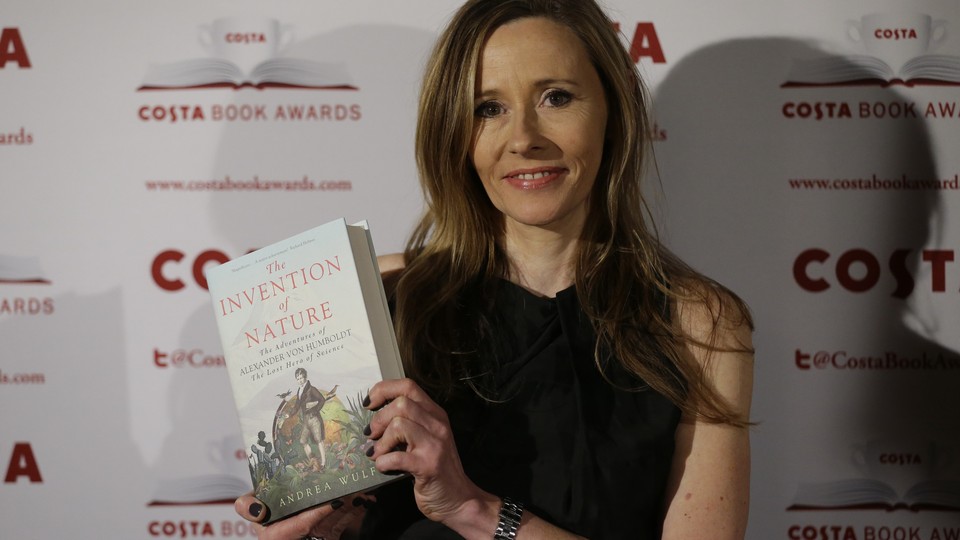 Last week, the Royal Society held its ceremony to honor the best popular-science book of the year.  I was there, having had the good fortune to be one of the finalists for my recent book, The Hunt for Vulcan.  I didn't expect to win—partly because of my baseline pessimism, partly because of the strength of the competition, and partly because I had set out to write a kind of miniature, a brief book on a quirky topic.  Whatever the reason, I was right: I didn't.
The event itself was good fun.  Each of the authors read a passage from their work; the head judge for the prize, author Bill Bryson, led us in a brief question-and-answer session, in which we compared notes on what moved us to write about science. Then came the moment of truth.  Venkatraman Ramakrishnan, the president of the Royal Society, approached the podium, opened the envelope, and announced that Andrea Wulf had won for The Invention of Nature.
The shortlist for the award, formally, the Royal Society Insight Investment Book Prize, was extraordinary, boasting six fantastic books. All of them will reward you should you crack their spines, and Wulf's book was particularly deserving, which is why it was so infuriating to read a recent column that attempts to diminish her achievement.
Five days after the award was announced, John Dugdale, the associate media editor of The Guardian, wrote a piece that asked "Why have women finally started winning science book prizes?" You might think: Good question! Women have been writing great science books for a long time now. Why haven't more of them been recognized?
But that's not why Dugdale asked the question. According to him, the Royal Society caved to pressure created by the example of another "more female-friendly" prize. His piece suggests that the judges' taste is shifting from "male" approaches to science writing that emphasize "a problem, a mystery, or an underexplored scientific field," towards a feminine tendency "to focus on people."
When the Royal Society first announced the short list, my heart both leapt and sunk.  I felt joy seeing my book reckoned one of the best of the year, especially by a storied institution like the Royal Society.  Then as I looked over the other titles,  I was suitably impressed by the competition.  The list included two "big" books of the sort often rewarded by prizes, Wulf's and Siddhartha Mukherjee's The Gene.  Just as formidable, there was a daring investigation of a pressing current concern in Oliver Morton's The Planet Remade, along with Tim Birkhead's learned and lovely book on birds' eggs in The Most Perfect Thing, and Jo Marchant's beautifully written and courageously pursued account of mind-body medicine, The Cure.
Dugdale paints a very different picture of the field. He describes Wulf's book as a kind of soft option, just a single-subject biography, the first to win the Royal Society prize for almost two decades.  That's both wrong and obtuse in its stereotyping as female what is one of the most basic tools almost every non-fiction writer uses.
As its title suggests, Wulf's The Invention of Nature is at once the biography of Alexander von Humboldt, and an extended account of the development of the idea he championed, which evolved, Wulf argues, into the modern conception of nature as an interrelated whole. That's what good intellectual biographies do: The stuff of life leads to the stuff of thought. That Dugdale thinks a biographical approach is somehow a peculiarly female pursuit is simply risible, or so it seems to this male author of Einstein in Berlin and Newton and the Counterfeiter.
When I read The Invention of Nature, long before it was nominated for the Royal Society prize, it was obvious that it was a contender for major honors. It was deeply researched and reported; it told a fine and little known story; it connected the personal to a big idea, and the past to a very pressing present-day concern.
Two of the judges that chose The Invention of Nature have already responded to Dugdale's suggestion that they were  catspaws to political correctness (my term, not his.) My experience as a Pulitzer juror in 2012 offers some insight in what goes on in these kinds of judgments. For my two colleagues and I, it began not by discussing any individual book. Rather we asked ourselves what it meant to be the best book of the year.
In the end we boiled down what we were looking for to two central criteria.  The prose had to be beautiful; we wanted a book that made art out of words.  And the book had to take us somewhere we couldn't have gone on our own. Scale wasn't the issue, nor topic, nor style or approach; just high craft and a view of the world that could carry reader into experiences otherwise unavailable to them.
From there we worked through our boxes, a few hundred books in all, and had little trouble cutting the tally down to fifty.  There was only some agonizing to get to 10. From 10 to five was hard, and the last two cuts to get to our final list of three titles were agonizing.  I'm still not entirely sure we got it right, although I remain proud of our ultimate choices.
The point for anyone who hasn't juried a prize is that each panel of judges must arrive at a collective vision of excellence. The process being human, it's certainly possible for it all to go awry, for consensus to fail, and for odd or perhaps merely excessively conventional choices to prevail. But in my experience, judges enter this process looking for ways to help us recognize great work as we encounter it, and that's it.
That's not to say that the kind of calculation Dugdale describes, looking over one's shoulder at other prizes, or trying to make sure a book is the right sort, is impossible. That kind of thumb on the scale—along with more flagrant sexism—might be one reason that men have so often won major prizes. But a claim that the fix was in has to first show that only such an inequity can explain an outcome, and Dugdale has failed to show that, because he can't. There were six strong candidates for the Royal Society's prize. Out of those fine books, a fine one won.
In that context Dugdale's hints at something dodgy in the process are more than just wrong; they're malign, potentially damaging to aspirations and careers. The recent debacles of the Hugo awards and Gamergate, where in both cases men aggrieved at female encroachment on alleged genderless meritocracies sought to wall off creative domains suggest how much harm these kinds of attacks on female accomplishments can be. Discounting a great work at the moment it earns one of science writing's highest honors based on the gender of its creator is just one more barrier women science writers have to deal with that men don't.
But if doing well is the best revenge, then Andrea Wulf can hold her head high: As the judges noted, The Invention of Nature was their unanimous selection as the best popular-science book of the year. As her colleague and competitor, I raise my glass in salute.