Not Doomed Yet: Climate Change Will Make 'Clear-Air Turbulence' More Common
Protesters win a brief victory in the Dakota Access pipeline battle, and August sets a new heat record.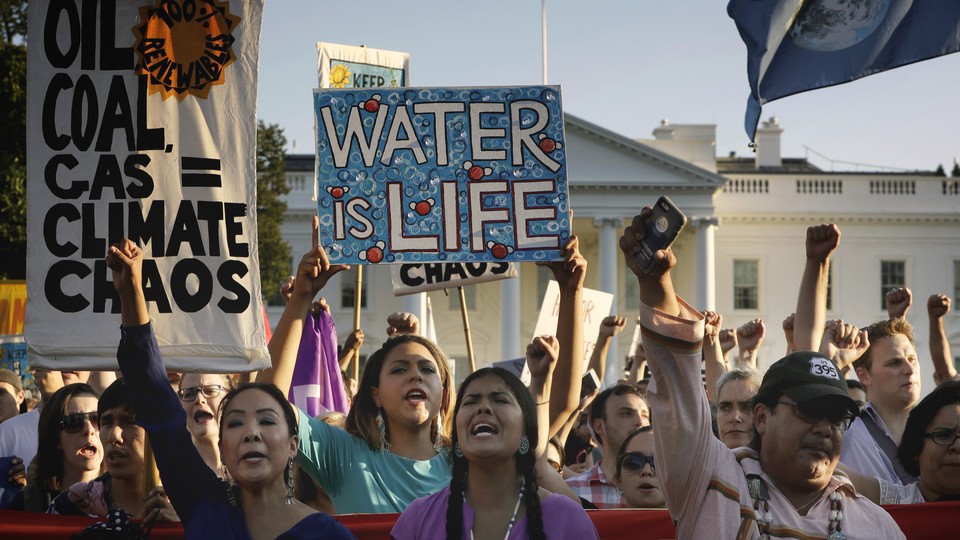 This is 'Not Doomed Yet,' The Atlantic's newsletter about global warming. It lives here in the Science section; you can also get it in your inbox:
Apologies for missing last week's edition. Breaking news—the Obama administration's decision to temporarily halt the Dakota Access pipeline—kept me from getting it out.
It's a good starting place, actually. Last week, the U.S. Departments of Justice, the Army, and the Interior stepped into unilaterally pause the construction of the Dakota Access pipeline. The pipeline would run 1,134 miles from the Bakken Formation oil fields in northwest North Dakota to a tank farm in Patoka, Illinois, near the Mississippi River.
To get there, the pipeline has to pass over multiple federal waterways, including Lake Oahe, a dam-formed body of water on the Missouri River. The Standing Rock Sioux Tribe draw their water from the lake, and they have been trying to get the pipeline relocated through protest since April and through federal judicial action since July.
Last week, a district court judge ruled that their case did not merit an injunction, but the Obama administration stepped in to ask Energy Transfer Partners to pause the project anyway.
It's an interesting case—and one that demonstrates how, in the United States, the climate movement is amplifying decades-old Native protests. I wrote about the tribe's legal argument and the Obama administration's order for the pipeline to be halted.
This week, I also wrote about why the U.S. Environmental Protection Agency doesn't regulate ocean acidification under the Clean Water Act (or at all, really).
But plenty else happened with regard to the climate this week.
* * *
For the week beginning September 4, 2016, the Mauna Loa Observatory measured atmospheric carbon levels at 400.97 parts per million. At this time last year, they stood at 397.91 ppm. Ten years ago this week, the Observatory recorded levels of 379.03 ppm.
This week in the Earth system:
August set two global heat records. First, it was the hottest August ever measured, continuing an unprecedented 11-month-long streak in the 136-year temperature record. Second, it was the hottest month ever recorded, tying July 2016. When I talked to the director of NASA's main climate model, he encouraged me to downplay any one record in favor of the general warming trend. Yet at the same time, it's worth checking this NASA-made GIF to see just how much hotter 2016 is than any previous year: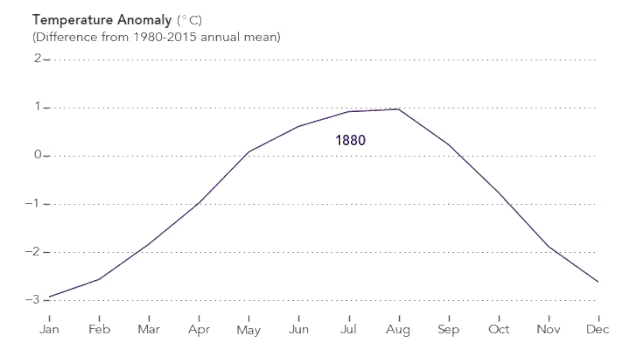 The Arctic Ocean has reached its annual sea-ice minimum, and it's not pretty. 2016 will rank as the second-worst year for sea ice ever, statistically tying 2007. 2012 still holds the worst-ever record. You can see how broken the ice is from this satellite image:
In global politics and policy, Brazil ratified and joined the Paris Agreement, the third-largest country by emissions to sign on. Brazil is also the largest emitter in Latin America. At this point, 27 parties representing 39 percent of global emissions have joined. Fifty-five parties representing 55 percent must do so for it to enter "legal force."
John Kerry is "more and more confident" the agreement will enter force before Obama leaves office. If legally activated this year, the United States could not depart the Paris Agreement until 2020.
Costa Rica ran on entirely renewable energy (and mostly hydroelectric power) for two straight months this summer.
New Zealand is granting legal personhood to the Whanganui River in order to recognize its importance to the Maori.
In U.S. policy, President Obama designated a new expanse of Atlantic Ocean as a marine monument on Thursday. One-hundred-thirty miles off the coast of Cape Cod, it's the first protected ocean in the Atlantic ever.
Justin Gillis's lengthy investigation into how climate change is already affecting the United States— it just looks like coastal flooding—is of course worth reading. A panel of climate scientists said it reflected scientific consensus accurately.
Meanwhile, the flooding that Louisiana saw earlier this month looks exactly like the kind of flooding that climate change would trigger.
And it sure looks like oil companies gave generously to state attorney generals right before the AGs sued to prevent the Clean Power Plan.
In historical reading, my colleague Brentin Mock has a good overview of the National Park Service's racist and eugenicist origins in honor of its 100th birthday. Madison Grant, a friend of Teddy Roosevelt's who helped conserve the first American parks, also wrote The Passing of the Great Race, a hugely influential work of scientific racism.
This week, the Anthropocene looked like: Testing a dumpster with bear workers. Massive trucks driving wind-turbine blades up a mountain. A bridge more than 1,800 feet tall nearing completion in southwestern China. (Is it worth adding that the Sears Tower is only about 1,750 feet tall?) And Typhoon Meranti loosing a giant inflatable moon balloon on Fuzhou.
This is the last Not Doomed Yet of Northern summer/Southern winter. The September equinox, and with it the transition to Northern autumn, comes next Thursday. The sun will shine over McMurdo Station in Antarctica for 11 hours, 11 minutes today.
Here's what that Antarctic sunrise will look like, as seen from a satellite.