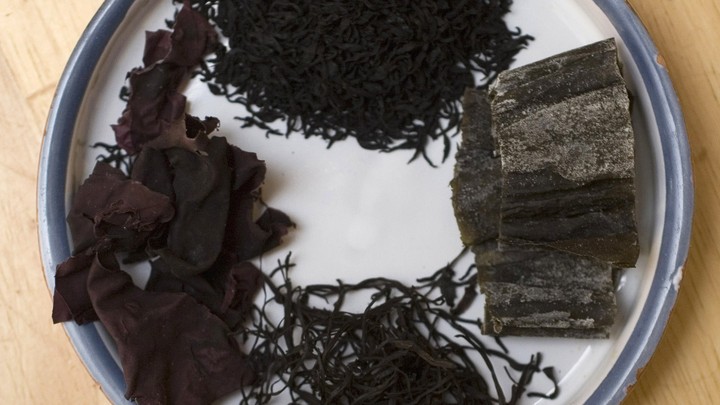 Seaweed farming is booming: The global harvest has doubled in the past decade, according to a new report from the United Nations University, and it's now worth more than all the world's lemons and limes. Most of that seaweed ends up in our food, though there is a growing market in seaweed-based cosmetics and drugs. So what does a seaweed farm look like? How does it help restore the ocean? And what can you do with kelp in the kitchen, other than wrap sushi? Join us for a conversation with Bren Smith, fisherman-turned-seaweed farmer, for the answers to these questions and more.
In this special episode, we're airing an excerpt from our first-ever live show, held in front of a sold-out crowd at Boston's Museum of Science on May 4, 2016. Bren Smith, director of Thimble Island Ocean Farm and an environmental nonprofit called GreenWave, as well as winner of the 2015 Buckminster Fuller Challenge Award for ecological design, joined us on stage to talk about his journey from industrial fishing to 3-D ocean farming. He's an inspiring advocate for seaweed's potential to restore both ocean and human health, as well as stop cows from farting and improve your sex life.
By the end of the conversation, you'll be dying to try a plate of kelp noodles, and maybe even contemplating a career switch into seaweed farming (as we were). We've said it before, and we'll say it again: Kelp is the new kale. Listen in and find out why.
---
This article appears courtesy of Gastropod, a podcast co-hosted by Cynthia Graber and Nicola Twilley that looks at food through the lens of science and history.
We want to hear what you think about this article. Submit a letter to the editor or write to letters@theatlantic.com.
Nicola Twilley is a co-host of the podcast Gastropod and a contributor to The New Yorker.
She is at work on two books: one about refrigeration and the other about quarantine.
Cynthia Graber is a writer and audio journalist based in Somerville, Massachusetts, and
a co-host of the podcast Gastropod. H
er work has appeared in
Scientific American
and
The New Yorker
.
Gastropod
is a podcast that covers food through the lens of science and history.