Not Doomed Yet: IKEA Uses One Percent of the World's Annual Cotton Production
And wildfires rage in California.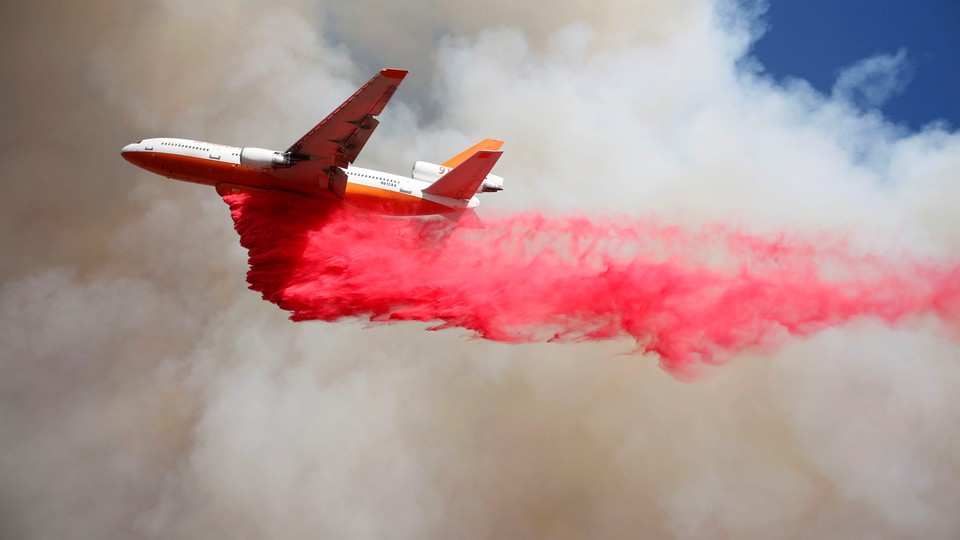 This is 'Not Doomed Yet,' The Atlantic's newsletter about global warming. It lives here in the Science section; you can also get it in your inbox:
It is late summer in the Northern Hemisphere, and the axial tilt is kicking in hard. In the next 10 days, the sun will set before 8 p.m. in New York, San Francisco, and Washington, D.C. Places to the south, especially outside North America, have probably already passed this hour-mark. I'm bummed out about it, too.
At least 23 people have been sickened by anthrax in western Siberia, and one person has died. The pathogens are believed to have been released by a rotting reindeer or human corpse that perished during a 1941 outbreak. That hypothetical carcass is only thawing out now due to the region's unprecedented heat. The deputy head of Russia's federal veterinary service blames local officials for not acting faster, according to the sometimes suspect Siberian Times, saying that public notice of the outbreak was not given until five weeks after it began. So that's the first 20 minutes of a disaster movie already taken care of.
Hurricane Earl made landfall in Belize, slicing down trees and power lines. Meteorologists expect to name 10 more storms in the Atlantic this season.
And I didn't know this: No hurricanes have entered the Gulf of Mexico since September 2013, now the longest such streak on record.
In India, the monsoons are heavier than normal, forcing 1 million people to relocate to government-run relief camps. Ninety-six people died in the flooding.
Heat has continued to grip parts of North America. Here in D.C., the temperature did not drop below 80 degrees Fahrenheit for 134 hours straight (five days!), a new record. And a month has passed since the temperature fell below 70 degrees, almost qualifying the region for another new record. Flash floods swept away huge chunks of the main street of nearby Ellicot City, Maryland, during a once-in-a-millennium rain dump. (You can donate here to assist flood victims.)
In the Southern Hemisphere, it is winter, notwithstanding the Summer Olympics being held in Brazil. I hadn't realized the degree to which Rio, like San Francisco, is prone to microclimates.
The peat fires that raged in Indonesia last October and November ultimately released 1.5 billion metric tons of carbon dioxide into the atmosphere. That's slightly less carbon than Russia, the fifth-largest emitter of greenhouse gases, released the entire year.
And from Chile: What does it look like when you're skiing near a volcano as it erupts?
* * *
On the week beginning July 24, 2016, the Mauna Loa Observatory recorded atmospheric CO₂ levels of 403.83 parts per million. A year ago, it observed carbon levels of 400.43 ppm. Ten years ago this week, it measured atmospheric carbon at 381.96 ppm.
As a reminder, a "safe" level is 350 ppm.
In U.S. policy news this week, California, the world's sixth-largest economy, submitted the details of how it will comply with the Clean Power Plan, even though the plan is still stayed by the Supreme Court. California is the first state to submit a compliance proposal. Simultaneously, a poll found that the vast majority of Californians approve of the state ignoring the federal government and making its own ambitious renewable-energy policy—which is a lucky thing, because that's what California has done for decades.
Elsewhere in the union, New York announced it will subsidize nuclear-power plants, effectively rewarding them for generating no emissions and letting them compete with cheap natural gas.
And the Pacific Northwest's increasing skepticism about its oil-hauling trains and pipelines—a skepticism that you sometimes see hyped as the thin green line—merited a good trend story in the Times. I wish the story had included indigenous voices as more than just local color, though.
In U.S. politics, Democrats devoted almost an hour of primetime TV to climate change, on the penultimate night of their national convention. In 2012, by contrast, the billionaire Tom Steyer was the only marquee climate speaker, and he appeared during the 6 p.m. hour.
Rebecca Leber of Grist asks: Why are Democrats still so bad at talking about global warming? Instead of discussing hypothetical future catastrophe, the party should focus on people who are "suffering from extreme climate impacts today," she says—in effect arguing that it could use a dose of environmental-justice rhetoric. I agree. Democrats still seem hesitant when talking about climate change, like they're still almost-sorta-kinda triangulating on it. Climate change is a catastrophe—but it's also a business opportunity! [cue B-roll of sunlit windmills towering above amber maize] It's like Democrats haven't figured out how to frame a renewable future in terms of the patriotic "silent minority-majority" ideal you see them espouse elsewhere—even though the folks who will most often benefit from fewer carbon emissions are often poor people of color.
At the same time, four in 10 millennials don't see a difference between Trump and Clinton on climate-change policy. I'm dubious about this poll—because, really?—but at least there's a lot of work still to do for climate advocates.
In the U.K., renewable sources and nuclear power produced more than half of all electricity in 2015. And last month, solar generated more 64 percent energy than coal.
This week, the Anthropocene looked like: Prince Charles, in galoshes, in Scotland, harvesting edible seaweed. Joshua trees slowly migrating uphill in Joshua Tree National Park. A corpse flower in full bloom, across the street from the U.S. Capitol. And the discovery that IKEA consumes approximately 1 percent of the world's annual wood production and 1 percent of its annual cotton production.
In other news, Shell paid to run a BuzzFeed advertorial listicle about clean… coal, I guess? Clean natural gas? I dunno. It's worth clicking through just for the hyper-concentrated zeitgeist alone.

And I've really been enjoying Eric Holthaus's new daily climate and weather newsletter. I heartily endorse your subscription.