A Cheap, Easy Fix to Rio's Sewage Problem
As the government breaks its pledge to clean waterways, one community shows how it can be done: with a bright green igloo full of poop.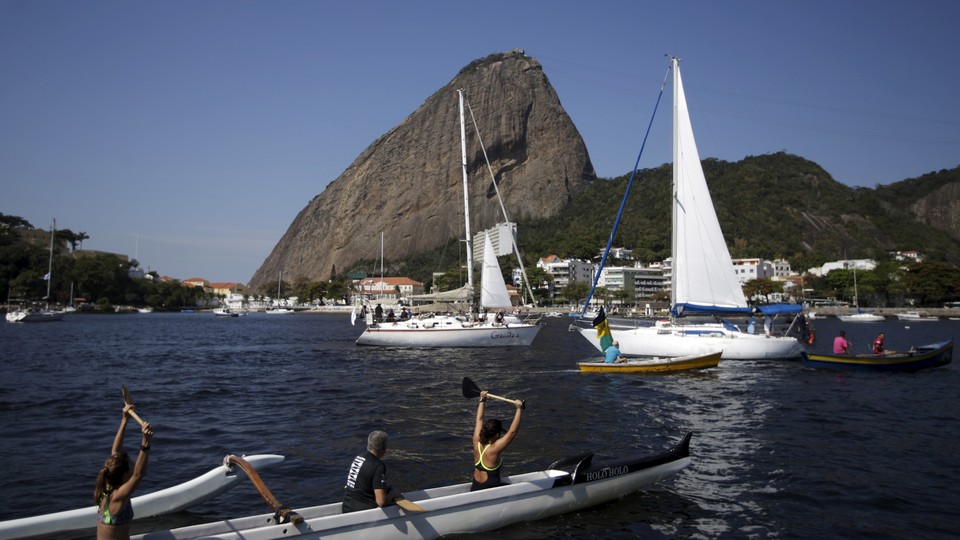 If you somehow haven't heard, this year's Olympics promise to be full of it.
Meghan O'Leary, a member of the U.S. rowing team, told the Los Angeles Times she plans to avoid touching her face during her Olympic events, which begin this weekend. The water where Olympic rowers, sailors, and swimmers will compete still teems with hazardous levels of bacteria and viruses.
In the New York Times, one doctor likened it to "swimming in human crap." Rio's promised pre-Olympic sanitation improvement plan has largely collapsed. Many of the city's middle-income neighborhoods and poorer favela communities are still disconnected from the formal sewage network.
The reason so much sewage is flushed directly into Rio's Guanabara Bay, city officials have argued, is that it's too difficult to lay pipes in much of the city. The favelas are crowded and carved into steep mountainsides. They can be dangerous. Environmental activists, meanwhile, contend there's not enough government will behind sanitation projects.
But there is one solution that gets around these issues: A cheap, seven-foot, cement dome that treats sewage with little more than some rocks, plants, and, well, coprophagic bacteria.
I learned about this contraption, called a biodigester, on a December reporting trip to Rio. On a scorching hot day, I took a cab up a mountain in the city's northern zone, where I met Otavio Barros, the leader of the Vale Encantado community.
Nestled in a lush forest, Vale Encantado consists of some two-dozen homes that, in more than a century of existence, have never had proper sewage treatment. They flushed their waste directly into a stream, and from there, out into the Marapendi, a reeking lagoon by the Olympic Village.
In recent years, Barros has heard noises that Vale residents might be evicted to make way for higher-end housing. The government claimed the residents were degrading the forest and polluting the rivers, he said, and that its rustic little houses were an eyesore. Barros set out to fight those perceptions.
Through his job at a university, Barros met Tito Cals, an engineering graduate student. Cals teamed up with some colleagues and the organization Viva Rio to build Vale a sewage biodigester, after seeing some success with them in Haiti.
Cals' team broke ground in 2013 using bricks, cement, and the labor of local workers. Two years and several financial setbacks later, there it sat: A bright-green igloo filled with poop.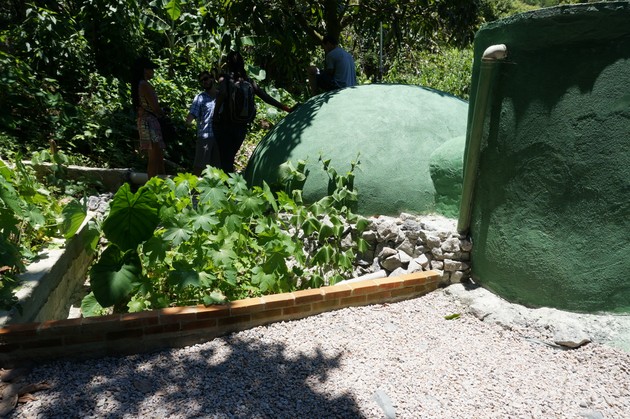 Now, the community's waste will trickle through pipes into the concrete hemisphere, where anaerobic bacteria eat the waste and kill pathogens, getting the sewage about 80 percent "clean." Then, it filters through a series of rock-and-plant pods, where the plant roots sanitize it further. From there, the wastewater still flows to the lagoon, but it's about 99 percent less hazardous when it does.
The advantages of this system, according to Sarah Dorner, an associate professor of civil engineering at Polytechnique Montreal, is that it deals with the waste right at its source, rather than exporting it to some far-flung facility through miles of pipelines. Plus, it doesn't use up gallons of clean water in the process.
Biodigesters are also cheaper and easier to build than more traditional sewage systems, which require ripping up roads and laying underground pipes. Before he met Cals, Barros asked a private company how much a new sewage system for the community would cost. The company quoted him a fee of 600,000 reais, or about $184,000. Cals' biodigester cost about a sixth that amount.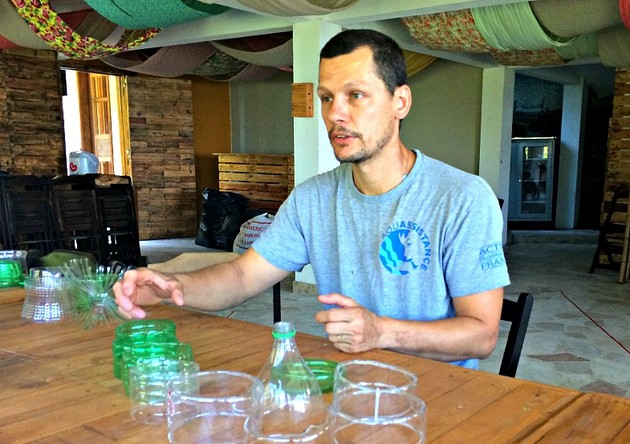 There are, of course, drawbacks to the digester. The one in Vale takes up about as much space as a small studio apartment, so the most jam-packed of Rio's favelas might have trouble squeezing one in. Most biodigesters also require pumps to keep the sewage flowing—fortunately for Vale, it's perched on a steep hill.
What's more, the biodigester needs buy-in. It has to be maintained over time, so if residents don't want the thing in the first place, "even a small, easy-to-fix problem can lead a digester to be abandoned if there is no one prepared to diagnose and fix it," said Alexander Eaton of SistemaBiobolsa, a biodigester company.
So if biodigesters are so efficient and cheap, why doesn't every favela in Rio have one?
According to Cals, one big hurdle is that in Rio, there is little government support for these types of small-scale infrastructure projects. Cals had to apply for a research grant to buy the materials to make the biodigester, and in the end, he did get funds through the state of Rio de Janeiro. But when I spoke to him in December, his research money had run out, but he still needed about 200 meters of pipe and more cement to complete the job. He was considering crowdfunding.
Biodigesters aren't new—they're already used in various parts of Asia and Africa. But they're new to Rio, and Cals thinks government officials might doubt their effectiveness. He also brought up an uncomfortable point about the way Brazil's government works—something that helps explain the failed sewage clean-up initiative, the ouroboros of corruption, and the general "state of public calamity" in which Rio's administration finds itself.
"Maybe it's better for the government to do a lot of pipe connections throughout the whole city," Cals offered. "It earns more money this way."
In other words, the government might prefer, politically if not logically, to build—or at least promise to build—big, impressive sewage treatment plants than tiny, tucked-away biodigesters.
Rio's sanitation authority didn't respond to a request for comment. But Cals' theory was echoed by Breno Herrera, an environmental activist and an ecologist from the Federal University of Rio de Janeiro. When I met him in Barra de Tijuca, an area now home to the Olympic Aquatics Stadium, he pointed out that Brazilian corruption scandals often seem to involve public works projects getting enmeshed with private contractors.
"The money tends to be put in the hands of big construction companies instead of directly invested in local communities," Herrera said. "You want to do something? Call a big company. Unfortunately, lots of money is diverted."
Just a few months into its operation, Barros was pleased with the new sewage solution. Though many of the houses have yet to be hooked up to the biodigester, Barros said Vale residents were already plagued by fewer mosquitoes and vermin. Plus, they now get to enjoy the full benefits of their bucolic surroundings.
"We have a waterfall and we can't swim in it because of the sewage," Barros said. "But with this biosystem, we can eventually take a dip."
---
Olga Khazan reported from Brazil as a fellow with the International Reporting Project (IRP).