Not Doomed Yet: The Can of Fanta in the Mariana Trench
The hottest land temperature ever may have been recorded last week.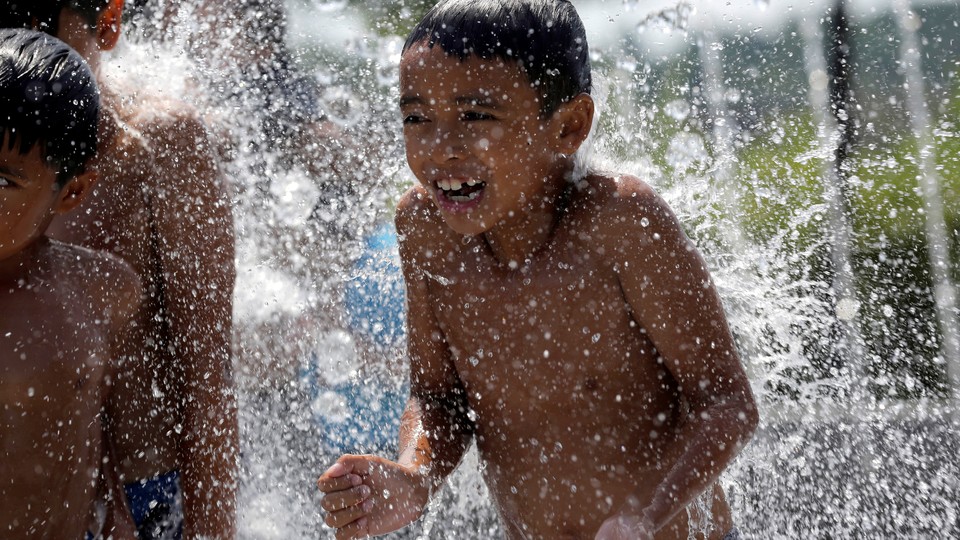 This is 'Not Doomed Yet,' The Atlantic's newsletter about global warming. It lives here in the science section; you can also get it in your inbox:
It's been a little more than two months since I last sent a newsletter. Friends are starting to write in, concerned: "Rob, are we actually doomed now?"
Uh, good question, actually. But I wasn't trying to send that message through lax newsletter hygiene—I just got too busy to send an NDY. (And as usual, I should avow that this newsletter covers only climate change and not other Malthus-adjacent calamities.)
I still believe in this newsletter's underlying thesis—that sustained, non-anxious attention to a vast problem is the only way to manage it—but I was starting to get tired of its old format, which focused on a few chosen "macro-trends" to its detriment. It felt overdetermined after the Paris talks ended last year. So instead, here's the new version of this newsletter: a more open-ended, weekly check-in with the Earth system. It'll still be a work in progress, but maybe it will actually improve progressively now.
* * *
On the week beginning July 17, 2016, the Mauna Loa Observatory measured an average atmospheric CO₂ level of 403.39 parts per million. A year ago this week, CO₂ levels stood at 400.96 ppm. This week in 2006, the Observatory measured levels at 381.77 ppm.
It is high summer in the Northern Hemisphere.

Thermometers in both Iraq and Kuwait recorded land temperatures of roughly 54 degrees Celsius (129 degrees Fahrenheit) last week. The World Meteorological Organization is investigating the Kuwait record in particular: If confirmed, it would be the hottest temperature ever recorded in the Eastern Hemisphere. It may also be the hottest land temperature ever recorded on Earth—as The Washington Post writes, many meteorologists doubt the veracity of the official world record, a 1913 reading of 56.7 degrees Celsius in Death Valley, California.
June 2016 was the hottest June ever recorded. It followed the hottest May ever recorded, and the hottest April, and the hottest March—in fact, each of the last 14 months has been the hottest version of that month ever recorded.
"We predicted moderate warmth for 2016, but nothing like the temperature rises we've seen," said the director of the WMO's climate research program.
Meanwhile, about a month remains in the peak of the Western U.S. forest-fire season. Wildfires closed Big Sur National Park on Wednesday, and they forced tens of thousands to leave their homes last week. Overwhelmed local departments are worried about what the end of the season will look like.

It is mid-winter in the Southern Hemisphere. Earlier this month, an enormous and frigid cold front rolled across the Southern Ocean and into Australia, where it dumped multiple feet of snow and set continent-wide cold records for July.
Nations in southern Africa are struggling under a massive drought left behind by El Niño. Twenty-three million people across the region now require "urgent humanitarian assistance," and there is a $4 billion gap between pledged aid and what will be needed.
* * *
In U.S. policy news, the Obama administration continued to aid the incremental transition to renewable energy: This week, it did so by guaranteeing up to $4.5 billion in loans to build electric-vehicle charging stations.
Meanwhile, the Bureau of Land Management, which oversees the leasing of publicly owned U.S. fossil fuel deposits, will move some land auctions online to keep them from being disrupted by "Keep It in the Ground" protests.
In U.S. political news, [endless shrieking]

Elsewhere, Ukraine is seeking investors to build a solar farm in and around the Chernobyl exclusion zone.
A new study finds that natural disasters (including those that are climate-related) coincide with armed conflict in already ethnically divided nations. I suspect we will hear much more about this.

New Zealand pledges to eliminate all invasive predators—specifically rats, stoats, and possums—by the year 2050. This is what the other side of the Anthropocene looks like. Speaking of which:
This week, the Anthropocene looked like: A cargo plane dropping fluorescent-pink flame retardant over a California canyon fire. A Swiss glacier, covered in blankets to slow ice melt. A bird having fun on an airport moving walkway. Kids playing Pokémon Go at CERN. A year-long time lapse of the Earth rotating in space. A lake, turned from blue to red.
There is a can of Fanta in the Mariana Trench.
It's a microburst as seen from a helicopter. (Seeing rainfall orthogonally has always seemed like a particular pleasure of hiking in the ridge-and-valley Appalachians—it's a delight to see a similar effect in the desert.)
Michael Collins, one of the 12 men who walked on the moon, is 85. From an interview, this is what it's like to have walked on the moon but also have a human brain: "Well, the moon kind of surprises me sometimes. I'll be out at night and I'll see a nice moon, and say, 'Hey, that looks good.' Then I'll say, 'Oh shit, I went up there one time!' Kind of surprises me. It's like there are two Moons, you know—the one that's usually around, and then that one."