Native Plants in Cities Need Protection Too
Nature reserves aren't the only ecosystems under threat.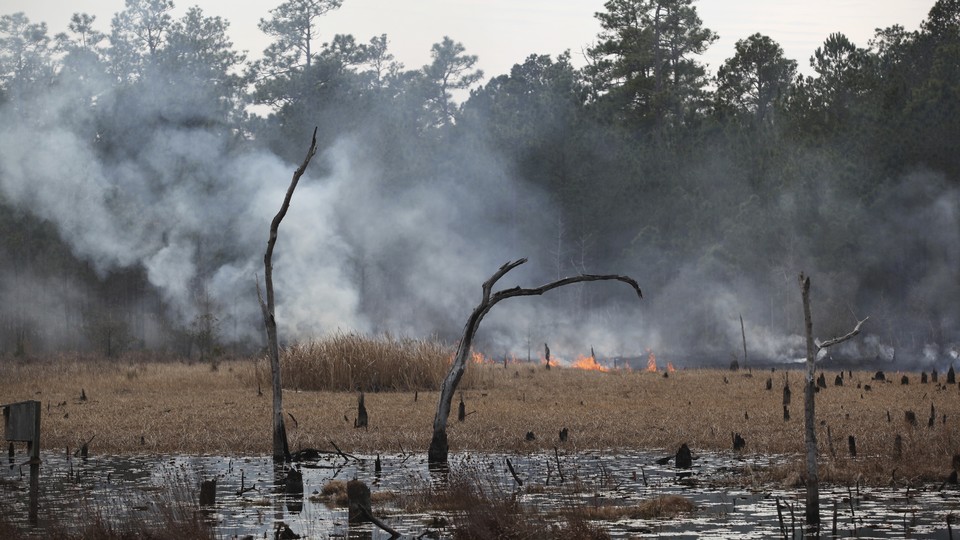 Each year, naturalists across the U.S. go to war with invasive plants. Take lesser celandine, for instance. The delicate yellow petals, which emerge in early spring, belie a resounding—and frustrating—toughness. The plant beats native wildflowers to bloom, and usurps their habitats in the process. As of April 2016, it's been detected in 25 states; a model from the Animal and Plant Health Inspection Service at the USDA estimated that up to 79 percent of land in the U.S. could be hospitable to an infestation.
A naturalist in Washington, D.C., recently told National Geographic about how the weed has choked out nearly 200 acres of the city's Rock Creek Park. "People say, 'Why don't you dig it up?'" he said. "I could dig this up for a thousand years and you would not see anywhere near the end of it."
Invasive species are tricky to eradicate. A recent piece in Smithsonian described how some land managers in Maryland are resorting to flame throwers to scorch the unwelcome and aggressive guests—including lesser celandine—into oblivion. Removing the weeds by hand can have a counterproductive effect by broadcasting portions of the entangled root system to a new location.
Removal is tough, but it matters. As native plants' numbers dwindle, so do the populations of native pollinators that survive on them. In turn, that shrinking cohort struggles to pollinate crops and sustain habitats.
Native plants are struggling across the country. In Chicago, for instance, land-use change has altered or destroyed a significant share of these habitats, says Rachel Goad, the manager of the Plants of Concern program at the Chicago Botanic Garden. At one point, she says, Illinois was 60 percent tall grass prairie; today, less than 0.01 percent of that ecosystem remains. That means that there's not much space for prairie species, and invasive ones encroach on them, too.
Maintaining existing open space isn't necessarily a cure-all, either. "Sometimes you preserve kind of a postage stamp that's surrounded on all sides by roads, parking lots, and housing developments, and it can change the way water moves through the site, and the nutrients really considerably," says Goad.
In response to these threats, cities across the U.S. are launching campaigns designed to nurture native plants. Last month, the Washington, D.C., Department of Energy & Environment debuted an initiative to hand out 8,000 packets of native seeds, each containing enough to cover about 50 square feet. At subway stations throughout the District, commuters could grab a seed mixture including native wildflowers such as wild senna, purple coneflower, and butterfly milkweed. Julia Robey Christian, the public information officer for the DOEE, tells CityLab that this effort sprung out of the District's focus on rehabilitating local meadows. The giveaway, she says, aims to "raise public awareness of the importance of pollinators and meadow habitat in the District and to provide opportunities for residents to engage with our surrounding natural environment."
How do people respond to the threats posed by invasive species? That's the question that the Human Dimensions Research Unit—a cohort within the Department of Natural Resources at Cornell University—aims to clarify. The team collects information about perceptions and behaviors surrounding management of natural resources. Last year, they circulated surveys around New York state. On those surveys, home gardeners indicated that they were willing to tweak their behaviors to look out for native plants: More than 53 percent of respondents said they'd be "very willing" to change their behavior if they learned they were contributing to spreading invasive species; less than 1 percent wouldn't entertain the idea. More than half of the subjects had already combated invasive species in their own gardens, and nearly one-third researched plants prior to planting with an eye towards replacing invasive species with native or noninvasive ones.
Still, only about 30 percent of gardeners said they were very concerned about invasive species. Bruce Lauber, a senior research associate in the HRDU and co-author of the report, speculates that this discrepancy might have something to do with ideas about what constitutes the "wild" world. "When you're involved in an activity on your property (like gardening) you may not expect to be in a 'natural' habitat in the same way that you would if you were off fishing in a lake or stream or camping in the woods," he tells CityLab.
Overall, though, since many respondents were already aware of invasive species and receptive to changing their behavior, the authors concluded that outreach initiatives might be most useful if they focused on behaviors that are "easier and less costly to carry out." Lauber is encouraged by public interventions such as handing out native seeds. These initiatives "certainly fit the description of the kind of intervention we were suggesting—[they] give people a low-cost, low-effort way to try planting native species," he says.
Urbanites who don't own their property might not be able to sow a native garden. Instead, Goad suggests adding elbow grease to the cause through volunteering. Local organizations often recruit volunteers to help remove invasive species, plant natives into an area that's being restored, or work as citizen scientists to collect data on at-risk species. "People can learn about their native ecosystems, wherever they live, and how to support them," she says.
And even on a municipal scale—as construction uproots native plants—there's hope for re-establishing habitats. Once lost, native plants aren't necessarily gone forever. In The Atlantic, Nate Berg recently wrote about reimagining a road that fractured a decommissioned army base (now park land) in San Francisco. Green-roofed tunnels will encase the newly subterranean road, granting the Presidio 14 more usable acres—and space to expand the populations of native grasses, shrubs, and succulents. Berg reported that more than 50 species were being collected and cultivated for landscaping, which is expected to be fully installed by 2018. In Washington, D.C., Christian adds, the DOEE is also partnering with the Department of Transportation and Department of Public Works to install meadow habitats along roadways and in medians.
Despite their crucial role in urban ecosystems, says Goad, "I think plants often get overlooked." She believes the solution is, in part, reminding people of the extent to which they live alongside the natural world, not separate from it. "To whatever degree we can remove this hard barrier between nature and where people live, will be so beneficial to native plants and wildlife."
---
This article appears courtesy of CityLab.