The Secret History of Citrus
The fruit isn't as commonplace as it seems—at one point, it even inspired the Mafia.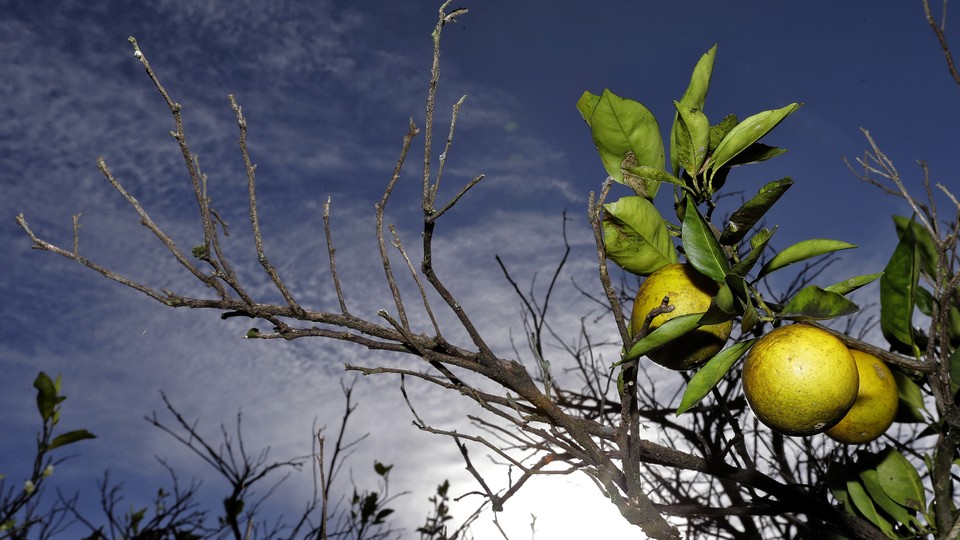 A slice of lime in your cocktail, a lunchbox clementine, or a glass of OJ at breakfast: Citrus is so common today that most of us have at least one lurking on the kitchen counter or in the back of the fridge. But don't be fooled: not only were these fruits so precious that they inspired both museums and the Mafia, they are also under attack by an incurable immune disease that is decimating citrus harvests around the world. Join us on a historical and scientific adventure, starting with a visit to the ark of citrus—a magical grove in California that contains hundreds of varieties you've never heard of, from the rose-scented yellow goo of a bael fruit to the Pop Rocks-sensation of a caviar lime. You'll see that lemon you're about to squeeze in a whole new light.
The citrus fruits we find in the grocery store today are all descended from four highly promiscuous ancestors: the citron, the pomelo, the pepeda, and the mandarin. From their origins in northern India, southwestern China, and Malaysia, these prized golden fruits accompanied travelers along the Silk Road, migrating to the Middle East and, eventually, Europe and the Americas. Over time, citrus colonized the world, transforming local cuisines in the process: The citron was incorporated into Jewish religious ritual; sour oranges became the dominant flavor of medieval European cuisine; and orange trees laid the foundation for California's second gold rush.
To explore the astonishing flavors of citrus, we visit the University of California Riverside's Citrus Variety Collection, which boasts more than a thousand different kinds of fruit trees. Pomelos and blood oranges were in season when we visited, and the air in the grove was filled with the intoxicating scent of orange blossoms. We're joined by Helena Attlee, author of The Land Where Lemons Grow, for a ramble through the fruit's checkered history. Along the way, Atlee explains how the discovery of the life-saving powers of lemons, which staved off scurvy at sea, inadvertently led to the birth of the Mafia in Sicily's Conca D'Oro. Finally, we talk with scientist Wenbo Ma, who is racing to find a cure for citrus greening disease, an incurable bacterial infection that is wiping out groves all around the world.
---
This article appears courtesy of Gastropod, a podcast co-hosted by Cynthia Graber and Nicola Twilley that looks at food through the lens of science and history.