A Red Dragon on the Red Planet
Spaceflight company SpaceX said Wednesday it will start sending unmanned rockets to Mars in two years.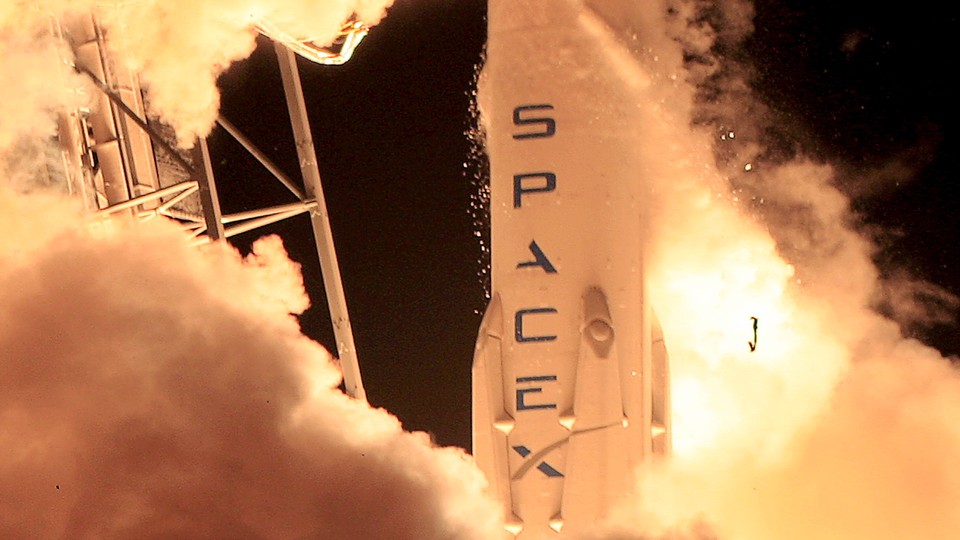 SpaceX, the spaceflight company run by Elon Musk, plans to send its Dragon spacecraft to Mars as soon as 2018, the company announced on Wednesday.
The rocket will be known as—surprise!—a Red Dragon. From The Verge:
The company indicated that the capsules would fly on SpaceX's Falcon Heavy rocket, a bigger version of its Falcon 9; the rocket will launch the capsules to the planet to test out how to land heavy payloads on Mars. If successful, the endeavor would make SpaceX the first private spaceflight company to land a vehicle on another planet.
SpaceX plans to eventually attempt to send humans to Mars. Musk has previously said that he wants to build "a city" there.
SpaceX began delivering supplies to the International Space Station using its Dragon rocket in 2012. Earlier this month, SpaceX successfully landed its Falcon 9 rocket on a drone ship in the middle of the ocean, marking the first time the company has been able to salvage much of the vehicle using this landing technique. The company failed to land the spacecraft four times before at sea, but had previously successfully landed it on the ground at Cape Canaveral in Florida. This new landing technique saves significant fuel costs and allows the company to reuse rockets.
Here's the historic sea landing: