The First Launch From Russia's New Cosmodrome
The effort marks Moscow's long-term plan to build a space-launch facility inside the country's borders.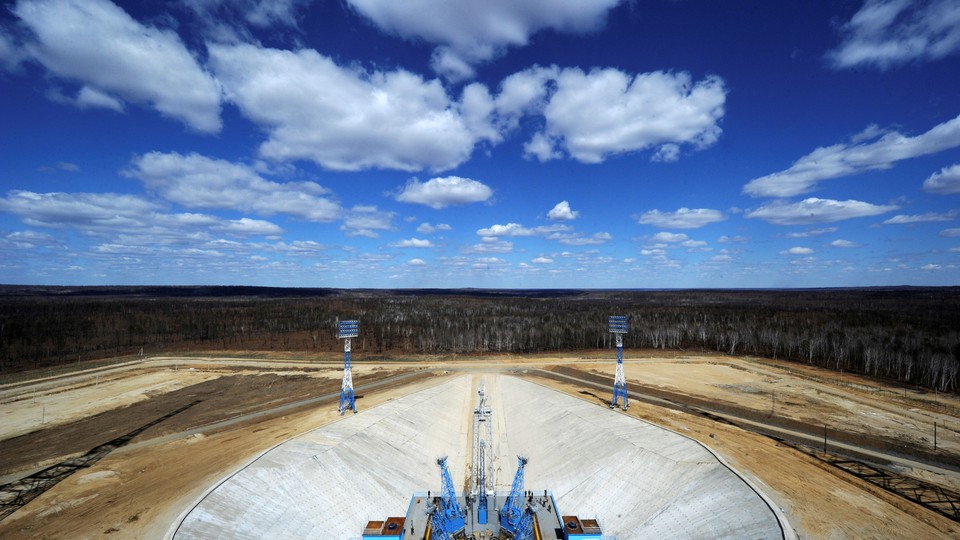 This week, Russian President Vladimir Putin flew thousands of miles to a large clearing in the evergreen forests of Siberia. The Russian space agency, Roscosmos, was preparing for the inaugural launch Wednesday from the Vsotchny cosmodrome, a brand-new launch pad that had been in the works for four years.
The countdown began at 11:01 a.m. local time. But then, about 90 seconds before the Soyuz rocket took off, Roscomos's computers aborted the flight. No one was sure why.
Putin was not pleased, according to Russian media reports. The launch was rescheduled for the same time Thursday, and it went off without a hitch, as the president looked on:
The unmanned rocket carried three satellites into orbit. The launch was a big moment for Moscow, which for years has promised to bring its spaceflight missions—which take off from the Baikonur cosmodrome in Kazakhstan—inside Russian borders. Anatoly Zak explains at Popular Mechanics:
The problem goes back a quarter of a century, when the collapse of the Soviet Union left the former superpower's main spaceport of Baikonur in the newly independent republic of Kazakhstan. Moscow eventually settled the dispute with Kazakhstan over Baikonur and now pays the country $115 million in annual rent to use it. But some disagreements have persisted, especially over the environmental and economic damage from failed launches that rained toxic debris below the rocket's path, sometimes in populated areas.
Putin hailed the success of the launch in true Putin form. "The equipment overreached itself a little bit yesterday," he said. "In principle, we could have held the launch yesterday, but the equipment overdid its job and stopped the launch. This is a normal thing."
However, there would be "an appropriate reaction" within Roscomos over the aborted launch, he said.