Is El Niño Finally Ending California's Drought?
It depends on how you define "drought."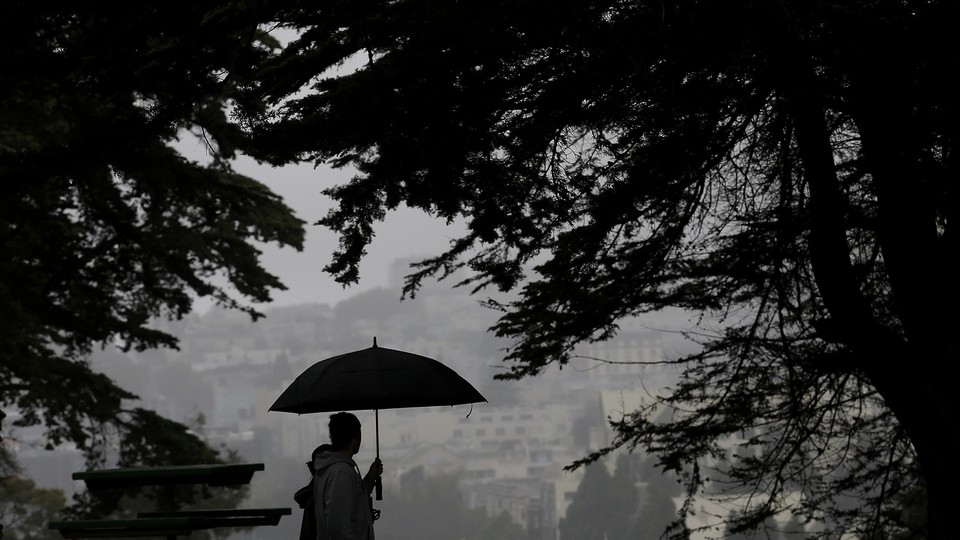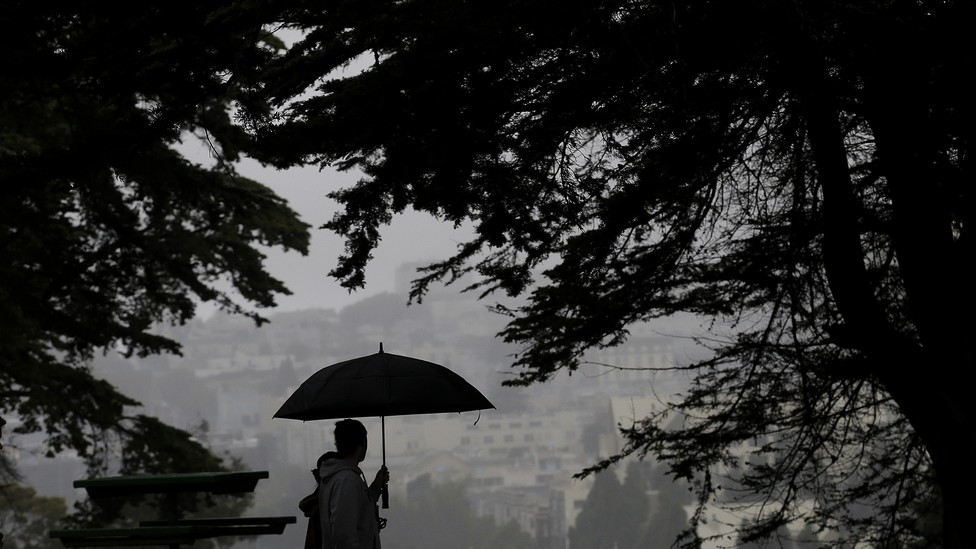 SAN FRANCISCO—This was supposed to be California's year.
After three years of an unprecedented drought, a "Godzilla" El Niño formed in the western Pacific. Previous years with strong El Niños had been unusually wet, with the warm patch sending one wet system after another rolling into the region. California had essentially missed two years' worth of precipitation. Surveying the wet season to come last fall, meteorologists said that El Niño was how it might restore the balance.
Now, six weeks remain in the state's annual rainy season, and results are mixed. Rain is drenching the Bay Area this weekend, but California as a whole seems on track to have only an average precipitation year.
Of course, that might be a surprise to people here, watching the "Blade Runner"-esque deluge out their window. This weekend's rain comes thanks to the formation of an "atmospheric river," a tendril of moisture lapping up from the tropics. This weekend's rain started in the Philippines and crossed a third of the planet before it struck the Bay Area:
For all this water, though, California will only see an average precipitation year.
"February was incredibly warm and dry," says David Pierce, a researcher at Scripps Institute of Oceanography. "If you look at the curves of El Niño, February to April is when we see rainy years differentiate themselves. It's already March. There's another six weeks of wet season, then that's all she wrote."
Rain totals have differed throughout the state this year. While northern California has had a fine year, the Los Angeles basin still seems gripped by drought, Pierce said. This weekend's rain will probably bring Bay Area totals back to normal.
But for the statewide drought—the one that shapes regional policy and local agricultural output—far more important than local rain totals are the status of the reservoirs. After the end of this pattern, Pierce said the manmade reservoirs could likely be at normal levels at last. Shasta Lake, an artificial reservoir near Redding, California, passed the 1,000-foot level on Saturday, the first time it had hit that mark since July 2013. The same lake looked like this by 2014: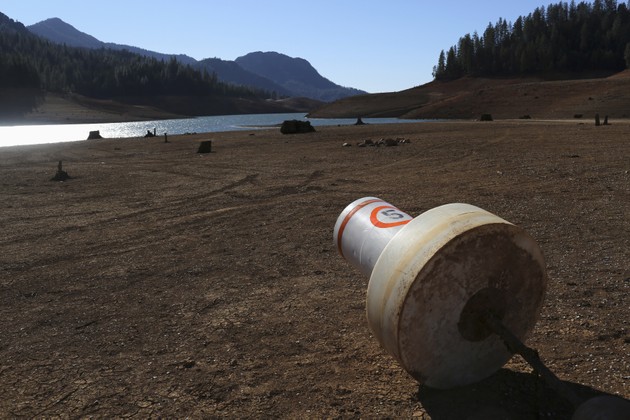 And the most important reservoir is no lake, Pierce said, but the snowpack in the Sierra Nevada mountains. The Sierra snowpack functions as the state's largest body of moisture. Moisture accumulates there through the winter before it's slowly released through the dry spring and summer. The Sierra meltwaters irrigate the Central Valley—which produces 8 percent of all U.S. agricultural product—and also recharge the state's artificial reservoirs.
The snowpack had been doing well before February hit. At the end of January, it sat at 110 percent of normal, which Pierce said was within the normal variation. By the end of the month, it fell to 80 percent. The major storm expected this weekend—two feet of snow are expected on peaks above 4,000 feet—could put the snowpack above normal again.
So if these rains don't manage it, will the snowpack end the drought over time? It's a funny question, said Pierce, because experts aren't sure what a drought as massive as California's will look like as it ends. They're not even sure when they should say a drought is over.
Some argue that a drought should end when the state finally makes up its two years of missing rain—meaning a technical "drought" could stretch on even when precipitation is normal and reservoirs are full. Others say that, after a couple years of normal rain and steady reservoirs, the whole drought might be declared over—even if California never makes up those lost years. A third measurement—whether depleted groundwater should indicate a drought—would result in a far different timeframe. Pierce said that National Integrated Drought Information System is working to standardize state-specific definitions of drought across the country.
But regardless of where the line formally gets drawn, the drought's effects will be felt here for years—in water-conservation policy, in lost crops and revenue, and as a harbinger of the new, climate-addled world to come.