Not Doomed Yet: El Nino's Heat and Imminent Famine
December was a weird month on planet Earth.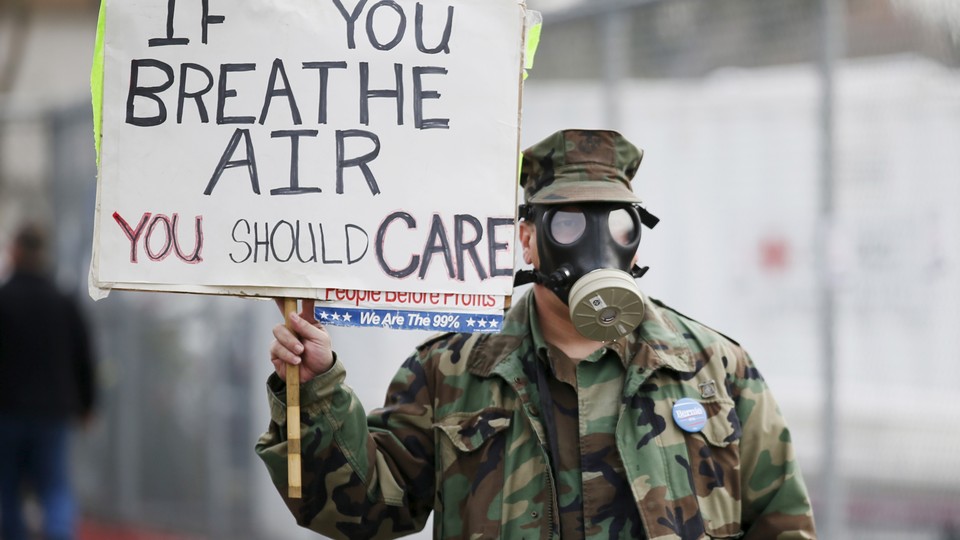 This is 'Not Doomed Yet,' The Atlantic's weekly newsletter about global warming. It lives here in the science section; you can also get it in your inbox:
The Megatrends
The atmosphere is filling with greenhouse gases. For the week beginning on January 3, 2016, the Mauna Loa Observatory measured atmospheric CO2 at 402.10 parts per million. One year ago, it measured 399.87 ppm. Ten years ago, there were 381.18 ppm at this time of year.
Renewable energy costs are plunging faster than anyone anticipated. I'd never seen this particular explanation for falling solar-power costs before: In the past decade, many important photovoltaic patents expired, as they had first been granted in the 1970s.
Solar surged past wind and hydropower to become California's number-one renewable energy source in 2015, producing 6.7 percent of the state's power. That's from this good, policy-dense op-ed on California renewable energy—there are a few good "call your state rep and ask for this policy change" moments—that uses statistics from CAISO, the local authority that manages the state's electrical grid.
By the way, even if you're one of the 99.5 percent of humans who don't live in California, CAISO's site has interesting data on what a grid in 2016 looks like. Watch solar ramp up this morning—it's the yellow line:
The U.S. greenhouse-gas regulations start ambling down the long road to implementation. 27 states are suing the U.S. Environmental Protection Agency to block implementation of the Clean Power Plan, the Obama administration's signature climate-change regulation. 18 states and the District of Columbia are supporting the federal government in court. "Four states—Idaho, Nevada, Pennsylvania and Tennessee—have not taken sides," according to Environment and Energy Publishing.
California and Pennsylvania will likely submit full plans for compliance by the end of the year.
Alabama, one of 27 states suing the EPA, will wait until late spring to determine a compliance plan. If the court has not issued a stay for the regulations by then, Alabama will fast track the creation of a plan.
Other states suing the EPA, including West Virginia and North Dakota, are formulating plans despite the lawsuit.
And North Carolina, another litigant, is developing two plans: an inadequate plan that it will submit to the federal government in order to force a faster court battle, and a second, which actually complies with the regulation.
Montana was worried it would have to shut down two 1970s-era coal plants due to the EPA regulations, and was ready to fight to keep them open, but now the utility company that's publicly controlled by Washington state—and which owns half of the plants—may shut them down anyway.
China is planning a cap-and-trade program to limit carbon emissions. The country plans to increase solar and wind power by 21 percent in 2016. It also plans to build 40 nuclear power plants by 2020. China currently has 30 nuclear plants in operation and 22 under construction.
After Paris
It's been three weeks since the UN Framework Convention on Climate Change adopted the Paris Agreement.
Paris was supposed to precipitate a great reinvestment of capital from fossil-fuels to renewable energy. In the green-energy trade press, news demonstrating that reinvestment is starting to trickle in. India, e.g., got a $1.5 billion loan to outfit households with rooftop solar. Morocco, still completing a 350-megawatt solar plant, asked for companies to start floating bids for an additional, 400-megawatt plant.
The logistics industry considers Paris. "While there are benefits of the Paris Agreement there are clearly supply-chain implications that industry stakeholders need to be aware of."
Meanwhile, in America: "Rather than articulating a plan for how to defeat [the Paris agreement] over the coming months, GOP lawmakers hint at a much more passive strategy in which a Republican president is elected, walks away from the agreement and never looks back."
This week in the Earth system