A Name-the-Storm Poll With the Same Problem as the GOP Primary
Editor's Note:
This article previously appeared in a different format as part of The Atlantic's Notes section, retired in 2021.
A major snowstorm is barreling toward the mid-Atlantic states. In D.C. in particular, it looks like it could dump more snow than the blizzard of February 2010, becoming possibly the worst storm in nearly 100 years.
And so what will we call this storm, this destroyer of worlds?
Well, we're not actually sure yet. The Weather Channel has dubbed the nor'easter "Jonas," sticking to the list of names they announced back in October. As I wrote at the time, the government doesn't name major winter storms like it does hurricanes, but many winter-weather experts increasingly feel like it (or they) should:
Naming storms, they say, will better help forecasters communicate the impact of storms. It will help meteorologists describe storms to each other, before and long after they hit. And it will even help strengthen meteorological understanding of what makes a major winter storm major: When the Weather Channel started naming storms, it just hurled them at any ominous-looking cold front; now, it only names storms if they will affect two million people or 400,000 square kilometers.
Jonas—or whatever this weekend storm is—definitely meets those criteria, as it's forecast to wallop everything between Washington and New York.
But not everyone wants to go with Jonas. So The Washington Post's Capital Weather Blog, the leading meteorological resource for the greater Beltway, is holding a poll to determine what exactly the system's moniker should be.
There are five choices. Four of them are good: Snowzilla, the Blizzard of 2016, Snownino, and Snowtastrophe. One of them is ... well, it's very bad. It's a lamentable Trump joke: Make Winter Great Again.
Before I get to why this poll resembles the Republican primary, let's spend some time playfully debating minutiae. The clear best choice among the four is Snownino (though it should correctly be Snowniño), because only that name ties this system back to the winter's strong El Niño while maintaining concision. The name is distinctive, memorable, and short: Everything you want in a silly weather name (and everything this blog post is not).
Snowzilla and Snowtastrophe are fine: They're variations on the [snow] + [end of the world] theme. The Blizzard of 2016 is also serviceable. It's probably what meteorologists will call it in the future, so why not get a start on now?
But Make Winter Great Again? I mean. Are you really going to ask your friend how she rode out Make Winter Great Again? Are you going to think back fondly on the warm snuggly drinking chocolate you made during Make Winter Great Again? Do you really want to forever connect a benign, non-politicized snow day with a mendacious racist?
And yet, turn to the poll itself, and with more than 2500 votes cast, these are returns: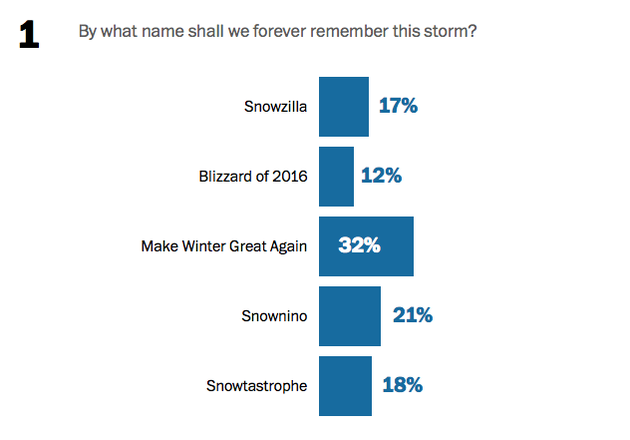 Non-Dumb-Trump-Joke voters make up, in fact, a majority of the votes. If Snowtastrophe and Snowzilla lined up behind Snownino, they could easily cream M.W.G.A. If Snowzilla dropped out of the race and its votes flocked to Snowtrastrophe, that name would take the lead.
But alas no. There might be a majority of non-Trump supporters among the electorate at large, but the field is too crowded—so a plurality of voters support the stupid Trump joke. And in this way, the poll to name the First East Coast Snowstorm of 2016 resembles the Republican primary.
Anyway, here's the link to the poll, at long last. And remember friends, vote strategically: Vote Snownino. Which just happens to be the choice I would have supported in this election anyway.