What the U.S. East Coast's Massive Snow Storm Looks Like
From outer space down to the streets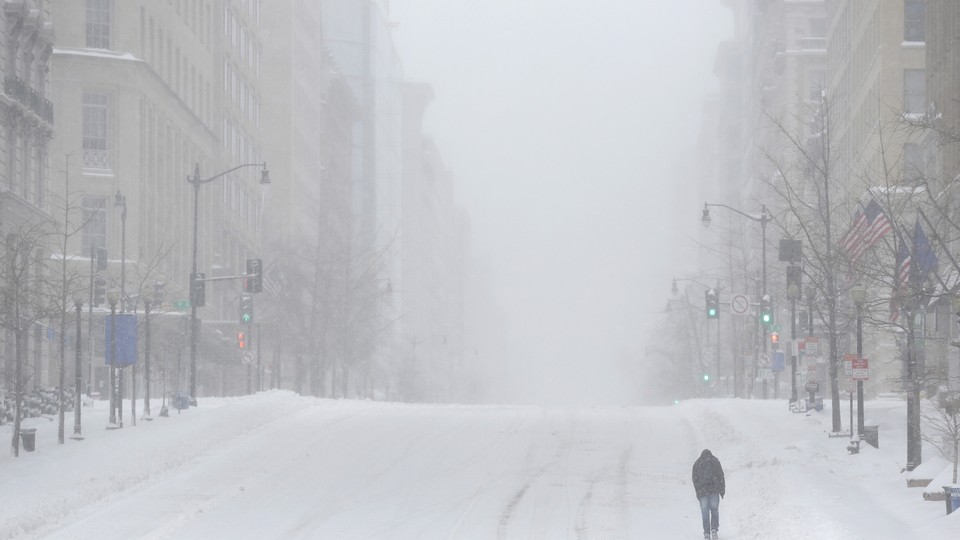 Updated January 24 at 9:31 a.m. ET
A massive snowstorm pummeled the Eastern Seaboard this weekend, shutting down major cities across the Eastern United States and dumping heavy snowfall from Kentucky to New York.
The historic blizzard swept northward along the mid-Atlantic coast Friday night, dropping between two and three feet of snow around Washington, D.C. and Philadelphia. More than 85 million people—or more than one in every four Americans—were covered by some kind of blizzard or winter-storm advisory on Friday, according to weather.com. At least 18 deaths have been reported as a result of the storm.
Before it hit, the storm had the makings of the "Big One" and appeared "textbook," according to the winter-weather expert who literally wrote the textbook on northeast snowstorms.
With the worst of the storm over Sunday morning, cities have begun the long process of digging themselves out. See how the East Coast responded to the storm at various levels: meteorological, street, local, state, federal, airspace, and, thanks to satellites and space stations, planetary. Click on the links to jump to each section.
The Meteorological Level
In recent days, a low-pressure system originating in the eastern Pacific Ocean moved ashore and began tracking across the country. The storm intensified as it picked up plenty of moisture from the Gulf of Mexico. Meanwhile, high pressure from Canada amassed Friday and fed in cold air to the system, producing snow.
The storm buried the northeast corridor, from Washington, D.C. to New York City, with more than two feet of snow. At least 14 states received more than one foot of snow. New York City's Central Park set an all-time daily snowfall record of 26.6 inches on Saturday. Parts of West Virginia received nearly 40 inches of snow.
The storm met blizzard criteria with sustained winds of 35 miles per hour, with gusts of more than 50 miles per hour recorded in some areas. The storm led to flooding in parts of coastal New Jersey and Delaware.
The Street Level
Most of the deaths attributed to the storm occurred while victims were driving or shoveling snow, according to the Associated Press.
Six in North Carolina, two in Kentucky, two in Tennessee, and one in Virginia were killed in car or snow-plow accidents. In New York City, three people died while shoveling. In Maryland, one man died of an apparent heart attack while shoveling. In Ohio, a teenager was hit by a truck and killed while sledding. Two people died of hypothermia in Virginia.
Some snowfall Wednesday night resulted in slippery roads and dangerous driving conditions in some cities. In Washington, D.C., often teased for its acute inability to handle even the tiniest coat of snow, about 2 inches of the stuff turned commutes into hours-long ordeals as crews scrambled to salt roads.
The crowd-sourced road-conditions app Waze showed a map of the area peppered with symbols signifying traffic jams or fender-benders Thursday night. Even Washington's most important resident wasn't spared: It took President Obama's motorcade about an hour and 14 minutes to trek the 15 miles between Andrews Air Force Base and the White House.
Authorities in Washington, D.C. shut down the city's public-transit system on Friday afternoon and urged residents to remain off the roads. To the north, in Philadelphia, most public transit also shut down by early Saturday morning.
The Local Level
In most cities along the East Coast, mayors declared various emergencies that would allow them to tap into certain resources.
New York City Mayor Bill de Blasio warned that motorists who remained on the road would be arrested. Local rail and buses were suspended and above-ground New York City subway stations were shut down Saturday afternoon.
De Blasio warned that the storm would be "one of the worst snowstorms in in New York City history."
In D.C., Muriel Bowser on Thursday apologized to the city's slow response to Wednesday night's snowfall and declared a state of emergency in the district. On Friday, she urged D.C. residents to be in their homes by 3 p.m.
In Baltimore, Craig Moe declared a snow emergency, which allows city officials to designate certain streets as snow-emergency routes and prohibit parking in specific areas.
The State Level
Governors in Maryland, Virginia, North Carolina, Georgia, Tennessee, West Virginia, and Pennsylvania declared states of emergency, which free up resources for storm response. New York Governor Andrew Cuomo imposed a travel ban in and around New York City. Some states activated their National Guards.
The Federal Level
The Federal Emergency Management Agency, the Department of Homeland Security, and the National Guard are working with D.C. in its response to the storm.
The Airspace Level
According to the flight-tracking site FlightAware, nearly 6,000 flights scheduled for Friday and Saturday were canceled ahead of the winter storm. All flights at the three Washington and Baltimore area airports and the three New York City area airports were canceled Saturday.
The Planetary Level
NASA astronaut Scott Kelly snapped a few photos of the storm as it swirled below the International Space Station:
And this image, from early morning Saturday morning, was captured by a NOAA weather satellite using a "day-night band" feature, which NASA explains "detects faint light signals such as city lights, moonlight, airglow, and auroras. Here, "the clouds are lit from above by the nearly full moon and from below by the lights of the heavily populated East Coast. The city lights are blurred in places by cloud cover":