Life Among the Elephants (and Bears, and Wolves, and Lions)
Inside a California sanctuary for retired performance animals and rescued illegal pets
Ed Stewart whistles out the window of his pickup truck, gunning up a small hill towards a building that looks like an airline hangar. "Come on, Nicholas!" he yells. "Let's go inside!"
He drives inside the structure, which houses a bed of dirt surrounded by a fence made of thick iron poles. Leaning against the fence are two bamboo sticks with padding on each end, resembling giant Q-tips. A man grabs one of the sticks as Nicholas makes his way inside the enclosure.
"You can almost feel him before you see him," Stewart says.
It's true. Nicholas, a 12,000-pound Asian bull elephant, doesn't go anywhere quietly. His trunk is longer than most people are tall. The veins in his ears are larger than human fingers. His shoulder joints move like small boulders.
Nicholas shuffles up to the fence and reflexively sticks his ear through a designated opening. The employee touches the sticks to different parts of the ear, whistling whenever contact is made, a training exercise to teach Nicholas to be comfortable with prodding, for when they need to clean him or take blood. The elephant, as relaxed as can be, repeats the process for his other ear and then for all four feet through a different hole, emitting a deep, gravely purr throughout the session. Afterwards, he gets a treat of bran and makes a little scoop out of his trunk to shovel it into his mouth. Then it's back outside, to the acres of open land littered with trees, mud, and water that serve as his playground.
Nicholas, now 22-years-old, is the largest animal at the Performing Animal Welfare Society (PAWS), the organization founded in 1984 by Stewart and his late partner, Pat Derby, to rescue large animals from subpar living situations at circuses, zoos, and illegal pet operations. He was born in captivity under the care of the Hawthorn Corporation, a company that rented performance elephants out of zoos. For the first several years of his life, the owners used bull hooks—long pointed rods that resemble fireplace pokers—to train him to ride tricycles and walk on balance beams. At age 5, he stopped performing and cooperating. He just wouldn't do it anymore. His owners moved him to a small concrete enclosure near the Illinois-Wisconsin border to live out the rest of his days.
Derby, who regularly heard about situations like Nicholas's through her ties to the animal-training world, wanted to take the elephant in, but Stewart was skeptical that they were equipped to care for him—male bull elephants are significantly larger and more aggressive than females. But at Derby's urging, he went to see Nicholas anyway; when he saw the 13-year-old elephant's cramped living conditions, he changed his mind.
When PAWS first adopted Nicholas, he refused to sleep on anything but concrete for six months, Stewart says. He'd gotten used to it. It took PAWS trainers 17 sessions to get him to sit still for checkups. He'd spent his earliest years learning to equate humans with pain; it was a long time before he could relax around them.
Almost every one of the 66 elephants, bears, tigers, and other animals in PAWS's three California facilities has a similar story. In the 30 years since its founding, PAWS has rescued hundreds of animals. Stewart now runs the organization on his own, an accidental animal lover who inadvertently found himself at the helm of one of the country's biggest large-animal sanctuaries. He lives alone in the hilltop cabin he and Derby once shared at ARK 2000, PAWS's main facility (the organization also has two smaller sanctuaries). He can see the elephants plodding around from his window; at night, he can hear the big cats roar.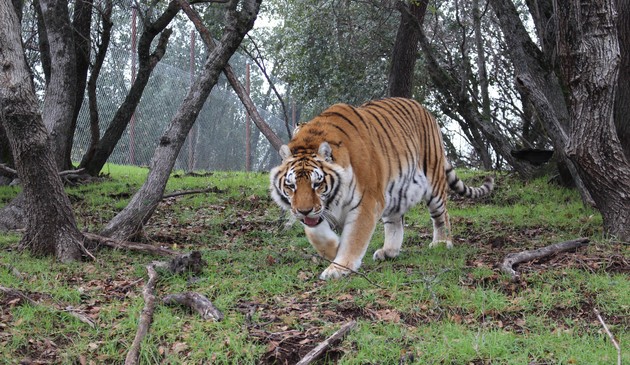 In PAWS's earlier years, Derby was the more knowledgeable of the two about how to care for the animals they were adopting. She had worked as an animal trainer throughout the 1960s and '70s, and also handled the Lincoln-Mercury cougar, a live mascot for the car company, often at national conventions. Derby and Stewart met in the '70s, when Stewart, fresh out of college and unsure about his next steps, was hired by Lincoln-Mercury to assist Derby and the cougar at an auto show in Cleveland. He'd never so much as owned a pet before, but as he and Derby got more serious, he grew to share her passion for animal welfare, eventually joining her in a lobbying campaign for California legislation banning wild animals as pets.
In 1984, the couple opened a 20-acre animal sanctuary in Galt, California. Originally, they planned to limit their facility to wolves and other smaller animals, but that didn't last long—soon after they moved, the Sacramento County Animal Control asked Derby if they could temporarily house a lion that had been kept as an illegal pet. The original plan was to keep the lion for a few weeks until a more permanent home could be found, but the couple didn't want to turn it over to a zoo or a circus, and those few weeks turned into 11 years. In the meantime, the couple opened a second, smaller facility, and continued to take in more animals—other big cats, antelope, bears, and eventually a baby elephant. As Stewart says, once you're responsible for an elephant, you're pretty much an elephant sanctuary. They needed to expand.
By 2000, Derby and Stewart had raised enough money to open ARK 2000 on 2,300 acres in the California mountains. The rolling land is heavily wooded, with a river running through the middle. Large fences provide boundary for acre-large enclosures full of pools, trees, and buildings for sleeping. It didn't take long for their new facility, which now houses 32 animals, to fill up.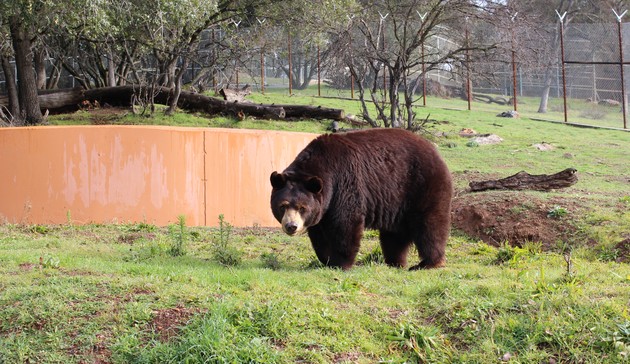 One of ARK 2000's residents is Boo Boo, an American black bear, who had been purchased at a flea market in Ohio as a cub by a man looking to spice up his 4-year old daughter's birthday party. After the party, the man kept the bear and chained him up to a tree. The bear grew, but the collar didn't—by the time a vet found him, Stewart says, Boo Boo was 9 months old and the collar dug an inch into his neck. He now lives in a two-acre enclosure with another black bear, big enough that it could legally fit 500 or so bears in California.
Their largest adoption came in 2004, after authorities busted a man running a pseudo-sanctuary in Colton, California, with more than a hundred big cats living in deplorable conditions. Ninety dead tigers were discovered on the property, including 54 babies stuffed into a freezer. PAWS wound up with 39 of the living ones. For a while, until the tigers began dying of old age, PAWS spent an average of $3,000 a week on meat just for the cats.
At ARK 2000, Stewart often stops mid-sentence to point out certain animal behaviors. Many of the animals spent the majority of their lives in cages, so when Stewart sees one using a skill it would use in the wild—a bear climbing a tree, for example, or an elephant trying to knock one down—it feels like a validation.
It also helps Stewart knowing that the number of elephants in captivity in the U.S. is shrinking. Ringling Bros. and Barnum & Bailey Circus recently announced that after 145 years of using circus elephants, the animals will participate in their last show in May. (A spokesman said the decision wasn't a reaction to pressure from animal-rights groups, but rather to the difficulty of complying with circus-animal regulations that vary by state and even by city.) Many zoos are also slowly phasing out their elephant programs, often because of costs—the San Francisco Zoo, for example, donated two elephants to PAWS before shuttering its program due to lack of funding.
In Stewart's ideal world, he says, PAWS would eventually fold. The non-profit has a yearly operating budget of $3.5 million, which comes entirely from donors (including the former The Price is Right host Bob Barker). The money is a constant source of worry, Stewart says, but hopes that he'll eventually close his sanctuaries because they're not needed anymore, not because the money's run out.
In the meantime, he's learning to manage the facility without Derby, who died of throat cancer in 2013. Her illness was hard on the sanctuary's other residents, too: After she was diagnosed in 2011, she spent several months avoiding the animals, a necessary precaution for an immune system weakened by chemotherapy. Some of the elephants became visibly upset during her absence, Stewart says; when she finished treatment in 2012 and began interacting with them again, an elephant named Lulu—who had been violently aggressive when PAWS first got her—was so excited that she bent over and put her head all the way to the ground to greet her.
But he and the animals are adjusting to life without their companion. The elephants no longer peer around the corner, hoping to see Derby coming out of the truck. The bears are used to seeing Stewart alone. The Siberian tigers still occasionally sit on top of their hill, behind a tree, visually stalking him like they would a deer in the wild.