Rebuilding New York's Coast, With Oysters
Staten Island is using the bivalves to strengthen its defenses against future storms.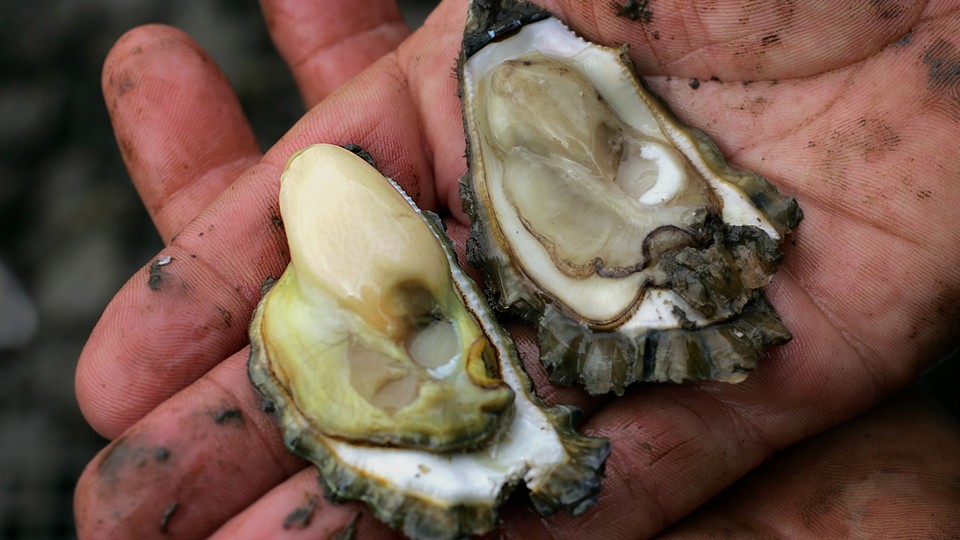 In New York, an oyster-studded reef is driving a $67 million strategy that can help a waterfront neighborhood thrive in the face of rising seas.
In a Staten Island neighborhood called Tottenville, on the southwestern nib of the city, a $60 million federal grant has spun out the first phase of an experiment that weaves together aquatic landscape architecture, science education, waste collection, and the politics of seaside life.
The result will be a breakwater 13,000 feet long in New York Harbor with oysters planted on it. Oysters' frantic way of making new oysters holds the promise of building this breakwater to a greater height over time.
The reproductive shimmy of the bivalves can clear dirty water and bring back baby bass, crabs, lobsters, and more species. It can also engage young people in marine science and sustain investment in a neighborhood that many people came to for the beach and stay in for the fishing.
So oysters are pressed into service. The concept of "oyster-tecture" came to the fore when landscape architect Kate Orff and her studio, Scape, presented it in 2010 in an exhibition at the Museum of Modern Art. CityLab wrote about Scape's long campaign to implement the idea in Brooklyn. That was weeks before Hurricane Sandy sent floodwaters into Tottenville, claiming two lives.
Now oyster-tecture is making a jump from theory to practice. The federal Rebuild by Design competition, which awarded millions to projects that mix storm barriers with socially important assets in places recovering from Sandy, funded Scape and a collection of partners to create an oyster reef off Staten Island's south shore, a recalibration of her concept for the Gowanus Canal to fit a bayside location. (The Rebuild grant adds an on-shore building, called a "water hub," to host community activities.)
At the same time, the state's civic rebuilding process, NY Rising, agreed to match the federally funded marine work with an on-shore dune system. The combined project will start construction in 2017 and is expected to finish in 2020.
* * *
Tottenville is a place of detached houses and low-rise apartment blocks with big balconies. It has grown denser as a beachside community in the past few decades, but only so dense. As part of "the island," its identity comes from its relative lack of numbers.
On a soupy December day, I visited the beach where two components have started design: the oyster-tecture, with $60 million in federal funding, and a $6.75 million dune-design project on land that's using state money.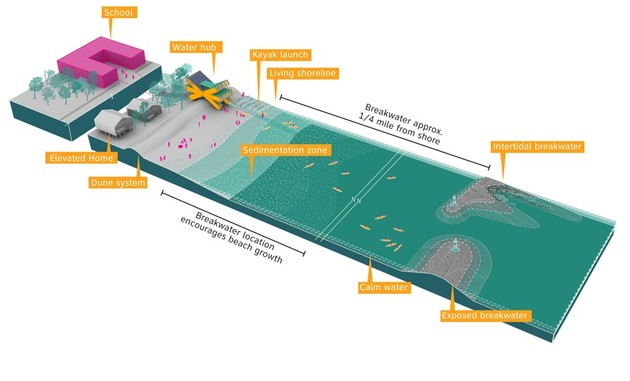 Zablocki, sustaining eye contact as he talks, stresses how the process aims to safeguard local priorities. A community advisory council "will look at iterations of design," he explains, and offer comments on them. Local leaders have already broadened the project's scope past the breakwater and this spot of beach, he says. "We've tasked Stantec [a huge engineering firm on the team] with looking at the whole shoreline."
Zablocki describes how the council requested a dune system on shore with beach grasses, and details in the breakwater that make it easier to boat through the reef. To hear him tell it, the project can parley a response to Superstorm Sandy into an urban-planning triple play: protect a coastal neighborhood; make science more fun and relevant for students; keep the middle class happy in a largely unequal post-industrial city.
But the approach also addresses other local concerns. A successful dune and breakwater system can temper beach erosion. And the focus on the whole ecosystem, beyond its biological virtues, makes for a decent bet that planners will create a habitat that supports stewardship by humans.
"The oystering attracts the fishery group, which is why we backed it in the first place," Malizia tells me later that day, after I've learned more about what oysters can do.
It all comes down to the oyster. To paraphrase Pete Malinowski, who heads a project subcontractor called the Billion Oyster Project: Oysters release sperm in streams and eggs in puffs. Of the millions of spawn that become babies (spats, in oysterese), hardly any live. They need hard surfaces to settle on to have any chance of withstanding rushing water. Shells of other oysters make prime landing spots. So they need reefs where they can settle.
Once they're building a reef, they effectively start a block party. They filter water by eating algae and push "feces and pseudo feces" (Malinowski's term) into sediment, and other life eats that. Other fish then come to swim in the clearer water.
Malinowski's nonprofit has been scaling up for a few years. It collects clean shells from restaurants and has students store them in massive wire tanks, where they introduce oysters to do their thing and eventually move out to open water. "This provides a perfect platform for kids to engage in their studies," Malinowski says.
That's apt, because this endeavor began with a study by Scape. Through Rebuild by Design, Scape's proposal is finally coursing along toward prime time. The design team submitted 10 scenarios to the state this month, says Zablocki, for community review and winnowing to three by spring.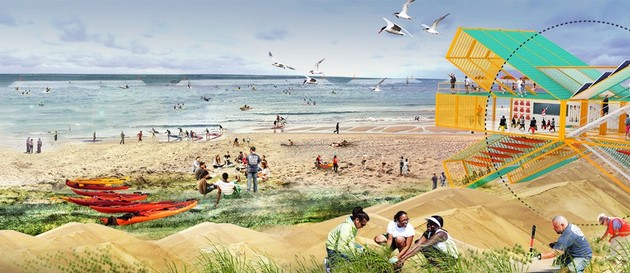 * * *
The Billion Oyster Project works with local teachers—some of whom, judging by my meeting with Deb Amoroso, can't get enough of the oystering.
In Amoroso's science classroom at I.S. (Intermediate School) 24 in Great Kills, you meet her Chinese dwarf hamsters Isaac and Newton, a guinea pig, and a few reptiles. She clearly practices all-around science, and appreciates the training she got from Billion Oyster Project, even though it once left her and a colleague lugging hundreds of pounds of shell across two ferries.
Amoroso loves the idea that her students will be monitoring how the oysters change Tottenville's ecosystem. And the Billion Oyster Project needs their free labor. Raising oysters requires a slew of spat, since most die in the rough current. So having the students collect and install shells will reduce the bottom line.
Still, project leaders are rowing against time. It's great to have kids building cages and collecting shells from restaurants, but only pros can design, build, install, and maintain the concrete reef system that the team hopes will start the cycle.
Assembling 13,000 linear feet of permeable concrete onshore and then barging it to a still-undetermined spot in the bay involves delays, truck traffic, and everything else that drags a public project. And that's a dark note in a neighborhood that grew out of its relationship with the water. If another storm pummels the coast, residents could wish they had a steel barricade. If it doesn't, they could tire of the construction nuisance.
In other shore-hugging areas along Staten Island, some bungalow residents are conceding to the sea and taking buyouts from the state to move. Some may have to leave the city to find places they can afford.
Residents of Tottenville sought out the beach. They could quickly vote with their car keys if the ocean becomes dangerous, or holding back the waves becomes onerous.
So making the breakwater a boost to other amenities becomes part of the job. The city's Parks Department sees a chance to connect the beach and a historic property, Conference House Park, to a state-owned trail system. If Scape can figure out how wide and far apart to make the "reef streets," then residents' 20-foot boats can pass through them.
Malizia hears this and counsels, quietly: "Let it be 30 feet."
Tottenville—known as "the town the oyster built" for its main trade in the 19th century—is an important test case. Zablocki believes the Living Breakwaters concept can be scaled to other communities. So, perhaps, can the concept of making waterfront urban life desirable in uncertain times.
---
This article appears courtesy of CityLab.