Not Doomed Yet: What El Niño Looks Like Around the World
A summary of global-warming news for the week of October 5, for people who want to pay more attention to it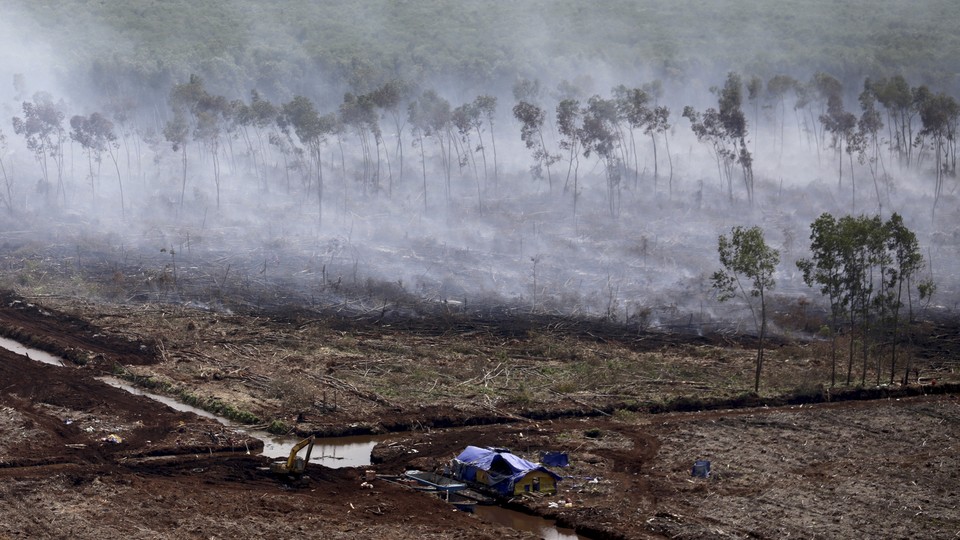 This is "Not Doomed Yet," The Atlantic's new weekly newsletter about global warming. It lives here in the science section; you can also get it in your inbox.
The Macro-Trends
The atmosphere is filling with greenhouse gases. Between September 28 and October 4, 2015, the Mauna Loa Observatory in Hawaii measured an average of 397.20 CO₂ parts per million in the atmosphere. A year before, that week saw 395.40 CO₂ ppm. For the same period a decade before, the Observatory measured 376.49 ppm.
Renewable energy costs are plunging faster than anyone anticipated. A new report from Bloomberg looked at the complete costs of 55,000 new energy projects around the world and found that generating electricity through onshore wind is now cheaper than burning fossil fuels in many places. Globally, onshore wind costs an average of $83 per megawatt-hour and photovoltaic solar costs $122. The price of each, respectively, has fallen $2 and $7 just since the beginning of 2015. From Chris Mooney's story:
That presents an increasingly favorable comparison with fossil fuels—though it still depends greatly on where you are located. Coal-fired electricity cost $75 per megawatt-hour in the Americas, but $105 in Europe. Gas-fired generation cost $82 in the Americas and $118 in Europe, on average, the report found.
And because renewable-energy projects don't cost much to operate after installation (as opposed to coal or gas plants, which always need new fuel to burn), this cost of renewables by this measure will continue to fall, even without further improvements in technology.
+ Meanwhile, Moody's estimates that, at current prices, half of the world's coal isn't worth the cost of mining it. ​
+ On Monday, Citi reportedly imposed much more stringent guidelines on any loans granted to coal-mining companies, effectively slashing its investment in the resource. Bank of America and Crédit Agricole did the same earlier this year.
+ I don't think I ever included this speech from Mark Carney, the governor of the Bank of England (equivalent to the U.S. Federal Reserve chair), who warned in a major speech on September 29 that banks and corporations were not sufficiently planning for climate change—and could never do so, if they stuck to traditional financial-industry time horizons:
The horizon for monetary policy extends out to two to three years. For financial stability it is a bit longer, but typically only to the outer boundaries of the credit cycle—about a decade. In other words, once climate change becomes a defining issue for financial stability, it may already be too late.
The U.S. greenhouse-gas regulations start ambling down the long road to implementation. Many states are now beginning local Clean Power Plan hearings, including Kansas, Oregon, and Pennsylvania. Kansas provides an interesting window into what the rules look like at the state-level: Lawmakers there say they'd rather the new rules get overturned, but they'll come up with a plan anyway.
Meanwhile, 14 states have alleged the EPA hasn't yet published the rules in the Federal Register to keep lawsuits at bay. The EPA's all, we promise we're publishing them, you're gonna get to sue us, don't worry.
China is planning a cap-and-trade program to limit carbon emissions. Going forward, I think it's worth grouping this trend with the mysterious things that are happening to coal in China and India. (It's not yet clear if those two countries' hunger for coal slowed down earlier this year or remains strong.) And to that end, I was impressed by the relative cheapness of coal in China, as given in the Washington Post story I linked to above: "Coal-fired electricity generation [in China] remained extremely cheap—just $44 per megawatt hour. Wind, in contrast, cost $77 and solar photovoltaics, $109."
Before Paris
Eight weeks until the most-anticipated climate negotiations since 2009.
One of the sticking points in the negotiations will be "climate finance." During the last major climate talks six years ago, Hillary Clinton pledged that rich nations give $100 billion toward helping poorer and more vulnerable nations prepare for rising seas, food insecurity, and worsened weather. With five years to go, the rich nations are definitely… like, probably, if you fudge it a little bit, only halfway there. I appreciated this review from Eduardo Porter in The New York Times on how the rich countries have, and have not, met this promise.
This week in the Earth system
The climate is changing: we have a new normal. The environment in which all weather events occur is not what it used to be. All storms, without exception, are different. Even if most of them look just like the ones we used to have, they are not the same….We argue that under such conditions it is better for event attribution to focus not on the synoptic event, but rather on the influences of the changed large-scale thermodynamic environment on the extremes and temperatures and moisture associated with the event.
Charlie Loyd is still making these gorgeous GIFs of Pacific weather patterns, using imagery from Japan's Himawari-8 satellite. Here's one of the wildfires, still raging, in Sumatra and Borneo on Wednesday. Never before has it been so clear to me that fires are land spewing cloud.

It's possible that those fires will emit more CO₂ in 2015 than the entire U.K.

If you type "El Niño" into Google News every week, you get touching-the-elephant-like sensations of the world's wholeness. For instance: The Guardian reports that Australia will likely suffer an especially dry summer this year, thanks largely to El Niño. If the continent sees rain anyway, it should thank the ocean on its other side. The Indian Ocean's own climatic cycle, manifesting right now as a warm patch of ocean near Indonesia, could bring moisture to the continent despite the Pacific's monster Niño. Meanwhile, in western North American accounts of El Niño, scientists weigh how the same event will interact with a different patch of warm water: "The Blob," which has lingered off the coast of the Pacific Northwest since late 2013. And the combination of the Blob and El Niño will push rains into northern California, possibly relieving its drought, and the Chicago-Acela axis will see a milder winter.

Back to Australia. The Indian Ocean's periodic warming cycle is shaped in part by strong winds off Somalia, Kenya, and Tanzania blowing water eastward—which sends warm surface waters to Indonesia, which in turn deliver rain to Sydney. But eastern Africa itself is also affected by El Niño. The Kenyan government has already issued warnings that record floods are expected this year, and the International Red Cross warns that flooding puts 60 million people living in the Sahel and southern Africa at risk for food insecurity. And now we are almost back to where we started.

Which makes me wonder: Is the Pacific Ocean one of the biggest, non-entire-atmosphere-sized objects whose variability shape humans' day-to-day lives?

In terms of even larger objects that touch, but don't usually shape, everyday life, the magnetosphere is an especially strong Aurora phase right now. On Wednesday night, the lights were seen as far south as Vancouver and the United Kingdom. And people as far north as Tasmania saw the Aurora australis.