An Absolutely EPIC Twitter Bot
Editor's Note:
This article previously appeared in a different format as part of The Atlantic's Notes section, retired in 2021.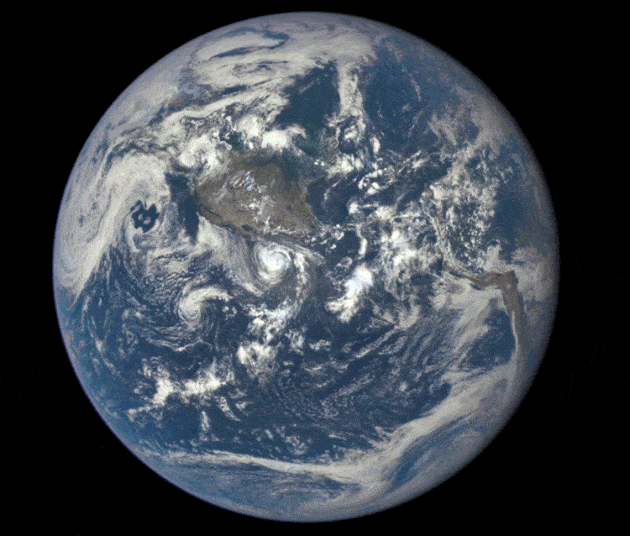 Nine months after launching from Cape Canaveral, Florida, NASA and NOAA's newest probe—the Deep Space Climate Observatory—has arrived at its destination nearly one million miles away from Earth. Now that it's there, it's turned its camera toward home, where it's capturing gorgeous images of our one and only home world. (Many of them are in the GIF seen above.)
In my story for the Science section, I hoped that a creative flourishing of these images was imminent:
Developers will write scripts that auto-load the most recent image as a desktop backgrounds or phone-lock screen. Meteorologists will point to storm systems to prove their immensity: "And just look at how big this thing is from space, Tom." And cable news channels (even them, alas) will figure out how to animate the pictures, and we'll see a spinning Earth right before some anchor sends it to commercial.
And just a few hours later, we're starting to see what that looks like.
Russ Garrett, a London-based developer, has built a Twitter bot that automatically posts the most recent image from the craft. Named after the camera aboard the satellite, the Earth Polychromatic Imaging Camera, you can follow it at @DSCOVR_EPIC:
The bot even geotags the tweet to the center of DSCOVR's image, such as the Mara region of Tanzania above.
One thing I'd note about the bot is that it appears to give the Coordinated Universal Time, or UTC, that every image was captured. That's standard practice for scientific projects. But since DSCOVR always floats between the sun and the Earth at the first Lagrangian point, the region at the center of the picture is always experiencing solar noon.