Not Doomed Yet: A New Newsletter About Climate Change
A weekly summary of global-warming news, for people who want to pay more attention to it.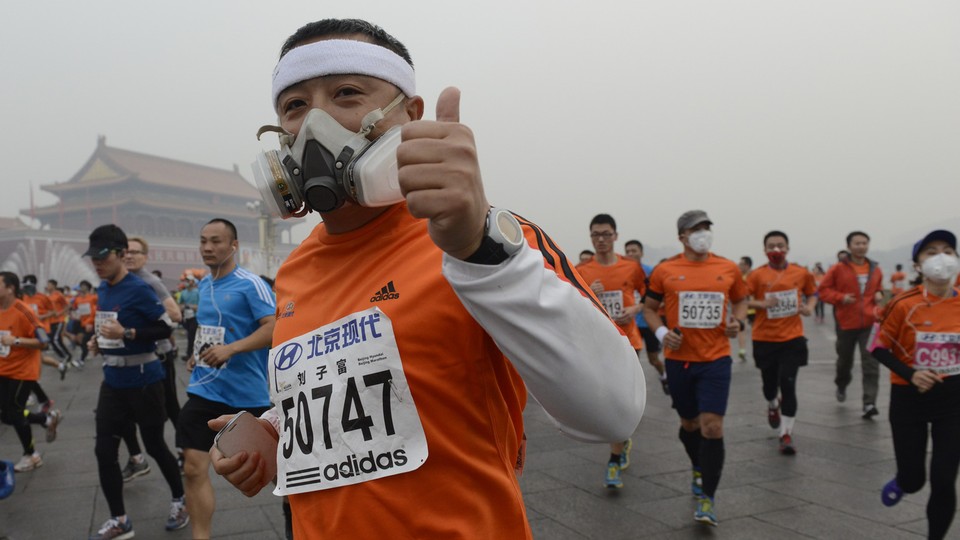 I remember the first time I learned about climate change. I was sitting at a fancy restaurant with my parents, reading a science magazine under the table. (I think it was Kids Discover, which—with its full-page photos, friendly writing, and cartoonish illustrations—ranked up there with the Klutz books as '90s edutainment par excellence.) In the bottom half of a page, there was an info box: Scientists had identified something called the greenhouse effect, which could make disastrously extreme weather more common and the planet too hot to inhabit. I remember looking around the table, anxiously, before stammering out a question to my parents: Did they know about this? Humanity breaking the planet, and adults were doing nothing about it?
I have lost count of the number of people who have identified climate as "the political issue of the 21st century." It ranks up there for me. Food, water, protection from the elements: It feels insufficient to say that climate touches everything, because it in fact permeates us. Physically, materially, existentially, the climate determines what it feels like to have a human body in this biosphere. And that means that every consideration of the future—of security personal, economic, and international—winds back to climate.
When I consider whether to have children, I think about climate change. When I consider where I want to live, I think about climate change. When I stand on the beach and play catch with my younger brothers and wonder what their young adulthood will be like, I think of refugees and resource wars—and, thus, climate change.
Even my current career, as a technology reporter, was inflected by the climate: When I first got into technology in the mid-2000s, I was partly drawn to it because I thought all that new wealth—and all that new expertise in handling data—might flow toward reducing greenhouse gas emissions. Climate change, a phenomenon without a mind, is engrained in every texture of my every ordinary day.
And I want to follow it better. So I'm starting this.
Posts will live here in The Atlantic's new Science section, but they'll also go to readers's inboxes. You can subscribe here:
* * *
This situation we live in, this situation which realistically we will never stop living in: How did it develop in 2015? In the popular U.S. press this past summer, there have been two big, attention-getting answers.
Eric Holthaus, Rolling Stone, "The Point of No Return: Climate Change Nightmares Are Already Here":
Historians may look to 2015 as the year when shit really started hitting the fan. Some snapshots: In just the past few months, record-setting heat waves in Pakistan and India each killed more than 1,000 people. In Washington state's Olympic National Park, the rainforest caught fire for the first time in living memory. London reached 98 degrees Fahrenheit during the hottest July day ever recorded in the U.K.
Jonathan Chait, New York Magazine, "This Is the Year Humans Finally Got Serious About Saving Themselves From Themselves":
Those who have consigned the world to its doom should reconsider. The technological and political underpinnings are at last in place to actually consummate the first global pact to limit greenhouse-gas emissions. The world is suddenly responding to the climate emergency with—by the standards of its previous behavior—astonishing speed. The game is not over. And the good guys are starting to win.
Is 2015 the year of shit-fan-hitting or of humanity-serious-getting? The two possibilities are not mutually exclusive, exactly, but they reflect different dispositions toward history. Are the recent American regulations cause for hope, or is everything getting worse much faster than we thought?
There are other, more expert accounts that loom behind these, too:
In July, the climate scientist James Hansen released a revised study on melting ice in Antarctica and Greenland. It estimates that sea level rise could occur 10 times as fast as previously believed. He and his coauthors warn that the resulting refugee disasters and resource shortages could produce an "ungovernable world."

Pope Francis's encyclical, Laudato si', positioned the world's largest Christian church behind climate-change mitigation.

And Al Gore has taken a more optimistic turn: "We're going to win this," he told The New York Times in March. "The only question is how long it takes."
Hansen's and the Pope's pleas are addressed to the UN climate talks in Paris at the end of this year, when UN member states will gather for the 20th time to consider limiting carbon emissions. Unlike in previous years, it seems likely they will take a "bottom-up" approach to the talks, agreeing to voluntary accords (not internationally binding ones) as the United States and China have done.
Climate is a strange story. Even if the UN talks come to nought, there will be macro-trends that shape the safety of Earth—trends like the falling cost of renewable energy, and the American abandonment of coal—that will continue. Our understanding of those big trends changes week-to-week, and it seems useful (if climate change really is a big political deal) to follow those trends beyond the gloom or succor of a big magazine profile. I want to follow the climate in a way that's not (a) reading a big, scary story, (b) freaking out for a day, (c) forgetting about it and going on with my life.
* * *
Here are the most important, concrete trends in climate news right now:
The atmosphere is filling with greenhouse gases. The Mauna Loa Observatory measured 398.49 CO2 molecules in the atmosphere per million molecules this week. A year ago, it measured 396.12 ppm. Ten years ago, it measured 377.86 ppm. An "unsafe" level is anything above 350 ppm.
"You owe the world $12,000 for burning all those fossil fuels," if you're an American born before 1995, but the article goes on to say you might owe something closer to $66,000.
Renewable energy costs are plunging faster than anyone estimated. This week's headline: The U.S. will likely add 7.7 gigawatts of solar power this year, or enough to power a little less than 5.4 million homes. China already installed that much solar between January and June of this year.
+ A reminder of just how big the plunge in renewable costs has been:
Experts predicted in 2000 that wind-generated power worldwide would reach 30 gigawatts; by 2010, it was 200 gigawatts, and by last year it reached nearly 370, or more than 12 times higher. Installations of solar power would add one new gigawatt per year by 2010, predictions in 2002 stated. It turned out to be 17 times that by 2010 and 48 times that amount last year.
The U.S. really seems like it's going to get serious about regulating greenhouse gas emissions. The Clean Power Plan, "the most important action any president has taken to address the climate crisis," got its first Congressional hearing, which was mostly Republicans saying how much they dislike the regulation. But any attempt to stop the plan will come from the courts, where the Obama administration won a fairly meaningless victory this week.
Before Paris
The UN's most-anticipated climate negotiations since 2009 begin in 11 weeks.
Last week, the French President François Hollande connected the upcoming talks to the continent's ongoing refugee crisis: "If we don't conclude [with a successful agreement], and there are no substantial measures to ensure the transition [to a climate-affected world], it won't be hundreds of thousands of refugees in the next 20 years, it will be millions."
About 100,000 people live in Kiribati. Its roughly 800 square-mile area is distributed across 33 islands in the central Pacific Ocean. The IMF and the World Bank disagree over whether it has the smallest economy in the world or only the third smallest. At a forum last week with Pacific island nations, its president pleaded with Australia and New Zealand to commit to only 1.5° Celsius of climate change. "It's not about economic development," he said. "It's not politics. It's survival."
About 23.5 million people live in Australia; its 2.9 million square miles sit mostly on its eponymous continent. It has about the 20th largest economy in the world. Last week, its immigration minister joked on a live mic about those meetings running late: "Time doesn't mean anything when you're, you know, about to have water lapping at your door." Australia did not commit to the 1.5° Celsius target.
Since then, Australia has changed prime ministers. Its new chief executive says he does not anticipate altering the nation's climate-change policy.
This week in the Earth system
* * *
And… hello again. This is an experiment. If I left something out, or there's something super important that the average climate-concerned person should understand, please write in and let me know. If you have a friend you think would like something like this, feel free to forward it to them. Please consider subscribing, and thank you for reading.