The Atlantic launches Atlantic Brand Partners
Interdisciplinary collective brings together the capabilities of a full-service agency, media company, creative studio, and live events group to offer a singular experience for clients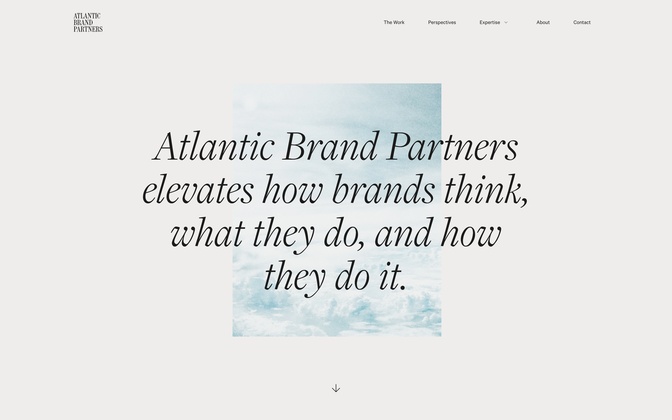 Today The Atlantic introduces Atlantic Brand Partners, an interdisciplinary collective that brings together the capabilities of a full-service agency, media company, creative studio, and live events group to offer a singular experience for clients. Driven by a common set of values, Atlantic Brand Partners draws from our combined expertise to deliver a truly integrated, end-to-end marketing experience—all focused around a mandate to help our partners reach a higher perspective.
Atlantic Brand Partners launches today with a new website and a series of essays by our staff, including a look at what design trends can tell us about the post-pandemic future; how obsessing with new marketing formats and trends often comes at the expense of good ideas; and a conversation with The Atlantic's vice president of product about how his team is reimagining the story.
As a collective, Atlantic Brand Partners provides a breadth and depth of integrated solutions that look different from any other publisher, agency, or media platform alone. With a shared way of thinking and operating, this collective model offers brands a partnership experience that's thoughtfully integrated and culturally consistent, from strategy to execution.
"Partners have long come to The Atlantic for the same reasons readers do: our credibility and trustworthiness built up over 163 years, and the higher perspective we provide in a time of deep uncertainty," said Stephanie Parker, The Atlantic's executive director of marketing. "But as the pandemic began and wariness grew, each of our teams heard overwhelmingly from clients that they were looking to forge deeper partnerships. Atlantic Brand Partners was born from this ethos, and built to help marketers step back from the day-to-day to see their brands in a wider context."
The collective works to elevate a company's point of view with the uncommon creative and consequential storytelling of creative studio Atlantic Re:think, or with the brand experience and design work of Atlantic 57. Advertising connects a partner with deeply engaged Atlantic audiences across print, digital, podcasts, and with the events and experiences of AtlanticLive. With this launch, we also introduce Atlantic Ventures, a new group that collaborates across the company to develop major editorial initiatives and new partnership models.
In the coming weeks, Atlantic Brand Partners will bring thought leadership to market through an intelligence platform that reveals the cultural phenomena driving the brand-customer relationship.
The launch of Atlantic Brand Partners comes on the heels of an ambitious new campaign from Atlantic Re:think and Land Rover, John Mayer Goes Outside, that was released last week, and as Atlantic 57 continues its Altered series to help companies navigate the ongoing evolution of the brand and consumer landscape.
Learn more at AtlanticBrandPartners.com.