The Atlantic Grows Newsroom Leadership Team
Ross Andersen named deputy editor; Caitlin Frazier promoted to senior audience editor; and Yoni Appelbaum to lead major expansion of Ideas section.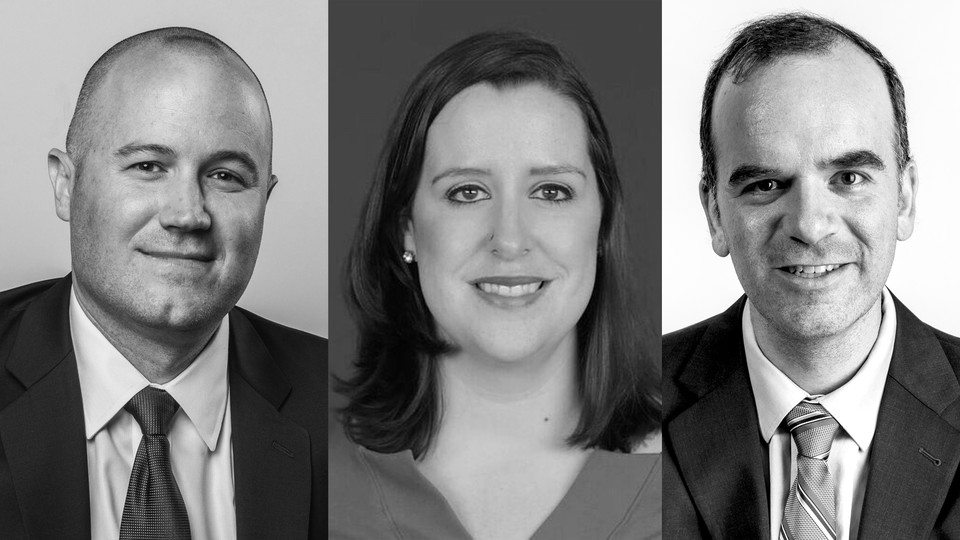 The Atlantic is creating senior leadership roles for three of its journalists: Ross Andersen becomes a deputy editor of The Atlantic, after four years as the top editor for Science, Technology, and Health; Caitlin Frazier will oversee strategy for audience and engagement; and Yoni Appelbaum will lead a major expansion of the Ideas section that he helped launch last year. These moves were announced by editor in chief Jeffrey Goldberg.
"Our journalism is stronger than ever in good measure because of the work of our corps of senior editors, led so expertly by Adrienne LaFrance," Goldberg wrote in a memo to staff on Tuesday.
Ross Andersen will become a deputy editor for The Atlantic, with a focus on conceptualizing and editing some of The Atlantic's most ambitious reporting. Together with print editor Don Peck and deputy editor Denise Wills, as well as LaFrance and managing editor Swati Sharma, he will help the print magazine produce rigorous coverage of the sciences, and will work across the newsroom to sharpen features on a range of subjects. Andersen will also continue to write; in the past few years, he reported from Siberia on a radical scheme to address climate change by bringing back woolly mammoths, and from India for an expansive look at the science of animal consciousness. Andersen has overseen The Atlantic's Science, Technology, and Health sections since 2015, growing all three desks and helping to open The Atlantic's San Francisco bureau in 2018. With Andersen's shift to deputy, the Technology section will be led by editor Ellen Cushing, Science by Sarah Laskow, and Health by Paul Bisceglio.
Caitlin Frazier is taking on a new strategic role on the audience and engagement team, as senior audience editor. Frazier has run day-to-day audience operations and managed the audience team for four years, building the team itself, overseeing the publication of original stories across social platforms and a variety of engagement experiments, and finding record audiences for The Atlantic's stories. "This is an absolutely crucial moment for us to have a leader of Caitlin's caliber and expertise taking on the challenges we face," Goldberg wrote. This year alone, The Atlantic is up nearly 20 percent in unique visitors; in July, pageviews grew 35 percent year-over-year. In this newly created leadership role, Frazier's principal focus will shift from the current state of audience tactics at The Atlantic toward their evolution and future.
Yoni Appelbaum will oversee a dramatic expansion of the Ideas desk. Nearly a year ago, The Atlantic introduced Ideas, which has gone toe-to-toe with the country's top opinion pages by offering sharp perspectives, essays, and arguments that drive the national conversation. Under Appelbaum's leadership, Ideas has quickly become a home for some of the top writing talent in the world—led by Atlantic staff writers, with contributions from elected officials and leaders shaping every industry—and a must-read for millions of readers. The section has delivered such tone-setting arguments as Adam Serwer's "The Cruelty Is the Point," Caitlin Flanagan's "They Had It Coming," Representative John Dingell's "I Served in Congress Longer Than Anyone. Here's How to Fix It," Senator Marco Rubio's "America Needs to Restore Dignity of Work," and Deborah Copaken's "My Rapist Apologized."
The Atlantic will hire three senior editors for Ideas, to join current senior editors Juliet Lapidos and Dante Ramos, who will focus intently on building capacity to publish an even greater diversity of writing from more voices. Lapidos is also moving into a new leadership role, running daily coverage for the section. Appelbaum, who is a historian of American institutions, authored the March cover story "The Case for Impeachment," in which he outlined the insurmountable ways that Trump has failed to uphold his oath of office and has attacked the foundations of American democracy.
###
Media Contact
Anna Bross / The Atlantic
anna@theatlantic.com