The Atlantic's Jemele Hill To Lead May 30 Event In Washington With Preeminent Athlete-Activists
First-of-its-kind event will examine times when social change and athletics intersect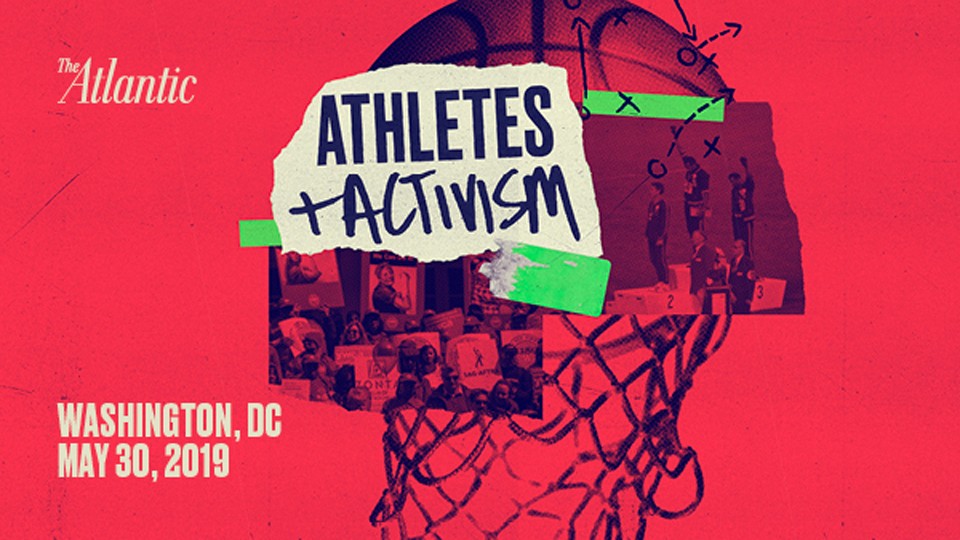 (Washington, D.C.)—Throughout history, athletes have captivated spectators with incredible feats of agility and performance. What happens when athletes use this moment of attention to take a stand, or send a message? On the afternoon of Thursday, May 30, The Atlantic will take center court at the Washington Mystics' new Entertainment and Sports Arena in Southeast Washington for "Athletes + Activism," a first-of-its-kind event, led by staff writer Jemele Hill, looking at times when social change and athletics intersect. The event is part of the opening weekend for the Washington Mystics.
"Athletes + Activism" will feature conversations with preeminent athlete-activists: Olympic medalist Dr. John Carlos, known for his Black Power salute from the podium in the 1968 games; Washington Mystics guard Natasha Cloud; hockey star Hilary Knight, who has been leading the charge in the league for equal support and pay; Briana Scurry, two-time Olympic gold medalist and World Cup champion who was instrumental in the explosion of women's soccer in the U.S.; Ibtihaj Muhammad, the first Muslim American woman to wear a hijab while competing for the United States in the 2016 Olympics; and Martellus Bennett, former NFL player, author of Dear Black Boy, and founder of The Imagination Agency. The day's conversations will also include insight and analysis from Damion Thomas, sports curator at the National Museum of African American History and Culture; Christine Brennan, USA Today columnist; and Hudson Taylor, founder, executive director, and board member of Athlete Ally.
Leading discussions will be Hill, who covers issues related to sports, race, politics, and culture as  a staff writer for The Atlantic. Hill's incisive recent writing–including examining Colin Kaepernick's relationship with the NFL, the murder of rapper Nipsey Hussle, and the controversial visit to the White House by some Red Sox players–has been essential reading for those seeking to understand these moments of discourse.
The Atlantic's "Athletes + Activism" event will take place on Thursday, May 30 at the Entertainment and Sports Arena (1100 Oak Drive SE, Washington, D.C. 20032) from 11:30AM to 2PM ET. The event is open to press; to RSVP, get in touch with Anna Bross and Hugo Rojo at press@theatlantic.com.
The event is made possible by the Washington Mystics.
###
About The Atlantic
Founded in 1857 and today one of the fastest growing media platforms in the industry, The Atlantic has throughout its history championed the power of big ideas and continues to shape global debate across print, digital, events, and video platforms. With its award-winning digital presence TheAtlantic.com and CityLab.com on cities around the world, The Atlantic is a multimedia forum on the most critical issues of our times—from politics, business, urban affairs, and the economy, to technology, arts, and culture. Bob Cohn is president of The Atlantic and Jeffrey Goldberg is editor in chief. Emerson Collective is majority owner; Atlantic Media is the minority operating owner of The Atlantic.
Media Contacts
Anna Bross and Hugo Rojo / press@theatlantic.com