Five Editors and Staff Writers Joining The Atlantic's Politics, Global, and Culture Sections
London staff writers highlight growing international presence.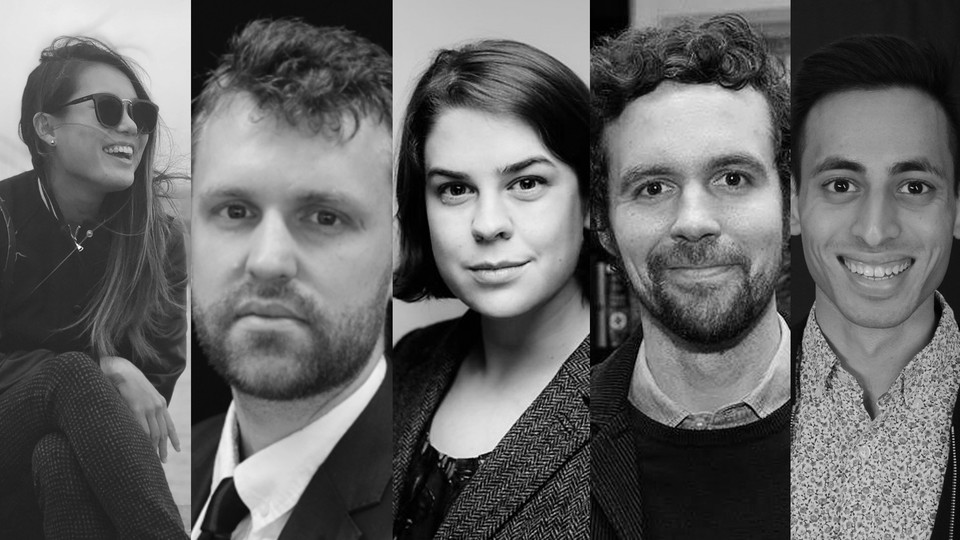 As The Atlantic continues its newsroom expansion, editor in chief Jeffrey Goldberg and executive editor Adrienne LaFrance announced today five new editors and reporters joining the Politics, Culture, and Global teams: Helen Lewis and Tom McTague as staff writers with The Atlantic's bureau in London; Shirley Li as a staff writer covering culture, based in Los Angeles; and on Politics, John Hendrickson as senior editor in New York and Saahil Desai as associate editor in Washington.
"The Atlantic, I am proud to say, is a talent magnet, and these five journalists are all excellent additions to our growing team," Goldberg said.
The five editors and writers will contribute to coverage areas that have been growing markedly in the past 12 months. Earlier this month, Goldberg also announced a restructure of his editorial leadership team, promoting LaFrance to executive editor overseeing all of digital, podcasting, and video; and both Swati Sharma and Sarah Yager to managing editors running day-to-day coverage and editorial operations, respectively.
Helen Lewis and Tom McTague join The Atlantic's bureau in London, where international editor Prashant Rao oversees the site's coverage of foreign policy, democracy, and global conflict as well as its team of reporters in London, Paris, and Washington. Lewis has been associate editor of  the New Statesman, and was previously its deputy editor. At The Atlantic she will continue to focus on some of the biggest issues shaping a changing world—the decline in democracy, the culture wars, toxicity in public discourse, and feminism.
McTague has covered a period of almost unparalleled upheaval in British politics as a member of the U.K. parliamentary press corps, from the formation of Britain's first post-war coalition government to the seemingly endless drama of Brexit. He will continue to have this as his focus at The Atlantic, after nearly three years as Politico's chief U.K. correspondent. Before joining Politico, McTague was the politics editor at the Independent on Sunday.
Shirley Li, who was a 2014-2015 editorial fellow, is returning to The Atlantic as a staff writer in Los Angeles. She will cover the shifting culture of Hollywood and report at the intersection of filmed entertainment, business, politics, and technology. Li has been a staff writer at Entertainment Weekly, where she has reported on the making of Crazy Rich Asians and its ensuing impact on Asian representation in Hollywood; the shifting landscape of superhero TV in the streaming era; and the rise of industry-changing stars like Mahershala Ali, John Cho, and Awkwafina.
On politics, John Hendrickson brings his deep understanding of politics and magazine journalism to The Atlantic as a senior editor. He spent the past year as politics editor at Rolling Stone after four years at Esquire where, as digital deputy editor, he led the outlet's 2016 presidential campaign coverage. Hendrickson began his career at The Denver Post and later worked at the paper's parent company in New York.

Also announced today: Saahil Desai will join the Politics team as an associate editor. In this role, Desai will play a key role in shaping and executing coverage of the 2020 presidential campaign and beyond. Since August, Desai has been an assistant editor on The Atlantic's Family and Education desks.