A Bouncy, Fresh Brand of Trumpism
Vivek Ramaswamy has burst into the Republican primary race with ultra-Trumpy politics and super-tall hair.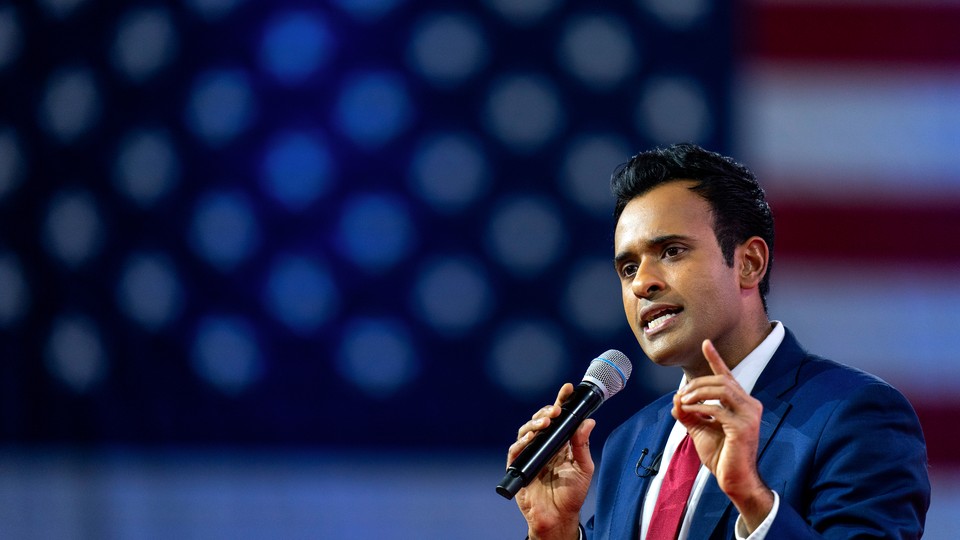 Vivek Ramaswamy is a tall man with tall hair. And last week, when he stood in front of a crowd in Iowa wearing a black T-shirt under a black blazer, he looked like Johnny Bravo delivering a TED Talk.
"We're not gonna be angry tonight," Ramaswamy told a few hundred Iowa voters before calmly explaining his theory of how America got to be so politically divided. The country is going through a national identity crisis, he explained, and people are turning toward "racial wokeism" and "radical gender ideology" to fill the emptiness inside. It's Republicans' job to fill that void, Ramaswamy said, "with a vision of American national identity that runs so deep that it dilutes the woke poison to irrelevance."
The 37-year-old businessman turned political candidate, who seemed to appear out of nowhere on the campaign trail, is now suddenly everywhere—including tied for third in GOP primary polling and, on Thursday night, at a campaign stop in the Des Moines metro area. The setting was industrial chic: an ultra-modern flooring-and-appliance store with exposed piping, broad glass windows, and huge whirring fans overhead. The crowd of Republican voters mingled between shiny model stoves and porcelain-tile displays, waiting to hear from Ramaswamy and a lineup of other speakers including Iowa's governor, Kim Reynolds.
As Ramaswamy had promised, the evening's vibe was not pessimistic or angry. He and the other speakers echoed some familiar Trumpian culture-war and "America First" themes. But the event lacked the gloom and doom of a Trump rally; there was no ominous string music or rambling soliloquy of personal grievance. Clearly an appetite, however small, exists for Ramaswamy's bouncy, fresh brand of Trumpism.
The voters there may once have liked or even loved Trump, but honestly, they're a little tired of his negativity. They know that Trump is the current primary front-runner; they might even vote for him again. But Iowa voters, who've long relished their power of first presidential pick, like to keep their options open, and they're intrigued by Ramaswamy. "His youthful optimism is a really good thing," Rob Johnson, a lawyer from Des Moines, told me. He voted for Trump twice, but he's ready for something new. Trump "brings an element into [politics] that is not productive. You get more with an ounce of sugar than you do with a pound of vinegar."
Ramaswamy, who was born and raised in Cincinnati, is the kind of entrepreneur whose actual job you can't quite put your finger on. He got his law degree from Yale and founded a biopharma company called Roivant Sciences in 2014. He's been brawling in the culture-war trenches for a while. In 2022, he started an investment firm explicitly opposed to the ESG framework, which involves incorporating environmental, social, and governance issues into business strategy. He's written books called Inside Corporate America's Social Justice Scam and, more recently, Nation of Victims, which urges Americans to "pursue excellence" and "reject victimhood culture."
The Millennial candidate is a bit like the GOP version of Andrew Yang: a get-up-and-go business bro who does something vague in the new economy, and who seemed to wake up one day and ask himself, Why not run for president? Ramaswamy has been all over Iowa since announcing his candidacy 12 weeks ago on Tucker Carlson's now-canceled Fox News show. A national CBS poll of likely GOP primary voters showed Ramaswamy tied with former Vice President Mike Pence for third place behind Trump and Florida Governor Ron DeSantis—albeit a distant third, at 5 percent.
On Thursday, Ramaswamy was introduced by a parade of joyful Republican culture warriors, who stood onstage while a loop of Fox News clips played from a projector in the back of the room. The Dallas County GOP chair performatively discarded an empty box of Bud Lite, a brand that's drawn the ire of conservatives for its partnership with a transgender influencer. And the crowd applauded wildly as former State Senator Jake Chapman checked off a list of successful or in-progress Republican projects: banning obscene material in school libraries; pushing for a statewide bill banning abortion after six weeks; Don Lemon getting the axe over at CNN. The cheers rang loudest for the last.
Ramaswamy's stump speech was a plea for people to resist the "cults" of race, gender, and climate—and a call to redefine what it means to be an American. That redefinition would apparently involve a few constitutional amendments and a lot of executive power. As president, he told the crowd, he'd end affirmative action and shut down the Department of Education. He'd boost the national Republican Party by telling Americans to "drill, frack, burn coal, and embrace nuclear." He'd send the military to patrol the southern border instead of defending "somebody else's border in God knows where." He'd shut down the FBI and give a gun to every adult in Taiwan to defend themselves against China. He'd prohibit young people from voting unless they performed national service or passed a citizenship test. He'd ban TikTok for kids younger than 16.
Ramaswamy left his listeners with a rosy takeaway: "The bipartisan consensus in this country right now is that we are a nation in decline. I actually think we're a little young. We're going through our own version of adolescence, figuring out who we're really going to be."
The New York Times has called Ramaswamy a "smooth-talking Republican who'd rule by fiat," and the candidate was proud enough of the headline to put it on his website. At the Iowa event, nobody seemed alarmed by his plans for the country. On the contrary, they were excited. They'd come to the event expecting a rote political speech from a random nobody; instead, they got a grab bag of new ideas and a blast of energy they haven't been seeing on the national political stage, where the current president is 80 and the former is 76.
"I was very impressed," Ree Foster, a two-time Trump voter from West Des Moines, told me. "I like Vivek's attitude much better than Trump's." Tate Snodgrass, a 24-year-old from Burlington, remains a Trump fan. Still, he heard something from Ramaswamy that he hasn't from Trump. "Vivek is like, 'I don't even care about the political parties. This is an American ideal,' which I found really appealing," Snodgrass told me. "I wasn't expecting to be wowed—but he wowed me."
Ramaswamy, who is Indian American, spoke before a mostly white crowd, in an overwhelmingly white state, and received a notably warm reception. Unlike the Democratic Party, which has shuffled the order of its primary season and demoted the Iowa caucus, Iowa Republicans have kept their first-place spot in the nomination process. Some are confident that Hawkeye State voters can work magic for Ramaswamy the way they did for the little-known outsider candidate Jimmy Carter in 1976—or Barack Obama in 2008.
Still, Ramaswamy is a long shot to win the primary; most GOP voters back the former president, who leads by double digits. Although DeSantis is still polling in second place, the conventional wisdom that the Florida governor is the natural heir to Trump has deflated in recent weeks, given his marked deficit of charisma on the campaign trail. But Ramaswamy's surprisingly high numbers suggest that maybe a shinier, younger, and more animated "America First"–style politics can still be competitive—or at least disruptive—in the age of Trump.