The First Electoral Test of Trump's Indictment
The most consequential election of 2023 is in Wisconsin.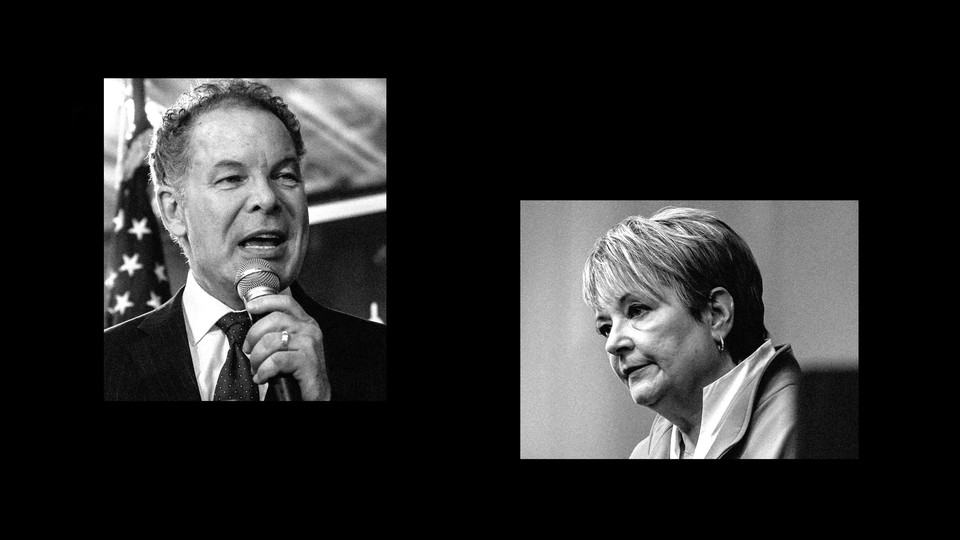 The most important election of 2023 may also offer crucial insights into the most important election of 2024.
Next Tuesday's vote for an open seat on the Wisconsin Supreme Court has been justifiably described as the most consequential election in the nation this year, because it will determine whether liberals or conservatives control a majority of the body. The election's outcome will likely decide whether abortion in the state is completely banned and whether the severely gerrymandered state legislative maps that have locked in overwhelming Republican majorities since 2011 are allowed to remain in place.
But the contest between the liberal Milwaukee County Circuit Court judge Janet Protasiewicz and the conservative former state-supreme-court justice Dan Kelly has also become a revealing test of the electoral strength of the most powerful wedge issues that each party is likely to stress in next year's presidential race.
Protasiewicz and her allies have centered her campaign on portraying Kelly as a threat to legal abortion and an accomplice in Donald Trump's schemes to undermine democracy—the same issues that helped Democrats perform unexpectedly well in last November's elections. Kelly and his allies have centered his campaign on presenting Protasiewicz as soft on crime, the same accusation that Republicans stressed in many of their winning campaigns last year.
With the choice framed so starkly, in a state that has been so evenly balanced between the parties, Tuesday's result will measure which of those arguments remains more potent, particularly among the suburban voters who loom as the critical swing bloc in 2024's presidential contest.
If Kelly wins, after being significantly outspent on television, it would underscore how much risk Democrats face from rising public anxiety about crime. But a Protasiewicz win, which most political observers in Wisconsin expect, would suggest that support for legalized abortion has accelerated the recoil from the Trump-era GOP that is already evident among college-educated suburban voters. And such a shift could restore a narrow but decisive advantage for Democrats in a state at the absolute tipping point of presidential elections.
"The margins are still very narrow, and of course the economy and other issues will come into play next year, but if it simply becomes a test between abortion and crime, I would say yes, [abortion] is more powerful by a slight, slight margin," says Paul Maslin, a Democratic pollster who has worked in Wisconsin for decades.
Like the state itself, the Wisconsin Supreme Court is closely divided. Conservatives now hold a 4–3 majority (though Brian Hagedorn, one of the four conservative justices, has voted with the liberals on some key cases, particularly four rulings denying Trump's effort to overturn the state's 2020 election results). The retirement of a conservative justice has provided Democrats this opportunity to secure a 4–3 liberal majority.
Though Tuesday's election is technically nonpartisan, the race has become a brawl between the two parties. The state GOP is mounting an extensive get-out-the-vote campaign for Kelly, who was appointed to the state supreme court by Republican then-Governor Scott Walker to fill an unexpired term in 2016 before losing his bid for a full term in 2020. State Democrats, meanwhile, have raised and transferred millions of dollars into the campaign for Protasiewicz, who served as an assistant county district attorney before winning election as a county-circuit-court judge . The tension between the race's openly partisan character and traditional notions of judicial neutrality and nonpartisanship has itself become a central point of contention in the campaign.
Protasiewicz has pushed the envelope for a judicial candidate by offering voters explicit declarations of her views. She has unequivocally affirmed her support for legal abortion, described the gerrymandered state legislative maps as "rigged," and declared that the signature legislation Walker passed to eviscerate the power of the state's public-sector unions is unconstitutional. But in the next breath she insists that those views—which she calls her "values"—will not affect her decisions on the bench.
The juxtaposition of those two assertions can be head-spinning. At a forum this week on the University of Wisconsin at Milwaukee campus, Protasiewicz declared, "I've been very clear with everybody that I think women should have a right to choose. Obviously, I can't comment about what I would do on any case. That robe goes on; my personal opinions go out the door."
After her appearance, I asked Protasiewicz why her "values" should matter to voters if they are irrelevant once she dons her judicial robe. "I truly believe that people have an absolute right to know what a candidate's personal thoughts and personal values are," she answered. Even if, I asked, they are irrelevant to your decisions? "I put them aside," she said.
Kelly and other Republicans have argued that Protasiewicz's candid expression of her "values" renders her too partisan for a judicial position. (At the Milwaukee forum, the conservative state-supreme-court justice Rebecca Bradley, appearing for Kelly, maintained that Protasiewicz would be forced to recuse herself from cases involving abortion, redistricting, and other issues because she has expressed such clear positions on them—a view that other legal experts reject.) But Kelly is, to say the least, an imperfect messenger for the argument that anyone else is too biased. He has been far more involved than Protasiewicz in direct partisan activities: Kelly has served as a paid legal adviser to the state's leading anti-abortion group as well as to the state Republican Party.
Andrew Hitt, the former state GOP chairman, testified to the congressional committee investigating the January 6 insurrection that he had "pretty extensive conversations" with Kelly and another lawyer about the fake-electors scheme that Trump supporters developed after the 2020 election in order to overturn President Joe Biden's victory in Wisconsin. Kelly says his involvement was limited to a single 30-minute conversation in which he explained he was not "in the loop" on the plans. But at the sole debate between the candidates earlier this month, Protasiewicz described Kelly as "a true threat to our democracy."
In the past, local observers say, Wisconsin Supreme Court elections have more narrowly centered on debates about crime and criminal justice (even though the court isn't directly involved in handing down sentences). "Law-and-order candidates have traditionally done very well," Mark Jefferson, the executive director of the state Republican Party, told me.
Kelly is running in that tradition. Ads from his campaign's final days are focused almost exclusively on lashing Protasiewicz over rulings she made to sentence a rapist and other violent offenders to limited or no jail time. So many sheriffs are appearing in Kelly ads that it's reasonable to wonder who is still patrolling the state's highways this week.
Protasiewicz has responded with ads defending her record on crime, and also jabbing Kelly over his work as a criminal-defense attorney. But mostly her advertising has insisted that Kelly would uphold the 1849 state abortion ban that snapped back into effect when the U.S. Supreme Court last year overturned Roe v. Wade. (Both sides agree that the state supreme court will eventually need to decide whether to sustain or strike down that law, which prohibits abortions in almost all cases, and is now being challenged in a lower state court.) Protasiewicz and the groups supporting her are heavily stressing abortion in their ads and have aired nearly four times as many ads across all subjects as Kelly and his backers, according to AdImpact, a group that tracks ad purchases. (That disparity exists largely because Democrats have raised enough money to allow her to buy the ads directly through her campaign, which receives lower rates, while Kelly's relying mostly on outside groups that must pay higher rates.)
That huge tactical advantage for her is one reason some observers are cautious about drawing too many conclusions from next week's outcome. Conversely, Trump's indictment yesterday might inspire enough Republican turnout to lift Kelly, especially because far fewer people vote in these off-year contests than on a typical November Election Day.
Yet a Protasiewicz win could put an exclamation point on a subtle but discernible shift in the state's political direction.
Though close elections are usually the rule in Wisconsin, early in this century it often leaned Democratic. The state was part of what I termed the "blue wall": the 18 states that voted for Democratic presidential candidates in all six elections from 1992 through 2012. (Democrats actually started their Wisconsin presidential winning streak in 1988.) Democrats also controlled both U.S. Senate seats throughout most of that same period, and the governorship for two terms after 2002.
But the tide began to shift around 2010, with the election of Republican Governor Walker and a GOP sweep of the state legislature. In 2016, two years after Walker won reelection, Trump dislodged Wisconsin from the blue wall, carrying it by 22,748 votes. Like Trump's 2016 victories in Pennsylvania and Michigan, which had also been part of the "blue wall," the former president's Wisconsin breakthrough symbolized his success at forging a winning coalition that revolved around massive margins among non-college-educated and non-urban white voters.
Charles Franklin, the director of the Marquette Law School poll in the state, says Wisconsin today remains divided almost evenly between the parties: 45 percent of voters identify as Republicans, 44 percent as Democrats, and the rest are unaffiliated. Yet since Trump's initial victory, Democrats have won most of the state's key contests. The Democrat Tony Evers beat Walker for governor by about 30,000 votes in 2018 and won reelection by triple that amount last year. In 2018, Democratic Senator Tammy Baldwin won a landslide reelection. Democrats also won big in state-supreme-court elections in 2018 and 2020. Biden carried the state by about 21,000 votes in 2020. The major Republican victories over this period have been narrow ones: Hagedorn's 6,000-vote 2019 win for the state supreme court and the roughly 27,000-vote win last November by GOP Senator Ron Johnson over the Democrat Mandela Barnes.
Those results suggest that Democrats have come out slightly ahead from the demographic and geographic re-sorting of the electorate that Trump accelerated here. As in states across the country, Republicans have grown stronger in heavily blue-collar and white rural areas, primarily across Wisconsin's northern and western counties where Democrats once competed effectively. But Democrats have been boosted by offsetting gains in the state's most populous cities and towns, many of them relatively more racially diverse or better educated. (About 90 percent of Wisconsin voters are white.)
Craig Gilbert, a fellow with Marquette University Law School's Lubar Center for Public Policy Research and Civic Education, calculated that from the 2018–22 governor races, Evers improved his performance in all 30 communities that cast the most votes except for Kenosha (where he was hurt by a backlash against the 2020 riots over the police shooting of a Black man in the city). The places where Republicans are winning "simply aren't growing," while Democrats are generally improving in the places that are adding population, Devin Remiker, the executive director of the Wisconsin Democratic Party, told me. "It's getting harder and harder for them to keep up with that trend."
Democrats have benefited from improved showings mostly in two areas. One is the so-called WOW suburban counties (Waukesha, Ozaukee, and Washington) around Milwaukee. Though the GOP still comfortably wins all three, Democrats have noticeably narrowed its margins. As Gilbert calculated, in Waukesha, which he described as "the most important Republican county in Wisconsin," 21 communities have shifted at least 20 points toward the Democrats in gubernatorial races since 2014.
Even more significant has been the explosive Democratic gains in Dane County, the highly educated hub for biotech, insurance, and government jobs centered on the city of Madison, home to both the flagship campus of the University of Wisconsin and the state capital. The Democratic share of the vote in Dane County has increased from about 70 percent for Hillary Clinton in 2016 to 75 percent for Biden in 2020 to 79 percent for Evers in 2022; Dane actually provided Evers a larger net vote margin than Milwaukee County did, something that would have been almost unimaginable even a decade ago. Franklin says Dane has become a triple threat for Democrats: "It is growing fast, the turnout keeps rising, and the lopsided partisan margins keep growing."
The flip side of the Democrats' improving performance in Dane and the Milwaukee suburbs is rising concern in the party about lackluster turnout among Black voters, especially in Milwaukee. Some local leaders fear that a political competition between the parties focusing more on social issues such as abortion simply doesn't engage enough lower-income Black voters, who are focused more on material needs such as jobs and health care. "If people feel like their issues are not going to be reflected, they are going to sit out," Angela Lang, the executive director of the group Black Leaders Organizing for Communities, told me.
Lagging Milwaukee turnout next week would be another signal that Democrats, as in 2020, continue to face challenges not only with non-college-educated whites, but also with blue-collar voters of color. But if abortion rights, in effect, trump crime and allow Protasiewicz to extend the Democrats' gains in white-collar suburbs, that could signal trouble for anti-abortion Republican presidential candidates in 2024—not only in Wisconsin but in the suburbs of any swing state. The Democrats' rural and inner-city troubles in Wisconsin, which still might allow Kelly to eke out an upset win, testify to the fragility of a modern Democratic coalition bonded less by economic interests than by cultural values. But a Protasiewicz win, in a state that Republicans probably must recapture to regain the White House in 2024, would demonstrate again that there's formidable power in that new coalition too.