Nancy Pelosi: 'Follow the Money'
The former speaker of the House discussed Silicon Valley Bank, January 6 revisionist history, and more in an interview focused on money and greed.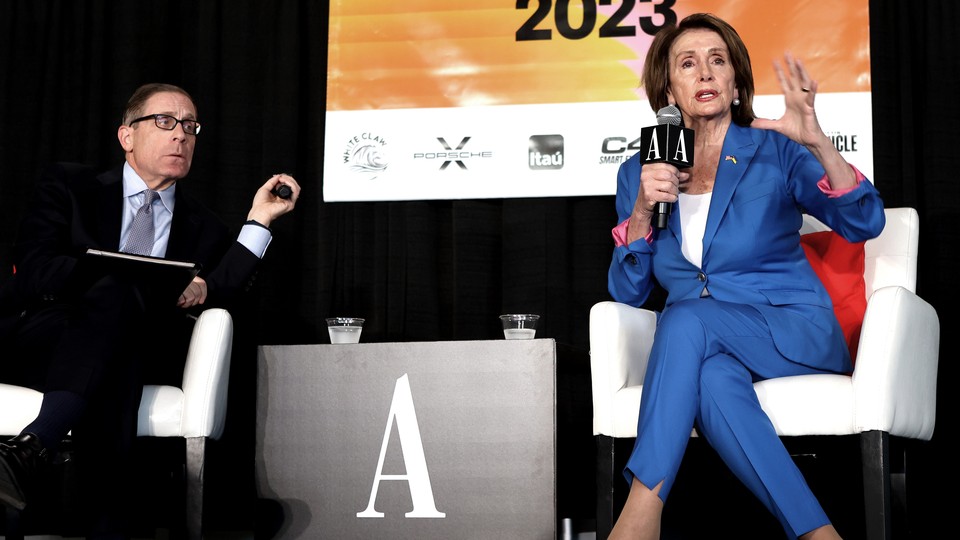 House Speaker Emerita Nancy Pelosi's message at the annual South by Southwest festival could be summarized in three words: Follow the money.
Pelosi uttered that specific phrase—and similar versions of it—several times during her interview with Evan Smith, a contributing writer at The Atlantic, as part of the magazine's Future of Democracy summit this morning in Austin, Texas.
Pelosi, who represents California's 11th congressional district, began by discussing the recent collapse of Silicon Valley Bank and the anxiety sweeping through not only her home district but the tech and financial industries as a whole. "I don't think there's any appetite in this country for bailing out a bank," she said. "What we would hope to see by tomorrow morning is for some other bank to buy the bank." She said there were multiple potential buyers, but she couldn't reveal their names. Pelosi pointed out that former President Donald Trump had authorized the reduction of certain Dodd-Frank protections that had been instituted following the 2008 financial crash: "If they were still in place and the bank had to honor them, this might have been avoided," she offered. Rather than repeating our recent history and using taxpayer money to rescue the failed institution, Pelosi said the focus should be on protecting depositors and small businesses at risk of closing or not making payroll. "We do not want contagion," she said.
Pelosi pointed to money—the reckless use and exploitation of it—as the root of virtually every problem facing America and the world today. Whether the potential fallout of a failed bank like SVB or the rise of autocracy around the world, it all comes down to money, money, money, and little else. "Money buying Russian oil is paying for the assault on democracy in Ukraine," Pelosi said. She accused China of "buying" votes from smaller countries at the United Nations, and said the U.S. must join with the European Union "in using the leverage of this big market to have the playing field be more even."
Pelosi refused to say Trump's name even once during her one-hour session, referring to the 45th president instead by "What's his name" under her breath. Still, she condemned the extremism and anarchy that had overtaken American politics since Trump began his rise nearly eight years ago. Her husband, Paul Pelosi, who was struck in the head with a hammer by a home invader last fall, joined her on today's trip to Texas, which was unusual, given that he's still recovering from the attack. "I was the target," she said. "He paid the price."
She spoke of the January 6 insurrection with sadness and disgust—anarchists "making poo-poo on the floor of the Capitol"—and acknowledged the rioters' goal to put a bullet in her head that day. Her successor, Speaker Kevin McCarthy, recently gave a trove of January 6 material to Fox News in the name of governmental transparency. Fox's biggest star, Tucker Carlson, downplayed the severity of the Capitol storming in a broadcast last week. "Something must be wrong with Tucker Carlson," Pelosi said. "There's money that runs a lot of it."
Taking a brief conciliatory note, she said she was hoping "for the best" for McCarthy as he continues his first year as House speaker. "We need to listen, and I hope that Kevin will listen to other than just the very radical, right-wing fringe of his party," she said, apparently gesturing at Trump and other election deniers. When asked about the prospect of Trump again becoming the GOP nominee in 2024, she was ready with a canned line: "If he is, we impeached him twice, and he's gonna lose twice." (Left unsaid was that neither impeachment resulted in Trump's removal from office.)
As for President Joe Biden, Pelosi called him a "magnificent leader" and said that she "certainly hopes" he will run again. (She joked that he's younger than she is.) Nevertheless, Pelosi seemed slightly agitated that Biden had yet to formally declare his candidacy, leaving other potential candidates in the Democratic Party with few options. "I think it would be efficient for us to have a president seek reelection, and we should be moving on with it when we can. Whatever decision he makes, we'd like to know."