Why Aren't More People Running for President?
The 2024 field has been frozen by an unusual pairing—a former president who still inspires fear and a sitting president still biding his time.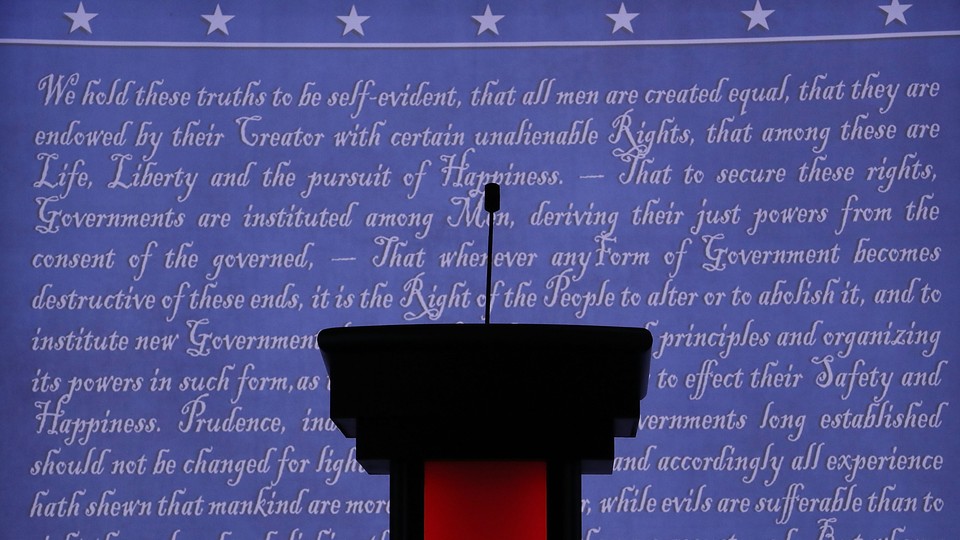 Does anyone want to be president?
Typically, by the time a president delivers the State of the Union address at the start of his third year in office, as Joe Biden will on Tuesday, at least half a dozen rivals are already gunning for his job. When Donald Trump began his annual speech to Congress in 2019, four of the Democrats staring back at him inside the House chamber had already declared their presidential candidacies.
Not so this year. The only Republican (or Democrat, for that matter) officially trying to oust Biden is the former president he defeated in 2020. Trump announced his third White House run in November and then barely bothered to campaign for the next two months before holding relatively small-scale events in New Hampshire and South Carolina in January. Trump will finally get some company next week, when Nikki Haley, the former South Carolina governor and United Nations ambassador, plans to kick off her campaign in Charleston. More Republicans could soon jump into the presidential pool. But the 2024 campaign has gotten off to a decidedly slow start, and the first weeks of 2023 have brought a rare reprieve from what has become known—with some derision—as the permanent campaign. This pause is not the result of some collective cease-fire; it's what happens when you have a former president who lost reelection but still inspires fear in his party, along with a Democratic incumbent—the oldest to ever serve—who is not exactly itching to campaign.
Even New Hampshire—normally one of the first states to welcome would-be presidents—has been subdued. "Other than Trump, I can't think of a leading person being here for the last couple of months," Raymond Buckley, the longtime chair of the state's Democratic Party, told me. He said he's used the lull to prioritize party building, "instead of constantly focusing on one Republican senator or governor after another."
The same is true in Iowa, that other presidential proving ground with a year-round appetite for stump speeches. "It's pretty quiet on the western front," David Oman, a Republican strategist and former co-chair of the Iowa state GOP, told me. As my colleague McKay Coppins recently reported, most of the Republicans who want the party to nominate someone other than Trump are, once again, reluctant to actually do anything about it. Trump's potential GOP rivals have been similarly shy about taking him on; until Haley put out word about her announcement last week, no one in the emerging field—which could include Florida Governor Ron DeSantis, former Vice President Mike Pence, and former Secretary of State Mike Pompeo, among others—was willing to be the first target of the barrage of insults and invective Trump would surely hurl their way.
The momentary quietude has dampened any pressure for Biden to shift back into campaign mode, and he's in no rush anyway. Tuesday's State of the Union address will likely yield even more performance reviews than usual, as pundits and viewers alike judge the toll that Biden's advancing age has taken on his oratory. As for the substance of his speech, White House officials told me Biden will continue the project he began months ago: promoting the accomplishments of his first two years in office, especially his bipartisan infrastructure law and the Democrats' Inflation Reduction Act that he signed last summer.
In the absence of a fully formed GOP presidential field, Biden has been content to use the new House Republican majority as a foil—adopting a strategy that Presidents Bill Clinton and Barack Obama employed after Democrats lost power in Congress during their first terms. Biden has vowed to protect programs such as Medicare and Social Security from GOP budget cuts; refused to negotiate over the debt ceiling (although the White House said last week he'd entertain "separate" conversations on deficit reduction); and eagerly highlighted ill-fated GOP proposals to replace the federal income tax with a 30 percent national sales tax.
Yet with Speaker Kevin McCarthy seated behind the president on the House rostrum for the first time, Biden is expected to stress conciliation over confrontation. "The president will once again amplify his belief that Democrats and Republicans can work together," a White House official told me, speaking anonymously to preview a speech that hasn't been finalized, "as they did in the last two years and as he is committed to doing with this new Congress to get big things done on behalf of the American people."
Biden allies expect the president to formally announce his reelection bid sometime after the State of the Union, but they note that could still be months away. Such a wait isn't unusual for incumbents, who don't need to introduce themselves to the electorate and generally want to be seen as focused on governing. But no president since Ronald Reagan has faced as much uncertainty about whether he would seek a second term. (Then the oldest president, Reagan was eight years younger in 1983 than the 80-year-old Biden is now.) Outgoing Chief of Staff Ron Klain pointedly referenced a reelection bid as he departed the White House last week, telling Biden he looked forward to supporting him "when you run for president in 2024." But other White House officials routinely affix the qualifier "if he runs" to discussions about a potential campaign, suggesting it remains less than a sure thing.
Aiding Biden is the fact that no Democrats of note (besides Marianne Williamson) have made any moves to challenge him for the nomination, and the president's allies are operating under the assumption that he will have the field to himself. "I would be shocked at this point if this becomes a competitive primary," Amanda Loveday, a senior adviser to the pro-Biden super PAC Unite the Country, told me.
The bigger question is how many Republicans will challenge Biden knowing they'll have to get through Trump first—and when they'll see fit to jump in. GOP officials told me they expect Haley's announcement to prompt others to enter the race soon. But Trump clearly froze the field for a while. All through 2021 and most of 2022, Buckley told me, "rarely a week went by without a major visit" to New Hampshire from a White House aspirant. "It all came to a grinding halt once Trump announced," he said. Jeff Kaufmann, the Republican Party chair in Iowa, told me that the first months of 2021—the brief period after January 6 when Trump's political future was in doubt—were busier for GOP hopefuls than this past January, just a year before the caucuses.
For most of American history, the observation that barely anyone was campaigning more than a year and a half before the election would be entirely unremarkable. Only in this century has a two-year campaign for a four-year term in the White House become the norm. (As recently as 1992, the governor of a small southern state declared his candidacy only 14 months before the election, and he did just fine.)
For most of the country, this respite from presidential politics is probably welcome, especially for voters who were inundated with nonstop campaign ads leading up to the midterm election. The view is a bit different, however, in Iowa and New Hampshire, where the quadrennial pilgrimage of politicos brings welcome attention and a sizable economic boost. Republicans in both states want to ensure that the GOP does not follow the Democrats in trying to leave them behind. Kaufmann told me he wasn't worried; Senator Tim Scott would be coming out to Iowa in a few weeks, and others were calling to schedule events, perhaps preparing their launches. By March, he assured me, all would be back to normal. This extended presidential halftime will be over, and America's never-ending campaign will resume in full.