Democracy Is Already Dying in the States
Republicans around the country are proving Joe Manchin wrong.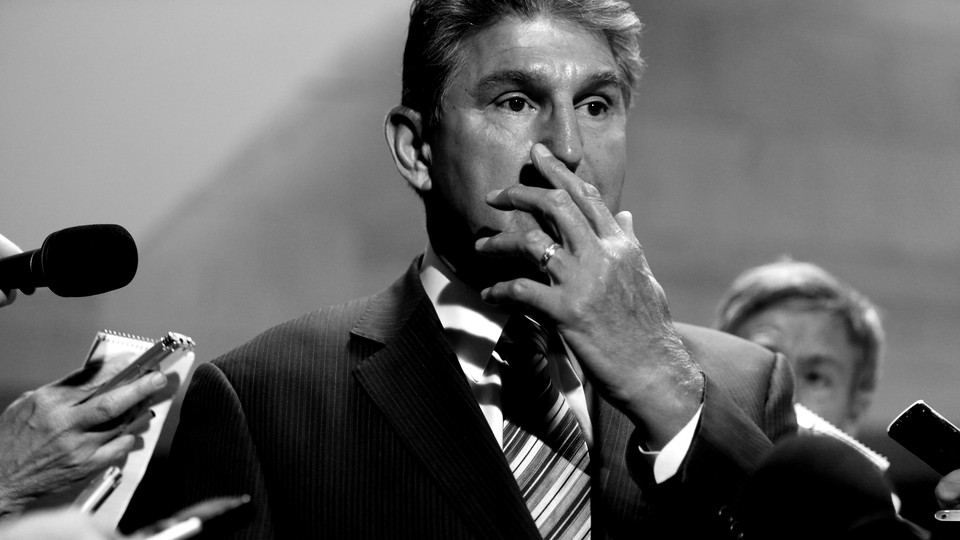 While Senator Joe Manchin is demanding that both parties agree on any further federal voting-rights legislation, a new study quantifies how completely Republicans have excluded Democrats from the passage of the restrictive voting laws proliferating in red states.
In places such as Florida, Georgia, Arizona, Iowa, Kansas, and Montana, the most restrictive laws approved this year have passed on total or near-complete party-line votes, with almost all state legislative Republicans voting for the bills and nearly all Democrats uniting against them, according to an analysis of state voting records provided exclusively to The Atlantic by the Brennan Center for Justice at NYU.
That pattern of unrelenting partisanship has left many state-level Democrats incredulous at the repeated insistence by Manchin, a conservative Democrat from West Virginia, that he will support new federal voting-rights legislation only if at least some Republican senators agree to it.
Manchin is "acting like Republicans and Democrats are working together on this stuff, and Republicans in Arizona have completely shut the Democrats out of the [legislative] process," Katie Hobbs, the Democratic secretary of state there, told me in an interview. Similarly, Jennifer Konfrst, the Democratic whip in the Iowa House of Representatives said, "It is unfathomable to me that we would look at this issue and say we have to bring Republicans along, in this political climate, in order to make true change. I don't see anywhere where Republicans are inviting Democrats along, or inviting Democrats to the table. Why are some Democrats saying 'I won't do this unless it's bipartisan?'"
In its latest tally of state voting laws, the Brennan Center says that since January, 14 states have passed 24 laws restricting voting access. (That's not likely to be the final tally, because the center also reports that dozens of other restrictive bills are still pending across another 18 states.) Of the new restrictions that have already passed, the Brennan Center qualifies 17 in nine states as "highly restrictive," imposing the greatest barriers to participation. In all of those nine states, Republicans hold unified control of both the state legislature and the governorship, except for Kansas, where the GOP-legislature overrode Democratic Governor Laura Kelly's veto of their voting changes.
Every state-legislative Democrat casting a ballot voted against 13 of those 17 laws, according to the Brennan analysis. A single Democratic state House member in Arkansas and Montana, and a single state senator in Wyoming, voted for three of the other bills. The only bill Brennan classifies as restrictive that drew meaningful Democratic support was a second bill in Arkansas, narrowing the forms of identification voters could use at polling places, which a significant number of Democrats from both legislative chambers backed.
Apart from that Arkansas voter-ID bill, the other 16 restrictive Republican measures won support from just two of the 509 state House or Assembly Democrats who voted on them, and just one of the 207 Democratic state senators. No Democrat co-sponsored any of these restrictive bills, the Brennan Center found.
Meanwhile, no more than a single Republican in either legislative chamber voted against any of these bills, other than two measures in Montana (one of which was opposed by two Republican state House members; the other by two GOP state senators) and an absentee-voting bill in Arkansas (that six in the state House opposed). Of the 1,143 state House or Assembly Republicans who voted on these restrictive bills, just 12 voted no (including the six on that one Arkansas bill); among state Senate Republicans, just seven of 458 voted no on any of these measures, the Brennan analysis found. "This was overwhelmingly a Republican partisan push and effort in the states," says Wendy Weiser, the vice president for democracy at the Brennan Center.
The Republican offensive has been spurred by former President Donald Trump's disproved claims of widespread voter fraud and abetted by conservative groups, such as Heritage Action for America, which has published model principles for reconfiguring voter laws and taken credit for the quick GOP actions in several states. Republicans around the country have dismissed charges from Democrats that the GOP's inability to prove any significant fraud in 2020 shows that the new restrictions are unnecessary. As the Texas Democratic State Representative Jessica Gonzalez put it during the floor debate there, "What are we trying to fix here that is not broken?"
In Arizona, the Republican-controlled legislature passed a bill earlier this spring that would remove up to 200,000 voters from the state's permanent early-voter rolls, which qualifies residents to automatically receive an absentee ballot every election; voting experts anticipate a disproportionate number of those culled as a result to be Latino. No Democrat in either the Arizona state House or Senate voted for final passage of the bill, which was quickly signed into law by Republican Governor Doug Ducey.
Hobbs told me that although county election officials may have registered objections directly to the legislators, in terms of the bill, "nobody was interested in making it better or listening to actual concerns or what we actually would have needed to make election administration more streamlined." Arizona Republicans are still pushing a second provision through the budget that would strip Hobbs's office of its authority to defend the state in election-related lawsuits, shifting control to the GOP state attorney general only until the end of his current term.
In Montana, the GOP-controlled legislature passed several bills restricting access to the ballot. One repealed the state's same-day voter-registration system; a second required voters who lack a government ID (or a concealed-carry gun permit) to submit two forms of identification in order to vote. No Democrat voted for either (though a single state House Democrat, of the 31 who voted, did back a third bill that made reducing hours at polling places easier.) "The Republican voter-suppression agenda that was passed in Montana was completely one-sided," Democratic State Senator Bryce Bennett, the vice-chair of the State Administration Committee that heard the bills, told me. "We were never consulted. These bills were brought up out of their own caucus and we fought like hell to make sure they weren't passed, but the votes weren't there."
In Iowa, the Republican-controlled legislature and GOP Governor Kim Reynolds approved a sweeping bill that cut early-voting days, reduced poll hours on Election Day, limited every county (regardless of size) to one ballot drop box, and stripped authority from county election officials while imposing severe penalties on them for infractions, among other revisions. Despite the breadth of those changes, the legislature completed the bill and Reynolds signed it by early March. "It was relatively fast for something that would have a significant impact on voter rules that had been in place for many years; it was one of the first ships to sail in this legislative session," State Representative Chris Hall told me. "They did not want it dragged out."
No Democrats in either legislative chamber voted for the bill; no Republicans voted against it. Konfrst serves on the House State Government Committee that heard the legislation. She said that during the subcommittee vote, the majority Republicans expressed openness to changes around the edges of the bill (for instance, on rules governing when county officials could collect a ballot from someone who is housebound), but that none of those changes were included in the final legislation. Konfrst, who is expected to be named the Democratic minority leader next week, added: "My sense was the cake was baked by the time it got to us, and any sort of input was window dressing and to give the appearance of bipartisanship, but there wasn't any meaningful bipartisan impact in the final product. Which is disappointing."
In May, during a live appearance on Fox News, Governor Ron DeSantis of Florida signed a sweeping bill that made it more difficult to obtain mail ballots, stiffened voter-identification requirements for such requests, reduced the number of drop boxes, and essentially prevented outside groups beyond family members from collecting ballots from voters. No Democrat in either legislative chamber voted for the bill; every Republican except one state senator supported it. Democratic State Senator Tina Polsky, who sits on the Ethics and Elections Committee that considered the bill, says that unified opposition from bipartisan county election officials persuaded Republicans to back off some of their most extreme proposals (such as completely banning drop boxes) but that Democratic input was limited to extremely peripheral issues (such as rules governing third-party candidates.)
In Texas, Republicans waited until the final weekend of the legislative session to merge separate restrictive voter bills that had earlier passed the state House and state Senate. The bill—which limited early-voting hours, further tightened the state's already-restrictive absentee-ballot provisions, and specifically barred tools that Harris County used last year to increase turnout (drive-through and 24-hour voting)—emerged so close to the deadline that Republicans ignored a state Senate rule requiring 24-hour notice before voting on any legislation. The tactic backfired, at least temporarily, when Democrats in the state House staged a walkout during the session's final hours that prevented the legislation's passage; Republican Governor Greg Abbott says he will call a special session to approve it later this year.
No Democrat had voted for either of those original bills, and Democrats complained that they were completely excluded from the conference committee that crafted the final proposal. "As problematic as the bill itself is … the way that legislation was passed was even more problematic," Democratic State Senator Beverly Powell said in an interview. "I was the only senator representing a majority-minority district on the committee … [but] I was never invited to participate in that process in any way. I was not invited to a formal meeting regarding the legislation and in fact basically got to see the final products as they were put forth for the entire Senate to see." Likewise, in the highly contentious struggle over restrictive voting bills in Georgia, every Democrat in both chambers voted no, and every Republican in both bodies voted yes.
After being steamrolled by Republicans in these debates, many state-level Democrats are mystified by Manchin's declaration that Washington should intervene to protect voting rights only if Senate Republicans agree to do so. "I know Senator Manchin is a former secretary of state, so I know he knows this subject matter, but in some places in the Deep South, like Texas, the level of voter discrimination is not accidental; it's intentional, and there is no common ground you are going to find with Republicans, when it is their sole mission to stop people from voting," Democratic Texas State Representative Trey Martinez Fischer told me.
Bennett, from Montana, also finds Manchin's position disconnected from his experience on the ground. "In Montana, we all understand the importance of bipartisanship," he said, "but we also have to consider the reality that we've got people at the state and federal level who are trying to undermine the core of our democracy. Bipartisanship is important, but the most important thing is passing bills that will protect every voter's access to a ballot."
In his calls for bipartisanship, Manchin is effectively giving Senate Republicans a veto on whether Washington should respond to an offensive against voting rights that red-state Republicans are advancing. Martinez Fischer echoed all of the state-level officials I spoke with when he told me that although the bipartisanship Manchin wants on voting rules might be ideal, it ignores the reality of how Republicans are acting in the states today. "You have a very noble standard in Washington as to how you'd like to operate, but when you pull the curtain back, you are going to see hyper-partisanship at its worst," he said.
Manchin has been vague and elusive on why bipartisanship should be the standard for voting laws in Washington when it's clearly not the rule in the states, or why he believes that congressional Republicans will agree to undo the partisan advantages their state counterparts are pushing into law. (His office did not respond to a request for comment on those questions.) Privately, other Democrats and voting-rights advocates have debated whether he is being naive or disingenuous in insisting that a critical mass of Senate Republicans will ultimately vote to protect voting rights. The new Brennan data, by so starkly documenting the partisan nature of the offensive against voter access under way in the states, may point the needle further toward disingenuous as the explanation if Manchin remains adamant in his refusal to act without Republican consent.