The Democrats Are Already Losing the Next Election
Eight months after the 2020 election, Democrats don't agree on what they've learned.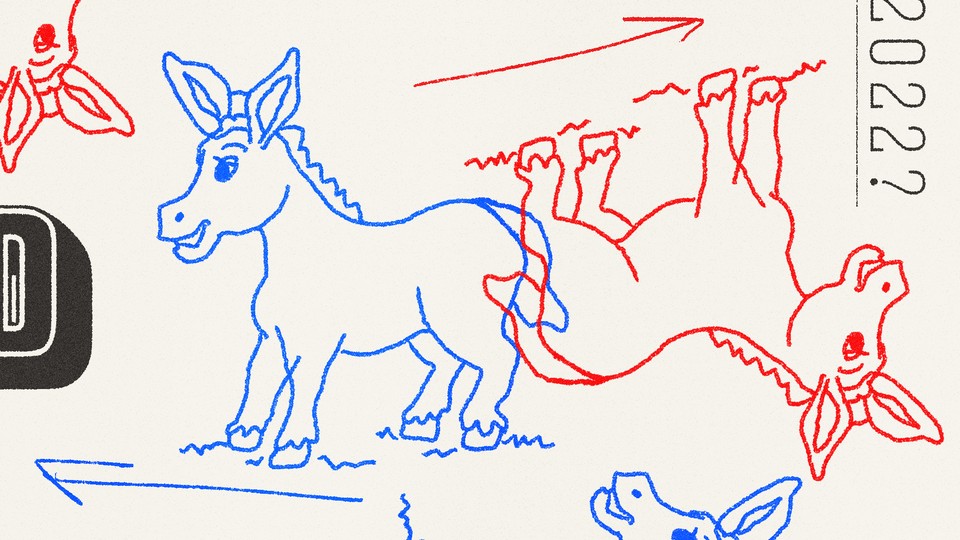 Debbie Mucarsel-Powell knew that winning reelection in her swingy Florida district would be difficult. But it wasn't until one night in February last year that the 50-year-old Democratic representative started to worry. That was the evening when then-presidential-candidate Bernie Sanders, in a 60 Minutes interview, showered praise on Cuba's literacy programs under the Castro regime. "Is that a bad thing? Even though Fidel Castro did it?" the senator asked Anderson Cooper. Watching at home, Mucarsel-Powell was aghast. "How ignorant can you be?" she remembers thinking. "It was a complete insult to the Cuban diaspora that had fled that country." Right away, she condemned Sanders's remarks, but in her South Florida district, which is home to thousands of Cuban and other Latin American immigrants, the damage had been done. Republicans used Sanders's comments to raise money for her opponent, Carlos Gimenez, and to paint Mucarsel-Powell as an ally of the "Castro-loving socialist." She lost her reelection bid by three points.
Mucarsel-Powell was one of 13 House Democrats who were unseated in the 2020 election—many more than the party had anticipated—and most were moderates like her who had first been elected in the blue wave of 2018. Other centrists, such as Representative Abigail Spanberger of Virginia, barely held on to their seat. She and some other Democrats blamed their struggles on a voter backlash to leftist ideas. In a caucus call, Spanberger complained that the slogan "Defund the police" had been fodder for GOP attack ads, and Representative Conor Lamb of Pennsylvania argued in a New York Times interview that progressives had pushed ideas that were unpopular in purple districts. New York's Alexandria Ocasio-Cortez dismissed those criticisms, arguing that moderates had simply run weak campaigns.
Eight months later, the Democrats are still fighting over who's to blame. A new report from Third Way, the Collective PAC, and Latino Victory seems to support Lamb's original thesis: Although the party succeeded at demonizing Donald Trump, Republicans were successful at demonizing Democrats. "Republican attempts to brand Democrats as 'radicals' worked, including among voters of color," the analysis concludes. It is one of several comprehensive examinations of the 2020 election released recently by a range of liberal groups that include the Congressional Progressive Caucus, the Democratic Congressional Campaign Committee, and the left-wing donor network Way to Win. Each offers a distinct conclusion about 2020 and a different lesson about how to proceed—evidence that the fierce intra-party debate, which consumed Democrats in November, remains unsettled 16 months before the party heads into an already unfavorable midterm election.
The authors of the Third Way and co. report, Marlon Marshall and Lynda Tran, present a few linked findings. First, Democrats lost support among Latino and Black voters because the party didn't give them something to vote for. Part of the report's explanation was that Democrats were so busy attacking Trump that they failed to offer a consistent vision for rebuilding the economy. In the absence of a powerful message, Republicans had ample space to label Democrats "radicals" who endorsed a socialist agenda and violence in the streets, the report said. According to Marshall and Tran, districts where Republicans emphasized "law and order" and "socialism" also saw a higher share of Latino, Asian, and Black voters supporting the GOP. The report's prescription might sound familiar: The party needs to start talking to voters—especially voters of color—earlier and to offer a focused message about jobs, wages, and economic prosperity.
Just as important as having a message is sticking to it. Democrats need to "fall in line" during campaign season, says Quentin James, the leader of the Collective PAC, which recruits and supports Black candidates for political office. "We have to be real about our ability to win elections and not just promote certain grassroots slogans," James says, alluding to the unpopularity of the movement to defund the police. "Running in deep-blue districts is super cool. But if you want to have a majority to legislate, then you need to help those candidates in more moderate districts. Shooting off the mouth on things that don't poll well is not helping the cause."
Mucarsel-Powell is not the only one who blames "shooting off the mouth" for her defeat. "[Voters] said to me directly, 'We support you, we know your positions, but we're worried about the direction of the national Democratic Party,'" Ben McAdams, who lost his reelection bid in his deep-red Utah district by fewer than 4,000 votes, told me. McAdams was one of the Democrats who voted most often against his own party. But "there were ads after ads saying I support a radical socialist agenda, and many of our loudest voices were saying things that reinforced that message." Other losing moderates, such as Xochitl Torres Small in New Mexico and Gil Cisneros in California, who'd flipped districts in 2018, were pelted with accusations of extremism and tied to progressive policy positions that they didn't endorse.
Democrats need to respond to these accusations directly, Lanae Erickson, a senior vice president at Third Way, told me. When now-Senator Ben Ray Luján's opponent in New Mexico accused him of wanting to defund the police, for example, Luján refuted the characterization in an ad touting his support for law enforcement. He won the race. "People are afraid to do that, because they're worried about the blowback" from left-wing activists, Erickson said. But providing a rebuttal gives voters "something to cling to on the other side, rather than letting it fester."
Attacks linking lawmakers with the fringiest elements of their base are not new in politics, but American politics is more national now than it used to be. "Everyone in the Democratic Party, for the first time in history, really, is sharing one common brand," David Shor, the head of data science at the progressive nonprofit OpenLabs, told me. "It becomes a share-of-voice question: Who are the people getting the most media coverage? If you tally it up, it means you have folks like [Joe] Biden [getting attention], but also the Squad." Message management is a particular challenge for the Democratic Party, whose members adhere to a wide range of ideological positions. Unlike the present-day GOP, Democrats have to contend with a majority that hinges on the success of their most moderate members.
Progressives offer a different diagnosis of 2020. The report sponsored by the Congressional Progressive Caucus PAC also concludes that voters don't seem to have a firm idea of what Democrats stand for. However, it argues that swing voters were not influenced by GOP messages attacking Democrats on socialism, open borders, and defunding the police. "We got very, very different results from our focus groups," Pramila Jayapal, the Progressive Caucus chair, told me. She believes that Democrats in different districts can campaign on different messages and still win if they embrace "bold, populist" ideas like raising the minimum wage and fighting climate change—"whether or not we agree on the details."
An analysis from Way to Win examined 2020 campaign ads and found that whereas Republicans spent millions of dollars casting Democrats as extremists, Democrats instead emphasized bipartisanship. That was a mistake, the report argues. Rather than spending valuable resources refuting outrageous accusations, Democrats need to turn the tables, leftists say, and campaign on the idea that Republicans, who encouraged the storming of the U.S. Capitol and pushed back against the expansion of voting rights, are the real extremists. "The message from the Dems was that Trump was a unique threat to democracy and that Joe Biden could work with the more normal Republicans, so the party has created a permission structure for people to vote for Republicans," the progressive pollster Sean McElwee told me.
Postmortems like these are a common ritual for parties that are disappointed after elections—a way to learn and grow from loss, to reform and redefine. But the process also offers an opportunity for factions within a political coalition to jockey for dominance. More than anything, these reports expose the fault lines in a party that has grown more and more progressive even as it relies on moderates to maintain power and pass legislation. The status of the pandemic, the economy, and Biden's popularity will undoubtedly be crucial to the outcome of next year's elections. But how Democrats resolve their disagreement about how to win—and who takes the blame for defeats—will matter.