The Conservative Publishing Industry Has a Joe Biden Problem
Neither authors nor publishing houses have figured out how to turn the new president into a compelling villain.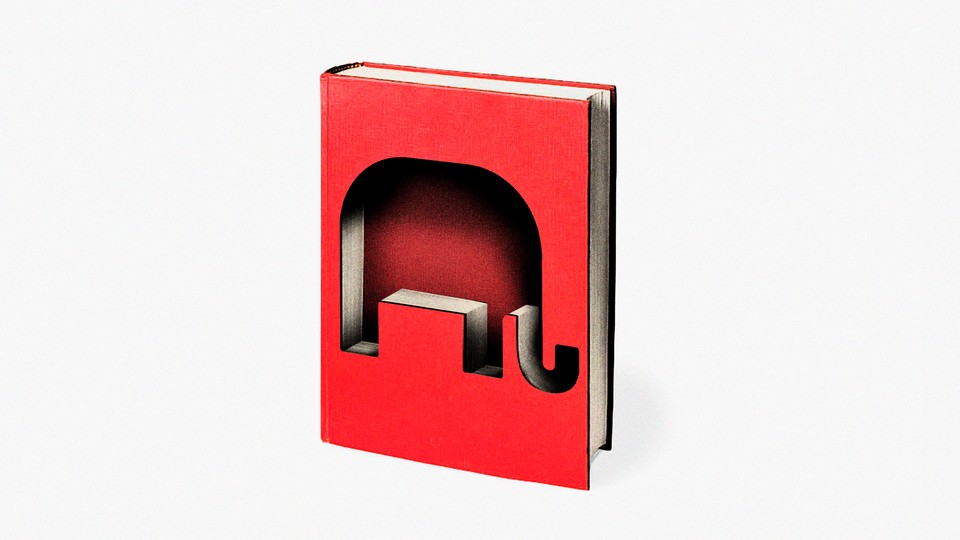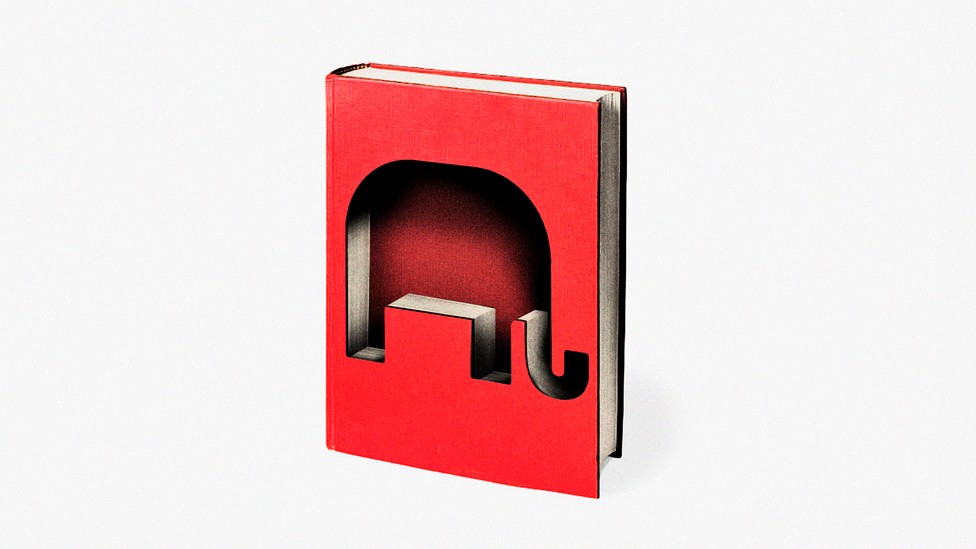 In the conservative book world, nothing is supposed to set off a gold rush like a new Democratic president. Ever since Bill Clinton inspired a wave of right-wing best sellers in the '90s, publishing houses that cater to Republican readers have learned to make the most of a new villain in the Oval Office, churning out polemics and exposés that aim to capitalize on fear of the new president.
Unless, that is, the new president is Joe Biden.
His presidency may be young, but industry insiders have told me in recent weeks that the market for anti-Biden books is ice cold. Authors have little interest in writing them, editors have little interest in publishing them, and—though the hypothesis has yet to be tested—it's widely assumed that readers would have little interest in buying them. In many ways, the dynamic represents a microcosm of the current political moment: Facing a new president whose relative dullness is his superpower, the American right has gone hunting for richer targets to elevate.
To some in the publishing industry, the apparent lack of appetite is bewildering. "In the past, it's been like taking candy from a baby to write a book about the Democratic president," one frustrated conservative editor told me, requesting anonymity to speak candidly about internal business practices. Now? "Nobody is trying."
To others, though, the apathy makes sense. Eric Nelson, the executive editor at Broadside Books, the conservative imprint of HarperCollins, told me that the right-wing media's portrayal of Biden as a weak, addled old man is not conducive to book-length takedowns. "Nobody who watches Fox thinks that Joe Biden is in charge of the country," Nelson said. The popular narrative on the right is that Biden is a kind of figurehead whose White House is actually being run by radical leftists behind the scenes. "If somebody came to me and was like, 'I have a book on Biden's secret plan to destroy America,' I would ask, 'How many times does the word nap appear in the index?'" Nelson said.
Ben Shapiro, the popular right-wing podcast host and author, echoed this sentiment. The president "has a deeply nonthreatening persona," Shapiro told me. "You kind of feel bad attacking him, honestly, because it feels like elder abuse."
Putting aside whether the perception of Biden as a bumbling geriatric bears any resemblance to reality, the fact that it's so firmly embedded in the conservative media means that it will be difficult to dislodge. To gain literary traction on the right, a villain has to generate fear and outrage, not simply ridicule. Consider the past three decades of conservative best sellers. When Bill Clinton was on the cover, the books were laden with prurient (and in many cases dubious) details about his alleged affairs and personal corruption. When it was Barack Obama, the books portrayed him—many in barely veiled racial terms—as a dangerous radical trying to transform America. And though she was never actually elected, the ominous prospect of a Hillary Clinton presidency generated years' worth of right-wing best sellers. (In 2006, when she was still a senator considering her first presidential bid, journalist Ben Smith wrote that Clinton had already been the subject of about 30 books, with a dozen more in the works, and compared the Hillary-book boomlet to the Da Vinci Code phenomenon.)
Jonah Goldberg, a former National Review columnist who has written several popular conservative books, told me it was never hard to make Hillary Clinton seem "sinister" to readers of a certain stripe. "Hillary was a kind of Zelig figure of the post-'60s left. Some of the associations were tenuous, but you could play the political equivalent of the Kevin Bacon game with her without needing more than one or two degrees of separation. Black Panthers! Communist law firms! Sidney Blumenthal! Saul Alinsky!" Biden, an aging white guy who spent decades in the Senate, is by contrast "somewhat boringly conventional."
And there's another problem, Goldberg told me: "Most of the good ammo against Biden—which I've deployed in the past—isn't as effective after four years of Trump. He says crazy things! He doesn't know what he's talking about! He has a ridiculous ego and lies about his brilliance and expertise! All of this is true. But all of that has been normalized by Trump." To a conservative movement that has been "mainlining crazy for five years," it's hard to get excited about measured criticism of Biden and his policies.
"The right-wing marketplace has been radicalized," said Goldberg, who has been a vocal critic of the Trump-era GOP. "Not just by QAnon-type stuff, but by years of anti-Clinton-and-Obama fare."
For now, the most successful conservative authors are training their fire on more abstract targets, such as "wokeness" and "cancel culture." A quick review of recent best sellers suggests that ignoring Biden can work just fine. According to BookScan, which tracks most hardcover sales, Andy Ngo's book on antifa, Unmasked, has sold more than 77,000 copies (an unqualified success in political nonfiction), as has Rod Dreher's Live Not By Lies, which bills itself as a "manual for Christian dissidents." The talk-radio host Mark Levin's forthcoming American Marxism—which will tackle, among other subjects, "the widespread brainwashing of students, the anti-American purposes of Critical Race Theory and the Green New Deal," per its publisher—is expected to be a massive hit when it's released in July.
Shapiro attributes this trend to a broader shift that he's noticed in his audience. While conservatives may not care about Biden, he told me, they are petrified of the larger progressive forces they see at work in American politics. "What people are afraid of right now are not powerful public figures. What people are afraid of are their bosses, their neighbors, that they're going to get mobbed on Twitter and get socially ostracized." Shapiro is betting that's where the focus will stay: His own book coming out this summer will cover what he describes as "the leftist takeover of every major institution."
Of course, conservative publishers are also grappling with an industry-wide problem: the end of the so-called "Trump bump." After five years of best-seller lists being dominated by books about Donald Trump—from journalistic investigations to MAGA hagiographies to resistance-friendly tell-alls—general interest in political nonfiction could be coming back down to earth. And by deliberately positioning himself as an antidote to the drama of the Trump era, Biden may serve only to further cool the market.
Adam Bellow, an executive editor at Bombardier Books who helped popularize the anti-Clinton genre decades ago, predicted that some Biden-centric books will hit the conservative market eventually. But he told me that any attempted exposés may be hobbled by the relative lack of journalistic firepower on the right, which is heavy on pundits and light on reporters. "One problem with conservative media is … they don't have sources in this administration," he said. "Nobody will talk to them."
Meanwhile, some in the conservative publishing world are determined to find a new bogeyman to fill the vacuum left by Biden. One possibility is Anthony Fauci, whose advocacy for COVID-19 restrictions has drawn ire from wide swaths of the right. (Faucian Bargain: The Most Powerful and Dangerous Bureaucrat in American History became a surprise hit when it was released in March, selling more than 68,000 copies.) But as the pandemic winds down in America, Fauci's staying power as an antagonist is in doubt. Another option is Biden's son Hunter, whose personal life and controversial business dealings have been widely covered on Fox News. He is the subject of a forthcoming book, Laptop From Hell, slated for this September.
One conservative editor told me that Representative Alexandria Ocasio-Cortez of New York might be the most logical choice, given the right's fear of socialism, but cited a unique challenge in making the congresswoman appear sufficiently menacing: "It's hard to find a bad picture of her to put on the cover." Instead, the editor said, the smart money is on Vice President Kamala Harris, who could be reinvented in the right writerly hands as a devious puppet master pulling the strings of the affable, witless president. (Sound familiar?)
So far, though, no one—in conservative publishing or the Republican Party—has cracked the missing-villain problem. And it hasn't been for lack of trying. Last month, when the conservative author David Horowitz released his new book, The Enemy Within, the cover featured an array of would-be Democratic bad guys, including Harris, Ocasio-Cortez, Bernie Sanders, Nancy Pelosi, and so on. It was expected to be a hit; Horowitz's last book—a vigorous defense of Trump—had sold more than 168,000 copies in hardcover alone. But apparently his readers weren't as taken with his new cast of characters. As of this writing, The Enemy Within has sold 12,898 copies.