The Democrats' New Trump Problem
Can the party win without the former president in the White House? Virginia's upcoming elections could provide the answer.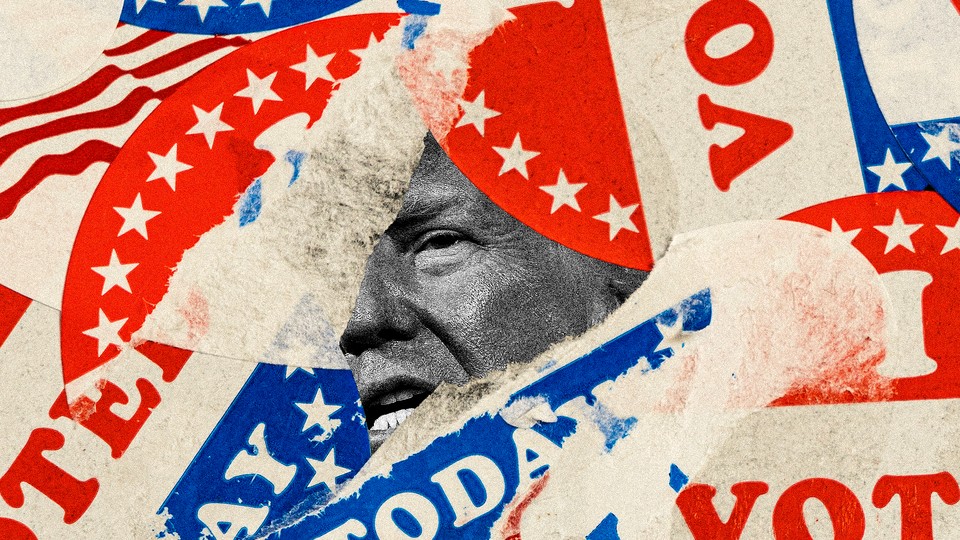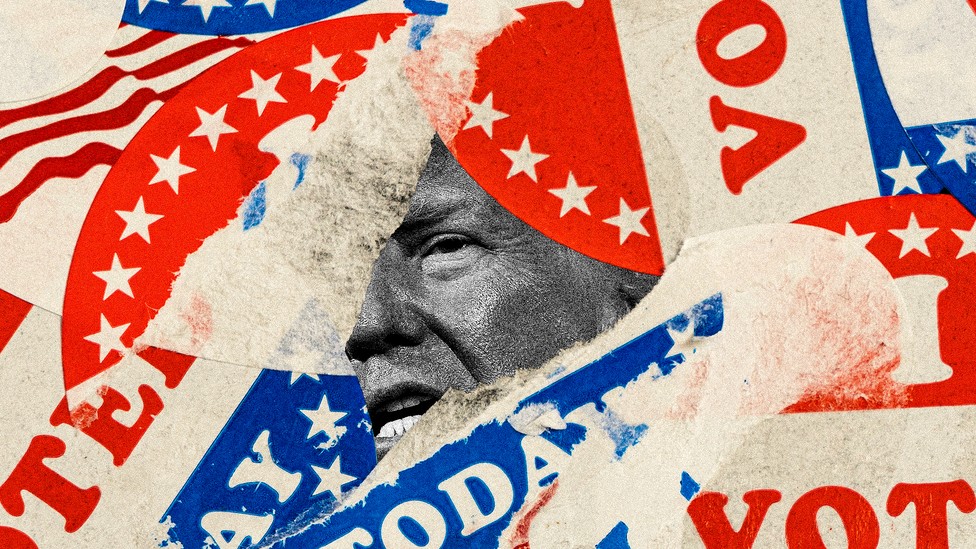 LEESBURG, Va.—I smelled their perfume before I saw them, the small troop of middle-aged women marching toward the park pavilion one night last week, with their flowy blouses and short blond bobs and oversize black sunglasses. They sat around picnic tables with a handful of other volunteers, mostly women, and awaited instruction. They were not here to mess around. They were here for democracy.
The evening's project: the first door-knocking event of the election season for the Virginia state delegate Wendy Gooditis, a 61-year-old Democrat and former real-estate agent first elected in 2017. Gooditis, like many other women across the country, ran for office that year because she was angry about Donald Trump's election. Similarly angry suburbanites helped her unseat the district's two-term Republican incumbent. In 2019, she defeated him again as part of a wave of anti-Trump backlash that helped Virginia Democrats take back the House of Delegates. But now, with her third campaign ramping up and Trump no longer in office, Gooditis needs to figure out a way to keep the enthusiasm alive.
"I know it is early to knock on doors, but we just have to keep people awake," Gooditis said, standing in front of the picnic tables and addressing her volunteers. She wore pink skinny jeans, and her long brown hair hung down her back. "Our job tonight is to remind people that there's a long way to go."
One of the biggest questions facing Democrats right now is whether, after four years of fevered anti-Trump activism and record-setting political engagement, they can sustain that energy during the Biden presidency. More specifically: Was the dramatic leftward shift of suburban voters in recent elections merely a Trump-era phenomenon, or did it represent a more permanent change? The answer might come sooner than you'd think. Voters in Virginia, whose population is concentrated in suburban areas, will head to the polls in November to decide their next governor, lieutenant governor, attorney general, and state delegates, such as Gooditis. The election offers the first test of the Democrats' new post-Trump coalition.
Virginia is "a great signal for how the midterm is gonna go," Chaz Nuttycombe, the director of CNalysis, an election-forecasting group based in Virginia, told me. "There is no Trump tailwind for the Democrats to ride."
Virginia has been an important bellwether before. The 2017 gubernatorial race between the Republican Ed Gillespie and the Democrat Ralph Northam was widely viewed as a referendum on Trump's election; Northam won by nine points. The following year, three Democrats—Jennifer Wexton, Abigail Spanberger, and Elaine Luria—unseated Republican incumbents to help Democrats take back the U.S. House. Virginia Democrats won a majority in the state's House of Delegates in 2019 for the first time in two decades, giving them full control of state government. Last year, thanks in large part to the leftward drift of suburban voters, Joe Biden won Virginia by 10 points—the biggest margin for a Democratic nominee since Franklin D. Roosevelt in 1944.
Through each of these elections, the left was energized in a way it hadn't been in recent years. After Trump's victory, dozens of groups dedicated to building Democratic political power—most of them created and led by women—popped up all over Virginia. Moderate Republicans and independents, including many suburbanites, who were repulsed by the president voted for Democrats—some for the first time in their life. "Democrats would not have the trifecta if Trump had lost in 2016," Nuttycombe told me.
It's still too early to know whether Democrats should despair without their motivating man. The Democratic primary is still a couple weeks away, on June 8, and Democrats have time to get organized before November. But Republicans already seem positioned to perform better in Virginia than they have for the past four years. Virginia voters tend to elect governors from the opposite party of the one in power, and a Democrat is currently sitting in the White House. Democratic voters also tend to turn out in lower numbers than Republicans in off-year elections; already, early-voting turnout for the Democratic primary has been low.
Democrats, and activists especially, are tired after four years spent dutifully knocking on doors and begging strangers to please vote. Marianne Burke, a 67-year-old retiree who leads the Democratic group Fairfax Indivisible, has noticed a clear decline in volunteer engagement since Biden's win. In February, she struggled to get group members to help mail postcards reminding Virginians to register to vote, and she had to write hundreds of them herself. She gets it: "There's not this urgency. You don't wake up in the morning and say, My God, what's [Trump] gonna do today?" she told me. "I'm cautiously optimistic" that Democrats will rally in time to help Democrats win in November, she added. "But it is so nice to not have to constantly worry … so I can understand why they wouldn't want to." Michael Zuckerman, a 70-year-old professor at George Washington University, told me he's worried about his fellow Democratic voters. Their work "has made a difference, and we need to keep it up," Zuckerman said, after we met at the park for Gooditis's event. He's volunteered for Democratic candidates since 2016. "We've come very close to losing democracy, and I'm not sure we're out of the woods."
Some races in Northern Virginia, like Gooditis's, could be close. (She's running unopposed in next month's primary; her Republican opponent, Nick Clemente, is already outraising her.) Republicans also have a chance to win at least a few seats near Richmond and Virginia Beach. At the statewide level, the gubernatorial race between the Republican Glenn Youngkin and a soon-to-be-nominated Democrat could go either way, election analysts told me. (Former Virginia Governor Terry McAuliffe is the front-runner.) Youngkin can win if Democratic turnout in November is low, and if he can earn the support of a few of the suburbanites who couldn't stomach Trump.
Persuading them shouldn't be difficult, argues Tom Davis, a former GOP lawmaker from Virginia, because Youngkin, the former CEO of the private-equity firm the Carlyle Group, appeals to suburban sensibilities. "He's [Harvard] business school; he's got an educational pedigree," Davis told me.* "He speaks their language." John Chamberlain, a 64-year-old software salesman from Great Falls, in Northern Virginia, is a registered Republican who voted for Biden in 2020. But "it was more of a vote against Trump," he told me. "I still believe the Democrats are missing something." Chamberlain likes Youngkin's business background, and he's considering voting for him over the Democrat in November.
State Democrats plan to defend their progress with suburbanites by talking about Trump and Trumpism as much as possible. At a press conference in Alexandria last week, party leaders underlined the fact that Donald Trump has endorsed Youngkin. They referred to the Virginia Republican Party as the "Virginia Trump Party," and warned voters against supporting the "Trump-Youngkin agenda." Down the ballot, Gooditis is prepared to defend herself against negative ads by reminding voters of the events of January 6. "It's very easy for us to say, 'Yeah, but they supported the guy who told people to attack the U.S. Capitol. So who are you going to listen to?'" she said.
Democrats also want Virginians to remember that, under their leadership, the state expanded Medicaid, raised the minimum wage, passed voting-rights legislation, and abolished the death penalty. "We have spent years fighting for these issues; voters aren't going to let Donald Trump and his Virginia GOP allies drag us backwards," Andrew Whitley, the executive director of the Virginia Democratic Party, said in a statement. This legislative progress will give people a reason to vote for Democrats rather than against someone else, Luisa Boyarski, the associate director of the Center for Public & Nonprofit Leadership at Georgetown University and the leader of the Virginia Grassroots Coalition, told me. "Had that not happened, people would be more burnt out and less optimistic about getting involved in the elections," she said. Boyarski said she'll take the June primary as an indicator of where Democrats are, and if the showing isn't good, it'll demonstrate the kind of "energy and focus we need going into the fall."
After Gooditis unleashed her volunteers on the leafy streets of Leesburg—and knocked on a few doors herself—she and I stood together in the parking lot of a local public library and talked about the enthusiasm required to sustain a political campaign. In 2017, 70 volunteers showed up in the pouring rain for one of her canvassing events. Once she'd given them their assignments, a school bus pulled up with another 45 volunteers, all college students. She doesn't anticipate that level of passion this year. "The Trump issue is not so new and so shocking now," she said. "It's now more of a quiet determination than it is a squealing throng."
Gooditis took her phone out of her purse and scrolled through a few photos until she found the one she wanted to show me. It was an image of a Time magazine cover from January 2018. Her picture was in the top left, alongside dozens of other black-and-white photos of women candidates. The headline read, "THE AVENGERS. FIRST THEY MARCHED, NOW THEY'RE RUNNING." "We women turned into Avengers," she said. "That's the way we felt, and that's the way we still feel."
---
*This article previously misidentified the business school that Glenn Youngkin attended.