Why Larry Krasner's Defeat Would be 'Disastrous' for Criminal-Justice Reform
The Philadelphia district attorney's reelection bid will test whether a progressive prosecutor can survive a spike in gun violence.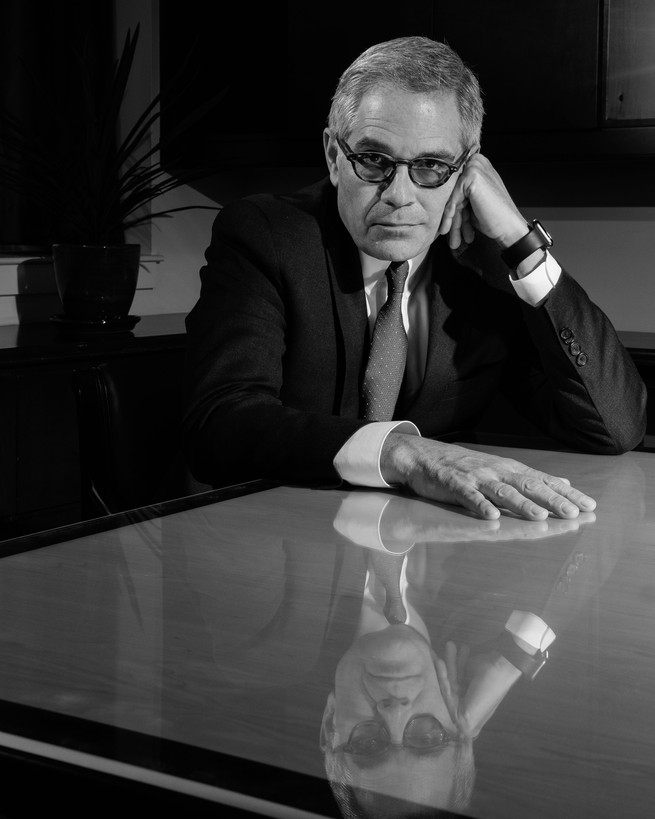 Updated at 5:06 p.m. ET on May 5, 2021
PHILADELPHIA—On a recent Saturday morning, Larry Krasner was explaining to me why gun violence and murders have spiked in Philadelphia over the past year—and why the criminal-justice reforms he instituted as the city's district attorney are not to blame. The fault, he said, lies with the pandemic and its shutdown of schools, summer camps, job opportunities, and even municipal courts. "It was the elimination of the basic fabric in our society," Krasner told me, "that has been protective of young people and older juveniles—exactly the groups that are shooting each other."
He may be right about the causes; after all, gun violence has soared across the country in places that have traditional, tough-on-crime prosecutors as well as in those with progressive district attorneys. But Krasner must face voters later this month, and Philadelphia's gun-violence crisis is now very much his problem. In 2017, Democrats here gave the national movement for criminal-justice reform one of its biggest victories by electing Krasner, a longtime civil-rights attorney who campaigned on policies that would reduce mass incarceration. He quickly moved to deliver on his promises, firing more than 30 veteran prosecutors, scrapping bail for a host of minor crimes, all but ending the prosecution of juveniles as adults, and declining to bring charges for most cases of simple drug possession and prostitution. He also instructed his prosecutors to seek lighter sentences and explain how much each prison term would cost city taxpayers. By the start of the pandemic last year, Krasner told me, the city's jail population had dropped by more than 30 percent, to its lowest level since 1985, and his office had cut even further the years of parole and probation that ex-offenders spent under city supervision.
But Krasner is running now in a far different moment than the one in which he was first elected. In early 2017, gun violence and homicides were relatively stable. The year before Krasner took office, 315 murders occurred in Philadelphia; last year, there were 499—the most in three decades—and homicides this year are on pace to set a new record.*Krasner's challenger is one of the prosecutors he fired, Carlos Vega, a Democrat backed by the city's police union who is accusing the DA of sacrificing public safety in his pursuit of reform.
The May 18 primary will test the durability of progressive prosecution in a city that until recently has chosen leaders who have championed a punitive approach to combatting crime. Before last June, a statue of former Philadelphia Mayor Frank Rizzo—a career cop and segregationist who, in the 1970s, urged his constituents to "vote white"—stood in a place of honor across from City Hall. One of Krasner's recent predecessors as district attorney, Lynne Abraham, pursued capital punishment so zealously during her nearly two decades in office that she was known as the nation's "deadliest DA"
The implications of Krasner's race extend beyond Philadelphia, though. For more than a decade, the bipartisan coalition seeking to end America's culture of incarceration has been one of the nation's most successful social movements, enacting changes to laws—such as reducing mandatory minimum sentences—in both red and blue states as well as in Congress. Krasner is the most prominent in a class of big-city prosecutors—along with Kim Foxx in Chicago, George Gascón in Los Angeles, and Chesa Boudin of San Francisco, among others—who in the past five years have earned the chance to implement less-punitive policies at the local level. (Krasner is the subject of an eight-part PBS documentary, Philly D.A., that is now airing everywhere but Philadelphia, where it won't be seen until after his fate is decided.) His defeat would cast doubt on whether criminal-justice reform can survive a surge in deadly shootings, and the movement's champions are worried that the electoral backlash would cause progressive prosecutors elsewhere to be more cautious.
Publicly, advocates are wary of elevating Krasner's importance in case he loses. "One man is not a movement," Rashad Robinson of the Color of Change PAC, a national progressive group backing Krasner, told me. Privately, however, they're unnerved by the possibility of his defeat. "It would be disastrous," another top advocate confided.
Krasner's office tries cases on behalf of more than 1.5 million people—Philadelphia is the nation's sixth-largest city—but the number of citizens who will decide whether he keeps that job is much smaller. In deep-blue Philadelphia, this month's Democratic primary will almost certainly determine the winner in November. Just 155,000 people voted in the 2017 primary, and that was considered a solid turnout for an off-year election. Krasner benefited from the fervor on the left in the initial months of Donald Trump's presidency, when progressive activists were mobilizing for just about every election they could find. Helped by nearly $1.7 million from the billionaire George Soros's Justice & Public Safety PAC, he won with 38 percent in a seven-way race. This time around, Soros's organization believes Krasner is in a strong position and has yet to jump into the race.
Although incumbency gives Krasner a sizable advantage, there's been no public polling, and low-turnout races are, by their nature, volatile. Vega is trying to mobilize both police officers and the middle- and working-class voters most alarmed by the rise in gun violence. Vega's main challenge is getting his name out against his more well-known opponent. Krasner, meanwhile, needs to energize the progressive grassroots organizations that helped him win four years ago and are backing him again, albeit somewhat less enthusiastically.
Activists cheered his early implementation of reform, but they have been disappointed by some of his recent moves, particularly on the issue of bail. Although he's campaigning on ending cash bail for many offenses, Krasner has sounded tougher notes more recently. Earlier this year he even criticized judges for setting bail too low for gun crimes. "I'm a big believer in freedom," Krasner told me. "But I do not think that Charles Manson or Ted Bundy should be home before trial." That kind of rhetoric infuriates advocates like Malik Neal, the executive director of the Philadelphia Bail Fund. "It's very much out of the old-school prosecutorial playbook that I just don't think is acceptable," Neal told me.
When I arrived in Philadelphia, Krasner picked me up in a black SUV on his way to greet about a dozen canvassers in a middle-class neighborhood in the northwest part of the city. Dressed in politician casual—a short-sleeve, collared white shirt over blue jeans—Krasner, who is 60, told the older, mostly white campaigners that their efforts were about far more than reelecting a local prosecutor. "You are doing what Stacey Abrams did," he said. "You are laying the groundwork for two Democratic U.S. senators. You are laying the groundwork for a legislature that doesn't do stupid all the time, which is what our Republican-controlled, gerrymandered legislature does."
Krasner prefers the broad view, both in articulating his vision for a more rehabilitative, less punitive society and in explaining the limits of his own role in building it. Dramatically reducing the number of people in Philadelphia's jails and slashing the time the city must spend monitoring offenders once they're free will save hundreds of millions of dollars in the long term, Krasner told me. But that's just half of the solution. Significant reductions in "victimization"—a word he prefers over crime—will occur only once that money is reinvested in social services that can aid in prevention, which is outside the district attorney's purview.
Similarly, Krasner argues, a prosecutor can do only so much to stop an onslaught of gun violence in the midst of a pandemic. As he points out, crime overall—including violent crimes that don't involve shootings—has dropped across the country, even as fatal gun violence has soared. The trend has defied explanation, but it cuts against a key argument from reformers that shifting resources away from lower-level, victimless offenses will help prevent the most heinous crimes. "This is truly a once-in-a-century anomaly," Krasner told me. Critics have hammered him for a lackluster conviction rate on gun felonies though Philadelphia police have made more arrests for illegal firearms. Krasner, who maintains that the police are handing him weak cases, said his office has found little correlation between arrests for simple possession of an illegal firearm and the subsequent use of guns in shootings. There's not enough data to determine whether Krasner or his critics have the better argument, says Lauren Ouziel, a former federal prosecutor who is now a professor at Temple University's law school.
In a city where near-nightly shootings dominate the local news, however, Krasner has the harder sell. Vega's pitch—"reform and safety"—is almost comically simplistic. To the many voters who likely aren't paying close attention to the race, however, it's undeniably pleasing to the ear. "We deserve both, and we can do both," Vega told me. Raised in New York City by parents born in Puerto Rico, Vega, who is 64, talks often about his experiences with both discrimination and crime; his parents' bodega was robbed at gunpoint when Vega was growing up. He said that he doesn't hold Krasner responsible for the entire spike in gun violence, but he said the district attorney has blamed just about everyone and everything—the police, judges, the pandemic—except himself. "We had the same judges and the same police department before he took office," Vega said. "The only difference now is we have Mr. Krasner."
When I met up with Vega in a working-class section of the city, he looked dressed for the courtroom as he campaigned in a sharp blue suit, minus the tie. Gently interrupting families eating breakfast at a diner, he eschewed a detailed campaign pitch and barely mentioned Krasner at all. Most of the patrons weren't even aware of the primary. The first person to recognize Vega was Marty Jackson, a high-school teacher wearing a cap emblazoned with the Blue Lives Matter flag. "Where are you at in the polls against this creep?" Jackson asked Vega, who dodged the question. "I want Krasner out," Jackson told me afterward. "He's too liberal. Guns are out of control, and nothing's happening. He doesn't enforce the laws, and he doesn't support police."
Krasner paints Vega as a corrupt, "old-guard" prosecutor and called him "a fake Democrat." Krasner likes to remind voters that the police union that endorsed Vega also endorsed Trump, and a group of retired Philadelphia officers attacking Krasner on billboards and in TV ads secured most of its backing from a Trump donor. (The group has not endorsed Vega, who distanced himself from its political action committee after it sent a fundraising pitch blaming George Floyd for his own murder.)
The disdain Krasner shows for Vega is only slightly more intense than his unfavorable opinion of other Democrats. He has, at times, clashed with Philadelphia Mayor Jim Kenney and Pennsylvania's attorney general, Josh Shapiro, over the handling of gun cases; neither Democrat has endorsed Krasner for reelection, and last month the Democratic Party committee in Philadelphia snubbed him by voting to stay neutral in the race.
Even Krasner's allies concede he's an imperfect standard-bearer for reform. He has a reputation for being arrogant, and he's drawn criticism for his management of the district attorney's office. One of Vega's consultants is a former Philadelphia prosecutor, Thomas Mandracchia, who worked for Krasner for more than two years before becoming disillusioned. Mandracchia told me he voted for Krasner in 2017 but that the office was poorly trained and beset by low morale. "It's not because his ideas are bad," Mandracchia told me. "It's because he cannot run the actual organization meant to carry out those goals."
What Krasner and like-minded prosecutors have discovered over the past year is just how challenging these reforms can be—especially when fighting the scourge of gun violence. Should a person found to be illegally possessing a gun go to jail even if they haven't used it in a crime? "The progressive-prosecution movement has focused so much on the sort of low-level, completely nonviolent crimes that are a lot easier for most people to get behind," Ouziel told me. "There hasn't been that much grappling with the question of where illegal gun possession stands. My sense is that there's a much bigger hurdle to get voters to start thinking about that as something that shouldn't be prosecuted."
That question is a complicated one for Jamie Gauthier, a Philadelphia city-council member whose district has been besieged by both the excesses of punitive prosecutors and the current spike in gun violence. "Sometimes there is a tension between our most progressive ideals and what people in communities are saying," she told me. Many of her constituents are terrified, she said, and some of them carry a gun—with or without a permit—for protection. "That doesn't necessarily make them a shooter," Gauthier said. "So we have to be able to distinguish that, and we cannot be indiscriminately just throwing people into the criminal-justice system."
Democrats will soon decide whether Krasner deserves a vote of confidence, and that decision will reverberate in states and cities that are pursuing criminal-justice reform. The stakes are weighing on Krasner. "If I lost," he told me, before catching himself. "I should say, if we lost, it would be a setback for progressive prosecution. I really do believe that I'm basically a technician in one city for a grassroots social movement that is arguably the most important civil-rights movement of our time. I do feel that pressure."
---
*This article previously misstated that about 350 murders occurred in Philadelphia in 2017. In fact, 315 murders occurred in the city that year.