Don't Sleep on Asian American Voters
The bloc's power is growing fast. That could be bad news for the GOP.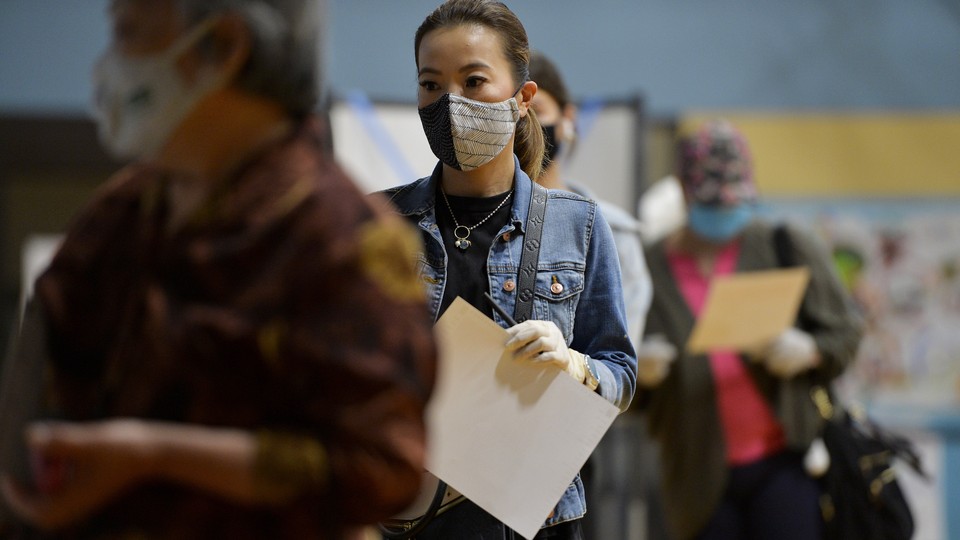 When Kamala Harris, Hillary Clinton, and other prominent Democrats appeared online at a major fundraiser last night, they spotlighted one of the least discussed lessons of the 2020 election: Asian Americans are poised for a major leap in electoral influence.
In Democratic circles, the bloc's impact on the 2020 election has been largely obscured by the intense focus on understanding how Donald Trump improved his performance among another rapidly growing minority group, Latinos. But the magnitude of the Asian American turnout surge, and its influence on the result, is drawing increased attention as analysts complete more detailed studies on which Americans voted last year.
Even amid soaring participation from all major racial groups, Asian Americans increased their turnout by more than any other cohort, according to recently released studies by the Census Bureau and Catalist, a Democratic voter-targeting firm. In fact, no major demographic group in recent decades has increased its turnout from one election to the next as much as Asian Americans did from 2016 to 2020, the census found; not even Black voters grew that much from 2004 through to Barack Obama's first election four years later.
Why the surge? It reflected both long-term investments from grassroots groups in organizing and the immediate threat that many Asian Americans felt from former President Donald Trump—including his policies to slash legal immigration and his racist labeling of the coronavirus as the "China virus" and even "kung flu." Although Republicans retain pockets of strength in Asian communities, the party now faces the prospect that Trump's words—and the link many experts see between them and the rising wave of anti-Asian hate crimes—could lastingly alienate many of the thousands of Asian Americans who voted for the first time last year.
"It's become a defining moment for the Asian American community," says Karthick Ramakrishnan, a political scientist at UC Riverside who studies Asian American political influence. "What you saw in 2020 was a forging of political consciousness among the younger generation that could carry [Democrats] through for years, if not decades, to come."
One reflection of that growing clout was the political star power that assembled last night for the virtual gala, which was sponsored by the AAPI Victory Alliance, a new think tank affiliated with a Democratic super PAC that works to mobilize the Asian American and Pacific Islander communities. Beyond Harris and Clinton, the event also drew several Democratic senators of color. "I know this past year has been marked by so much pain for so many, including, and in particular, members of the AAPI community when we saw the targeting, when we've seen the hate," said Harris, who is of Indian descent. "As a member of this community, I share in that outrage and grief. And I believe we have an opportunity now to turn that pain into action."
Asian Americans still represent a small sliver of the population in all but a few states. But census figures show that from 2010 to 2019, the group grew rapidly, increasing its population nationwide by nearly 30 percent, or just over 5 million people. In percentage terms, that was by far the biggest increase over the past decade for any major racial group. Among adult citizens eligible to vote, Asian Americans have doubled their share, from 2.5 percent in 2000 to 5 percent in 2020, according to calculations by William Frey, a demographer at the Brookings Institution's Metropolitan Policy Program.
The states with the largest populations of eligible Asian American and Pacific Islander voters, Hawaii and California, are safely blue. But the groups' numbers have also increased in Sun Belt states that are becoming tipping points in American elections. "Think about where we are growing the fastest: It's Texas, it's Georgia, Arizona, North Carolina, Nevada,"  AAPI Victory Alliance Executive Director Varun Nikore told me.
The Asian American population isn't nearly large enough to decide those states on its own. Although Asian Americans represent almost 9 percent of eligible voters in Nevada, they represent only about 3 percent in Georgia, Arizona, and North Carolina, Frey shared with me. Yet the rise in voter participation has proved crucial for Democrats in several closely balanced states. A growing number of Asian American voters—mostly in the Washington, D.C., suburbs—were central to tilting Virginia blue over roughly the past 15 years. They played a comparable tipping-point role in Democrats' victories in Georgia last year, at both the presidential and senatorial level. TargetSmart, a Democratic voter-targeting firm, calculates that some 60,000 more Asian Americans voted in the state in November than had in 2016—an increase that far exceeded Joe Biden's narrow margin of victory there. "In Georgia, they delivered this election for Joe Biden," Nikore said. "And then they delivered Joe Biden the Senate."
Nationwide, Asian Americans increased their turnout at an astounding pace last year—soaring from about 49 percent in 2016 to just over 59 percent, the census found. Although turnout rose substantially for every major racial and educational group in 2020, the increase among Asian Americans was significantly larger than the growth among college-educated white voters (just over three percentage points), Latinos (just over six points), and even Trump's core supporters, white voters without a college degree (also a little more than six percentage points). "I can't remember a time when I've been in politics, or frankly have read about in politics, where you've seen that level of increase from one cycle to the next cycle by any demographic in this country," Nikore told me. Even the huge surge in Black American excitement and participation from 2004 to Obama's first campaign, in 2008, increased the group's turnout by only about five percentage points, the census found.
Higher turnout from an expanding pool of eligible voters combined to produce a dramatic rise in votes from the Asian American community. In its recently released analysis of voter files nationwide, Catalist calculated that the total number of votes cast by Asian Americans grew from 2016 to 2020 by almost 40 percent, reaching about 7 million. TargetSmart, in its analysis, put the increase even higher, at about 47 percent.
Like many Democrats, Bee Nguyen, a Vietnamese American Georgia state representative and a candidate for secretary of state next year, attributes the geyser of new votes to several long- and short-term factors. The key long-term dynamic was political organizers' years of work within Asian American communities. In Georgia, for example, the grassroots organizing effort led by Stacey Abrams has long incorporated the state's Asian American communities (which are centered in Gwinnett and Forsyth, two of the big suburban counties outside Atlanta). "For Georgia, we have been doing a lot of work on the ground for many years," says Nguyen, who now holds Abrams's former seat in the legislature. "Building that infrastructure took place over multiple election cycles."
That organizational effort amounted to stacking wood in a fireplace; the spark was Trump's and other Republicans' use of racist language in describing the coronavirus. The GOP faces a near-unanimous conviction among Asian American civic leaders that this rhetoric has contributed to the wave of hate crimes continuing to confront the community even after Trump has left office. "The former president was assigning blame to Asian people, living in this country, for the pandemic. And though he labeled it as being specific to China, the average person living in this country cannot distinguish one Asian person for another, so we saw that rise in hate crimes against the AAPI community," Nguyen told me. "For many Americans who lived under the past four years, we had to show up. Asian Americans were part of that coalition that understood that the former president was dangerous for a lot of us."
Republicans historically have maintained significant beachheads of support among Asian American voters. Much like Latino transplants from Cuba and Venezuela, immigrants from Vietnam and some Chinese communities have been especially responsive to GOP attacks on Democrats as "socialists." (The Vietnamese "are sort of our Cuban community," Nikore said.) In 2020, two Korean-American Republican representatives, Young Kim and Michelle Steel, won back U.S. House seats in racially diverse districts in Orange County, California, that Democrats had captured in their 2018 sweep. "Capturing the Asian vote when you run Asian candidates is a very doable task" for Republicans, John Thomas, a GOP consultant who works extensively in Orange County, told me. Older Asian Americans in particular "identify in a large part with the platform of the Republican Party, but you need to have candidates who look and feel like that community. It can't be old white guys."
Yet, overall, Biden posted a healthy advantage over Trump among Asian American voters nationwide and in key states. In contrast to Trump's improving numbers among Latinos, for instance, Biden maintained a two-to-one advantage among Asian Americans, Catalist calculated. Obama and Clinton, in 2012 and 2016, respectively, won similar shares.
Trump's shadow still looms heavily over the GOP when it comes to the Asian American community. "Something we saw is that when we had, from the top down, a normalizing of racism, a normalizing of othering, a bold embracing of wanting to bully a certain community … it does have ripple effects," Maulik Pancholy, the chair and a co-founder of Act To Change, a nonpartisan anti-bullying organization, told me.
Thomas expressed optimism that backlash over Trump's rhetoric will fade as the former president recedes from the spotlight. "I don't think that will be an effective talking point for [Democrats] much longer," he said. But few in the GOP have repudiated Trump's derogatory comments, and House Republicans were the sole opponents of new legislation approved by the House this week that targets anti-Asian hate crimes.
The biggest problem for the GOP may be that Trump's words stamped his party precisely at a moment when the clay was soft—in other words, when 2020 produced a huge influx of young and first-time Asian American voters without long attachments to either party, according to research from both Ramakrishnan and Catalist. For many of those new voters, the connection between Trump's language and the subsequent swell of hate crimes could prove a defining—and durable—political experience. "I don't want to say that Asian Americans are a lock for the Democratic Party, but [it] has a lot of advantages heading into 2022 and 2024, especially if the Republican Party continues to be defined by Trumpism," Ramakrishnan says. "It's just really hard for Republicans to attract new voters who are first- or second-generation immigrants when you have a strong strain of nativism in the party." An intractable deficit among the nation's fastest-growing racial group could be part of the price Republicans pay for allowing Trump to redefine their party in his image.