The Blue States That Make It Hardest to Vote
Democrats are criticizing Republicans for pushing restrictive voting laws. But states such as Joe Biden's Delaware can make casting a ballot difficult.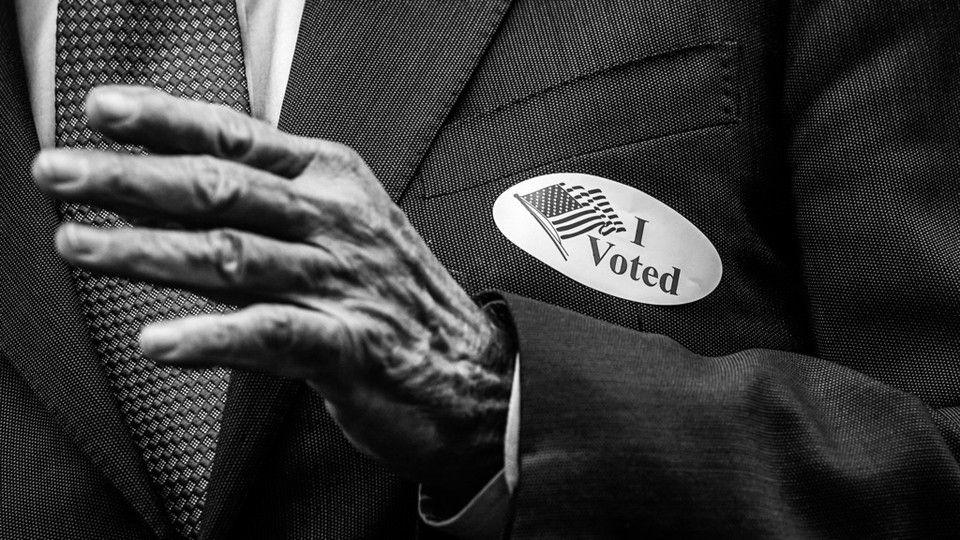 If President Joe Biden wants to vote by mail next year in Delaware, he'll have to provide a valid reason for why he can't make the two-hour drive from the White House back to his polling place in Wilmington. Luckily for him, Biden's line of work allows him to cast an absentee ballot: Being president counts as "public service" under state law. Most Delaware residents, however, won't have such a convenient excuse. Few states have more limited voting options than Delaware, a Democratic bastion that allowed little mail balloting before the pandemic hit.
Biden has assailed Georgia's new voting law as an atrocity akin to "Jim Crow in the 21st century" for the impact it could have on Black citizens. But even once the GOP-passed measure takes effect, Georgia citizens will still have far more opportunities to vote before Election Day than their counterparts in the president's home state, where one in three residents is Black or Latino. To Republicans, Biden's criticism of the Georgia law smacks of hypocrisy. "They have a point," says Dwayne Bensing, a voting-rights advocate with Delaware's ACLU affiliate. "The state is playing catch-up in a lot of ways."
Delaware isn't an anomaly among Democratic strongholds, and its example presents the president's party with an uncomfortable reminder: Although Democrats like to call out Republicans for trying to suppress voting, the states they control in the Northeast make casting a ballot more difficult than anywhere else.
Connecticut has no early voting at all, and New York's onerous rules force voters to change their registration months in advance if they want to participate in a party primary. In Rhode Island, Democrats enacted a decade ago the kind of photo-ID law that the party has labeled "racist" when drafted by Republicans; the state also requires voters to get the signatures of not one but two witnesses when casting an absentee ballot (only Alabama and North Carolina are similarly strict). According to a new analysis released this week by the nonpartisan Center for Election Innovation and Research, Delaware, Connecticut, and New York rank in the bottom third of states in their access to early and mail-in balloting.
The restrictions across the Northeast are relics of the urban Democratic machines, which preferred to mobilize their voters precinct by precinct on Election Day rather than give reformers a lengthier window to rally opposition. Democrats who have won election after election in states such as New York, Delaware, Connecticut, and Rhode Island have had little incentive to change the rules that helped them win.
The party has been more concerned with expanding access to the polls in places where it has struggled to obtain and keep power (although it's not clear whether Democrats' assumptions about the impact voting laws have on turnout are correct). In Congress, Democrats are prioritizing legislation called the For the People Act, or H.R. 1, which seeks to curb GOP efforts to suppress voting. The bill would set national standards to loosen photo-ID requirements, guarantee early-voting and voting-by-mail options, and mandate automatic and same-day registration. Although Democrats have focused on how the bill would rein in red states, H.R. 1 would hit some blue states just as hard, if not harder.
Republicans love to call out Democratic sanctimony in the debate over voting laws, but this ignores the divergent directions the two parties are headed. Following their 2020 defeat and under pressure from Donald Trump allies, Republicans are pushing to restrict voting in states such as Texas, Iowa, Arizona, and Florida, which have recently been competitive. The Georgia law tightens ID requirements for absentee ballots and caps the number of drop boxes where they can be deposited. The measure also limits who can distribute water to voters waiting in line outside polling places. The effect of the bill is likely to make voting easier in Republican strongholds—by expanding early voting in rural areas, for example—but harder in Democratic urban centers, where lines at polling places tend to be longer and where voting by mail was more popular last year.
Democrats in charge of blue states are now racing to expand access in a way that matches the party's rhetoric nationwide. In some cases, they're trying to make permanent the temporary changes to voting laws that were put in place because of the pandemic. Delaware, for example, removed the mandate that voters cite a reason for casting an absentee ballot. Making the reform permanent requires the passage of an amendment to the state constitution, and Republicans who supported that proposal in the past are balking now, threatening its adoption.
The limit on mail-in ballots isn't Delaware's only voting anachronism. Bensing told me that he's been voting early in elections since he first cast a ballot, in Arkansas in 2002. When he moved to Delaware two years ago, he was shocked to find that the option wasn't available. Delaware won't debut early voting until 2022, and the 10-day period the state plans to offer still falls short of the 15-day minimum congressional Democrats have proposed in their voting-rights legislation.
Democrats in Delaware may finally be opening up their voting laws, but they're unwilling to call them racist. State Representative David Bentz has been trying to expand voting since he arrived in the legislature in 2015 and is leading the Democrats' push to modernize the state's laws now. But when I asked him why it's taken so long for Delaware to change its rules, he was stumped. "I wish I had a better answer for you," Bentz told me. He said the state did not have a history of long lines at the polls. "It wasn't something where groups were coming up to me and saying, 'Hey, we're disenfranchising people,'" Bentz said. If anything, Democrats suggest, the state's restrictive voting laws are born of political inertia. When Bentz and Bensing joined a multiracial group of advocates over Zoom last week to announce a coordinated push for new voting laws, according to Bensing, it was the first-ever statewide coalition dedicated to voting rights in Delaware.
Unlike Delaware's restrictions, Rhode Island's voter-ID law can't be described as antiquated: The statute is just 10 years old and won adoption under a Democratic majority with support from powerful Black elected leaders. Voting-rights advocates trace the law's passage to the conservative bent of the state's Democratic Party and tension that pitted Black and white Democrats against the state's rising Latino population. Backers of the bill included the first Black speaker of the General Assembly. They shared stories of voter fraud they had witnessed, but opponents of the law saw it as an effort to suppress Latino turnout in Providence. "It was bizarro," said John Marion, the executive director of Common Cause Rhode Island, the state affiliate of the national government-watchdog group. "Ten years later, I still don't know how it happened."
Rhode Island Democrats have proposed legislation to expand voting by mail and early voting, including a repeal of the requirement that absentee ballots have two witness signatures. But they're not likely to touch the voter-ID system. "Repealing voter ID was a nonstarter," Steven Brown, the executive director of the ACLU of Rhode Island, told me. "So there was no point in putting it in the reform bill." Rhode Island's critics of the ID requirement now find themselves in the same unenviable position as their progressive allies in red states: hoping the federal government will override a restrictive law that their own leaders—in this case, fellow Democrats—refuse to change.