Can Democrats Make Peace With Their Favorite Trump-Era Villain?
Postmaster General Louis DeJoy's reform plan looks a lot better now that Donald Trump is no longer president.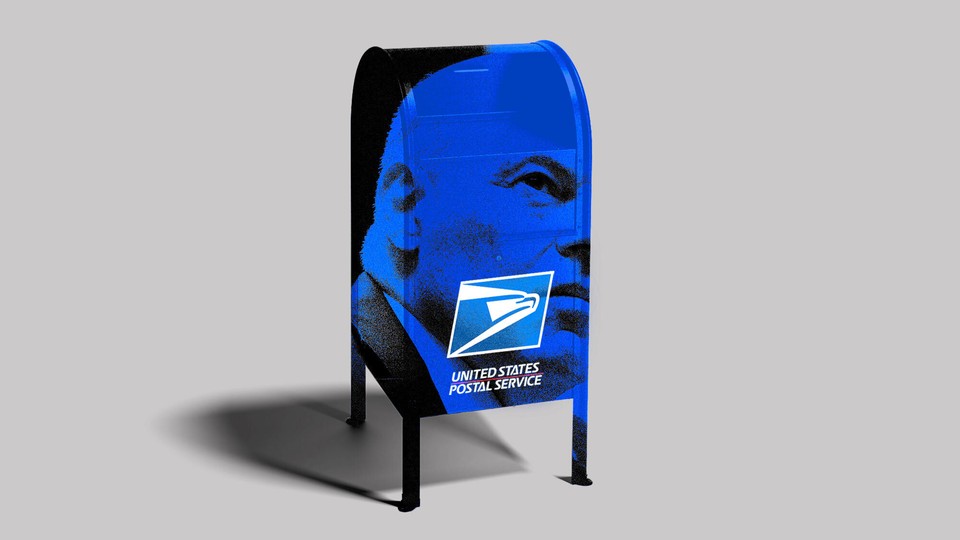 For Democrats starving for a villain in post-Trump Washington, Louis DeJoy seemed like an ideal candidate for the role. As postmaster general, he's the most powerful holdover from the previous administration—a Trump campaign donor and logistics executive hired to run the cash-strapped U.S. Postal Service. When DeJoy moved last summer to slow the mail, his critics charged that he was carrying out a Trump plot to help steal the presidential election and degrade a beloved American institution.
DeJoy's critics, however, were fretting about the wrong crisis. The Postal Service handled the deluge of ballots but not the crush of Christmas cards and packages that followed. The holiday season was a disaster for the agency, prompting many Democrats to renew their calls for his ouster. Yet as the fight turns to the future of the Postal Service, the party is divided over the leader it loves to hate, and some lawmakers are realizing that DeJoy's vision is not radically different from their own.
Despite the Democratic posturing at the height of last year's campaign, the Postal Service's problems predated both DeJoy and Trump. One of the biggest is obvious: People don't use the mail as much in this century as they did in the last. The agency has recorded $87 billion in losses over the past 14 years and is projected to lose nearly twice that much in the next decade.
Last month, DeJoy unveiled a 10-year strategic plan to put the Postal Service on solid financial footing that calls for hastening a shift away from traditional mail, where demand is down, and toward the package market, which is booming. The agency would ditch air transportation for mail, meaning that letters sent across the country would take four or five days to get to their destination, rather than the current promise of three days or less. The plan would prioritize reliability over speed, so that instead of improving timeliness, the agency would condition customers to expect the slower delivery times that currently exist—even while postage prices continue to rise.
The tradeoffs have the backing of the Postal Service's bipartisan board of governors, including its Democratic chair, Ron Bloom, who told me the proposal preserves the two most important calling cards of the Postal Service in its competition with higher-priced alternatives like FedEx and UPS: dependability and affordability. "As long as people can plan for when the mail will get there, we have a product that well serves the American people," Bloom told me. "If it has to absolutely, positively be there overnight and you're going from New York to L.A., we're not your guys."
The reaction from some of DeJoy's Democratic critics was predictable. Representative Gerry Connolly of Virginia, who chairs the House subcommittee with jurisdiction over the post office, told me the plan "codifies the deterioration" of the mail under DeJoy. But to others, the most surprising aspect about the strategic plan was that it wasn't worse. Unlike two of his recent predecessors, DeJoy is recommitting the Postal Service to six-day mail delivery and seven days for packages. He endorses Democratic legislation that would fix one of the Postal Service's biggest fiscal burdens by repealing a requirement that the agency pre-fund employee retirement accounts. The plan does not call for cuts to employee benefits, and it would place more temporary workers on a career track—a bid to reduce high turnover and a boon to postal unions.
DeJoy also proposes a bevy of ideas to better equip the service to handle and transport packages, as well as to leverage its unparalleled reach to rural and remote areas—one of its top advantages over its competitors. He's pledging to spend billions to upgrade local post offices and modernize the agency's fleet of trucks; at an average age of 28 years, they're some of the oldest vehicles on the road. "It's a good plan on merit," Democratic Representative Haley Stevens of Michigan told me.
Whether DeJoy will get a chance to implement the proposal is an open question. Democrats began gunning for him almost from the moment he started last June, and he remains a popular fundraising tool for the party. "Louis DeJoy is destroying [the Postal Service] and Biden can't fire him," read one money-seeking email sent Monday by a senior House leader. The result is that opinions of the postmaster general—long an obscure government official—are now polarized along party lines. A poll conducted for The Atlantic by Leger found that Democratic respondents were significantly more likely than Republicans or independents to be aware of DeJoy. Of those Democrats who were, more than eight in 10 viewed him negatively.
Many Democrats in Congress are still gunning for DeJoy, hoping that a new slate of appointees President Joe Biden has nominated to the board of governors will support removing DeJoy once the Senate confirms them. DeJoy has a combative relationship with Congress—"Get used to me," he told lawmakers in February. But in conversations with lawmakers, union officials, and postal advocates over the past couple weeks, I could detect the faintest hint of sympathy for an executive who inherited an enormous mess and is trying to prove he wasn't installed to make it worse. Members of both parties say he's been more responsive now that Democrats run Washington. "I'm not sure that the DeJoy we have now is the DeJoy that got picked," one critic told me. "I think he wants to keep his job."
The pandemic only exacerbated the Postal Service's many challenges last year. Thousands of its employees were sick or quarantined, resulting in staff shortages. Mail volume dropped even further, and grounded commercial flights caused more delays. A surge in packages, although good for business, overwhelmed the agency's fleet of trucks, which were built to carry letters rather than boxes. The crisis exploded during the holidays: A new COVID-19 wave sidelined workers just as a record number of packages inundated the system. Cards and gifts arrived late—many were showing up well after New Year's—but the delays caused more significant problems as well. People didn't get medication on time, or they received bills after payment was due; legal notifications missed their statutory deadlines, and retailers found that customers were receiving catalogs and coupons after sales had ended.
Holiday performance was so bad that DeJoy, an executive not known for humility, apologized to customers during a congressional hearing in February. The past year also dealt a blow to the Postal Service's standing with some of its best customers—the companies that send the bulk of the nation's catalogs, coupons, and greeting cards. "The confidence of the industry in the Postal Service has been shaken," Art Sackler, who runs both a trade association and an advocacy group called the Coalition for a 21st Century Postal Service, told me. "There's never been, at least in anyone's memory, a similar kind of disruption." Mark Dimondstein, the president of the American Postal Workers Union, put it more bluntly: "The most immediate thing is mail service stinks."
At the moment, the Democrat with the most say over DeJoy's fate is not Biden—it's Bloom, who became board chair in February. To the consternation of many in his party, Bloom is firmly in DeJoy's corner. He joined the postmaster general for the rollout of the strategic plan in March and vouched for him in front of Congress a month earlier. "Right now, I think he's the proper man for the job," Bloom told me. "He's earned my support, and he will have it until he doesn't. And I have no particular reason to believe he will lose it."
Bloom is an investment banker, best known for advising labor unions during complex and fraught negotiations. He won acclaim for his role helping the Obama administration rescue the auto industry in 2009. Trump appointed him to the board of governors in 2019 with support from Democratic Senator Sherrod Brown of Ohio and the National Association of Letter Carriers, the largest and most politically influential of the four major postal unions. Bloom had advised the Letter Carriers during President Barack Obama's second term, when the union feared that the struggling Postal Service would need the same bailout as Detroit had years earlier.
Bloom's support for DeJoy has made him almost as divisive a figure among Democrats as the postmaster general. "Whether he's a Democrat or a Whig, I don't care. He's complicit," Representative Connolly told me. He criticized Bloom for keeping silent during the uproar over DeJoy's management ahead of the election. The congressman organized 50 House Democrats, including several powerful committee chairs, to write a letter calling on Biden to remove and replace the entire board of governors, including Bloom and another Democrat, Lee Moak.
The Letter Carriers quickly rose to Bloom and Moak's defense, writing a lengthy response to Connolly and his co-signers to tell them the union "strongly opposed" the removal of either Democrat from the board. Bloom also has allies in Congress, who say he played an integral role behind the scenes helping to ensure that the election went smoothly and later to deliver wins for labor in the strategic plan. "I couldn't think of a better person for the job," said Representative Stevens, who worked closely with Bloom in the Obama administration and hailed him as a restructuring expert. "He's not interested in personalities. He's interested in results," said Senator Gary Peters of Michigan, the Democratic chair of the Homeland Security and Government Affairs Committee, which oversees the Postal Service.
Bloom's term expires in December. He told me he hopes Biden will renominate him, but he declined to discuss whether he had spoken with the president about his status. "I think, immodestly, I'm making a bit of a difference," he said. As to the Democrats who are calling for his immediate removal, Bloom seemed unconcerned. "They have every right to their opinion," he told me. "Maybe they'll persuade the president to do it." (The White House declined to comment.)
Although he described himself as a "partisan Democrat," Bloom sharply criticized members of his party who have accused DeJoy of making changes to the mail in a deliberate attempt to sabotage the election. "Skepticism is proper, but people said we stole these collection boxes from poor neighborhoods," he said. "It's absolute BS." The Postal Service's handling of a record volume of election mail—ballots took an average of 1.6 days to get to election offices, and more than 99 percent were delivered within a week, the agency said—is a point of pride for Bloom, who served on a preelection task force. "It was awesome and amazing," he told me, at one point comparing the Postal Service's performance to the D-Day invasion of Normandy. Yet when other Democrats were making these charges last summer and into the fall, Bloom was silent. "I chose not to play that role," he said. "Maybe I should have spoken up."
Democrats see Bloom's fingerprints on parts of the strategic plan, which share elements with the report he helped write when he was working for the Letter Carriers. ("It has my fingerprints, but it has a lot of fingerprints on it," Bloom said.) The Letter Carriers have spoken more favorably of DeJoy's plan than has the American Postal Workers Union, whose members work inside post offices and mail-sorting facilities and would be more vulnerable to the plant closures envisioned by the proposal. Dimondstein, the Postal Workers president, characterized the plan as "the good, the bad, and the ugly."
None of the unions, however, wanted DeJoy to release a long-term strategy at all. Their top priority is for Congress to pass the legislation—which DeJoy supports—that would help solve the problems with the service's retirement fund and relieve pressure on the agency to cut costs. The unions worried that any detailed proposal, which would inevitably draw criticism from Democratic lawmakers, would upset the delicate negotiations over the bill. Bloom told me he backed the plan's release in part because he knew it would be better than some of DeJoy's biggest critics expected.
He's now working on building support among Democrats both for the plan and, it seems, for DeJoy. Those conversations appear to be having an effect. Some Democrats now believe that it's better to work with DeJoy than to waste time arguing about whether to fire him. (The Biden White House seems to have little interest in the fight.) It's significant that Peters, unlike his Democratic counterparts in the House, hasn't called for DeJoy's ouster; instead, he told me he wants the postmaster general to help deliver votes for the retirement-fund bill among his Republican allies in the Senate. Such an alliance would have been unthinkable even six months ago: Democrats who once accused DeJoy of trying to destroy the Postal Service from within now see him as a potential partner in their effort to save it.