The New Face of Trumpism in Texas
Beth Van Duyne was at the center of a controversy over Sharia law. Now she represents a congressional district Biden won.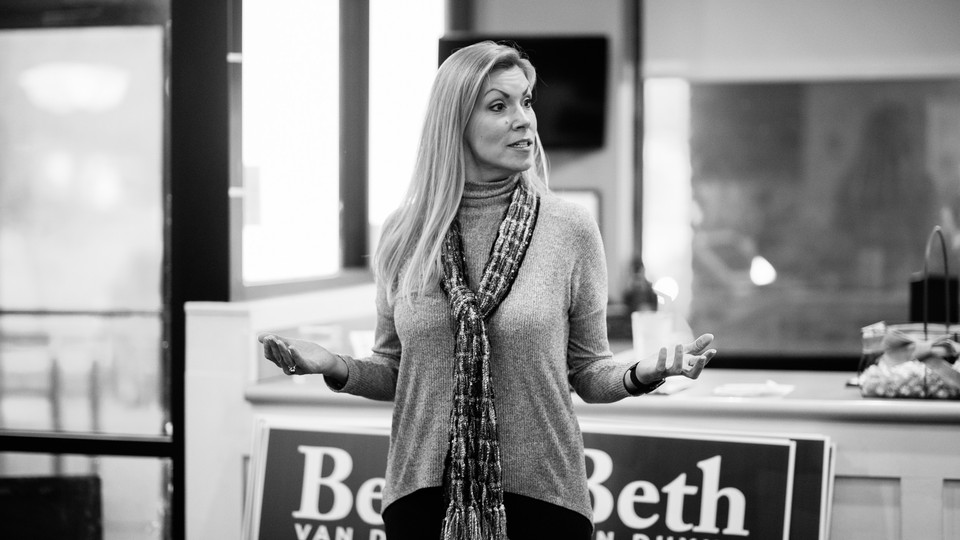 In 2015, in the Dallas suburb of Irving, the fates of two very different Texans collided.
One was 14-year-old Ahmed Mohamed, a precocious kid in a NASA T-shirt who had built a clock out of spare parts and brought it to school in a pencil case. His English teacher decided it might be a bomb, and the school called the police, who arrested Mohamed for bringing in a "hoax bomb." Because Mohamed's family was part of Irving's large Muslim minority, many liberals saw this as a baseless case of Islamophobia.
The other Texan was Irving Mayor Beth Van Duyne, a blond 44-year-old with Disney-princess bone structure. She defended Mohamed's arrest on Facebook, then went on The Glenn Beck Program to repeat the "hoax bomb" lie and complain that the child hadn't given police enough information. "We've heard more from the media than the child ever released to the police when we were asking him questions," she said calmly.
The controversy dragged obscure Irving into the national conversation. Yet another brown kid in a red state was being overpoliced. Yet another public official backed the police response. Within days, the news had reached the BlackBerry of President Barack Obama, who tweeted, "Cool clock, Ahmed. Want to bring it to the White House?"
In the end, Mohamed was never charged, and he and his family moved to Qatar. As for Van Duyne: This past November, she was elected to the United States Congress.
Her victory was a surprise—at least to some. Last year, President Donald Trump's popularity among Texans was flagging, and Democrats in the state, who hoped to take control of the Texas House and win several congressional seats, thought diverse suburbs such as Irving would be reluctant to elect Trumplike Republicans. Van Duyne's district—where the Democratic Senate candidate Beto O'Rourke beat Republican Senator Ted Cruz in 2018 while losing statewide—looked like one of their best opportunities. Democrats enrolled Van Duyne's opponent, Candace Valenzuela, in the "Red to Blue" program, which aims to help Democratic candidates win Republican districts.
But Republicans, including Van Duyne, won all the Texas seats Democrats had targeted, and the GOP maintained control of the state legislature. Van Duyne outperformed Trump, winning her district even as the then-president lost it to Joe Biden—one of the nine House Republicans to manage that feat. Democrats weren't just beaten; they were beaten by the exact kind of candidate they thought voters were done with. The contest was House Speaker Nancy Pelosi's "most bitter loss," as one Texas Republican strategist told Fox News.
The outcome complicates the narrative about Texas that liberals like to tell: that the state is slowly but surely "turning blue"; that one day soon Texans will wake up, come to their senses, and become Democrats. Van Duyne's victory suggests that her 2015 strategy of stoking fears of foreigners didn't make her unelectable in a diverse, growing suburb—and may have even aided her. Trump may be gone, but Trumpism is very much alive.
Van Duyne is in some ways a quintessential Texan, in that she's not originally from there. She was born in upstate New York. Like droves of other northerners in recent decades, her family moved to the Dallas area when she was a teenager, for the warmer weather. (It's a popular destination; my family also moved to a Dallas suburb when I was in middle school.)
She paid her own way through Cornell University, in New York, and returned to Texas to work in marketing and communications. Shiek Shah, a former co-worker and longtime friend, calls Van Duyne intelligent and soft-spoken, a devoted mom and a diligent worker. She's a good listener, he told me, who is willing to change her mind. Eventually, Van Duyne ran a marketing firm with her husband. (They're now divorced.)
Van Duyne's spokesperson did not respond to interview or comment requests. Neither did Van Duyne's ex-husband. But he did send me a newsletter published by her subdivision, Hackberry Creek, in which she tells a flattering story about how she got into politics. Van Duyne, who has a visually impaired daughter, wrote that she rallied the neighborhood to build a park so that her daughter and other kids would have a place to play. "Little did I know," she wrote, "starting that effort would lead to people asking me to run for office."
[ Read: Newtown's congresswoman takes on Marjorie Taylor Greene ]
The less flattering origin story is this: Around 2002, Van Duyne and other homeowners in her subdivision organized to block a big new commercial development from coming to the area. Hackberry Creek is a "master-planned gated community" full of 3,000-square-foot houses with Jacuzzi tubs and plantation shutters, all set among "hillside vistas and winding creeks." The residents were worried about trash and food odors drifting over from the proposed restaurants and stores, according to Herbert Gears, who was a city-council member at the time and favored the plan. Riled up by the dispute over the development with Gears, Van Duyne ran for city council in 2004 and won his seat. Beating an incumbent is rarely easy, but Van Duyne speaks with an unflappable Texas niceness, and had befriended everyone, including some of the most important Republicans in town. "She's one of those types that people just like," says Rick Barnes, the chair of the Republican Party of Tarrant County, which is partly represented by Van Duyne.
Irving's city council is unusually contentious. At one point, a former city-council member called me to complain about Van Duyne, then asked for their name to be taken out of this article because they were worried the congresswoman would seek revenge. Barnes described Van Duyne as "strong-willed," and throughout her career, she has cast herself as a tough mom who never backs down. In 2005, a year after losing his council seat to Van Duyne, Gears became mayor, and the two proceeded to fight bitterly and constantly. Van Duyne opposed building apartments in Irving because, as she wrote in a 2008 Dallas Morning News op-ed, "in addition to the greater susceptibility to crime and increased traffic created by the high density of people in an apartment complex, many Irving residents are averse to apartments because of their long-term effects on the community … Will the apartments beautify the area or lower its aesthetic value?"
In part, these were just the statements of a proud Irvingite convinced that there is nowhere better to be. "You get the people inside of Irving who don't like it and complain about it," she said in a 2015 speech. "But you go to New York, and they're like, Oh you're from Irving. Oh, that's a great city. You've got DFW Airport, ExxonMobil …" But Van Duyne took her opposition to apartments a step further: She asked the city to hire a consultant to attack members of the Dallas city council who supported building apartments near Irving, according to Gears, who told the story to The Dallas Morning News years ago and repeated it to me recently.
In 2011, Van Duyne defeated Gears to become the first female mayor of the 200,000-person city. As mayor, she developed a knack for getting people to believe in her, according to fellow council member John Danish, but also for shutting down projects she didn't agree with. She refused to sign city ordinances if she'd voted against them, according to a 2015 profile by Avi Selk, a Washington Post journalist who was then at The Dallas Morning News. Selk, who covered Irving for the Morning News, sums up this period of Van Duyne's term as "ineffectual." "She didn't accomplish any of the stuff she wanted to do," he told me.
A few years into her tenure, Van Duyne started to look beyond typical mayoral matters, such as cutting taxes by half a penny, and to the culture wars. Some Texas politicians were already flirting with Islamophobia: Republican Representative Louie Gohmert claimed in 2013 that "radical Islamists" were being "trained to act like Hispanic[s]" so they could sneak across the border. Trump had already spent years implying that President Obama was Muslim, and won widespread press coverage for it. "At that time, trashing on Muslims was very politically popular," Gears told me.
One local Facebook group, in particular, tended to attract posters who were both pro–Van Duyne and anti-Islamic, Selk told me. "It was just wall-to-wall racism," he said. Several members of the Facebook group "absolutely feared and hated Muslims." Though Van Duyne did not participate in the racist conversations, she did pop up occasionally to check in with constituents. And the tenor of the discussion meant Islamophobia became a "good issue" for her, Selk said.
In 2015, Van Duyne seized on a claim, promoted by the conservative site Breitbart News, suggesting that a Muslim court in Irving was operating under Sharia law. She swiftly posted a condemnation of the idea on Facebook. "Recently, there have been rumors suggesting that the City of Irving has somehow condoned, approved or enacted the implementation of a Sharia Law Court in our City," she wrote. "Let me be clear, neither the City of Irving, our elected officials or city staff have anything to do with the decision of the mosque that has been identified as starting a Sharia Court."
The "Sharia Law Court" was in fact a mediation panel for resolving disputes among Muslims in Dallas. These types of mediators exist for Christians and Jews too, and the area's Islamic community said its panel complied with American laws. The fact-checking site Politifact rated "false" the claim that Muslims "attempted to establish the first Islamic Sharia court inside the United States in the town of Irving, Texas."
Nevertheless, Van Duyne went on Glenn Beck's show to denounce the panel. "Equal treatment under the law doesn't seem to exist," Van Duyne told Beck. "I think you need to put your foot down and say, 'This is America; we have laws here already.' If you want to consult, if you want to arbitrate, that is well within our law … I've got no problem with it. But setting up a separate court—setting up separate law—is not anything."
Beck cut her off. "This is an actual court?"
"Correct," Van Duyne responded, inaccurately.
Afterward, Van Duyne pushed the Irving city council to pass a resolution endorsing a Texas House bill that would bar "foreign" laws from superseding American laws. The measure was widely known as an "anti-Sharia" bill, and it thrilled the state's far-right Republicans. It might strain credulity that a big-city mayor with an Ivy League education would actually believe that Sharia law was about to take over the state of Texas. To some, Van Duyne's Sharia scaremongering seemed more savvy than sincere. "I think it's a policy position that she already held, but then she may have pushed it further, such as through a vote in the city council, due to political aspirations," says Mark Jones, a political-science professor at Rice University.
Van Duyne framed her proposal as an issue of women's rights. "When you have women whose testimony is equal to half that of a man's, how can you defend that if that is happening in our country?" she asked at a 2017 forum. It's hard to argue with that—which was, perhaps, exactly the point. The Dallas Observer has called Van Duyne "a Trumpist Republican before Trumpist Republicans existed." And she did display a preternatural ability to play one of Trump's favorite tunes: "Our nation cannot be so overly sensitive in defending other cultures that we stop protecting our own," Van Duyne said at the forum.
The "clock boy" incident, as it has come to be known, happened just a few months later. Soon, armed anti-Muslim protesters descended on the Islamic Center of Irving, citing, in part, the "Sharia court" flap as their motivation. They published the names and addresses of Irving Muslims, terrifying the community. Mohamed's family sued Van Duyne for defamation, though the lawsuit against her would ultimately be dismissed. Van Duyne, as usual, stayed the course. When asked about Obama's tweet in support of Mohamed, she told Beck, "It seems to be an underlying habit that he is going to second-guess police officers without any kind of information."
As mayor, Van Duyne had been visiting the Islamic Center, a massive white mosque with an emerald dome, once or twice a year. She would read for kids at the school there and attend Ramadan interfaith dinners, according to Raed Sbeit, a former board member of the mosque. Van Duyne's friend Shah, who is of Indian descent, says that Van Duyne never expressed any xenophobic views toward him or around him. The incident with Mohamed, to him, was an example of a city leader displaying caution in an era of school shootings. Whatever the explanation, in 2015, Van Duyne stopped visiting the mosque. "Beth is not Beth when she first came to office," Sbeit told me.
[Read: The left's answer to Trump is 6 foot 8 and wears shorts in February]
That year, reporters went from writing stories about how Van Duyne was highlighting the "city's 'wins'" to writing stories about how she was "a hero for conservatives." To get even more attention, she took another page out of the Trump playbook: Attack the media. When Selk was reporting his profile about Van Duyne for The Dallas Morning News, she deemed his questions about her home and work life inappropriate and refused to answer them. "She developed this Tea Party talking tour for months afterward, where she had a whole slide about me and my questions and lots of jokes about how I was probably romantically interested in her," Selk told me. After the "Sharia court" incident, the Morning News columnist Steve Blow also wrote that Van Duyne had lied about him while on the Tea Party speaking circuit. "She was slamming the paper at every opportunity," Selk said. "That was good politics too."
Van Duyne went after the people her constituency already didn't like—the media, Muslims—and it paid off with growing exposure, more media attention, and ultimately bigger jobs. In 2017, Trump appointed her as a regional administrator within the Department of Housing and Urban Development, responsible for overseeing issues such as disaster recovery and economic development across Texas and four other states.
Van Duyne wasn't one of those reluctant career bureaucrats who held their nose as they did Trump's bidding. She had been one of the few mayors of a large city to back his presidential campaign. After leaving HUD, she ran for Congress as a supporter of Trump's policies, won his endorsement—and, last November, won the seat.
A newly elected member of Congress who prevailed in a close race in a swing district like Van Duyne's might be expected to try to acquire a moderate reputation in D.C. Unlike many freshman members of Congress, though, Van Duyne knows she won't be facing the same voters next year. Because Democrats failed to win control of the Texas House, Republicans will have unilateral control over drawing district lines in the state, and are nearly certain to make Van Duyne's district even more Republican ahead of the 2022 election. Her Trumpy, conservative reputation means she probably won't be vulnerable in the next GOP primary, and with a more Republican-leaning district, she'll be even less likely to be defeated by a Democrat, says Jones, the political scientist.
She has acted accordingly, voting against certifying Pennsylvania's election results, then criticizing President Biden for undoing Trump's legacy. She's even sparred with Representative Alexandria Ocasio-Cortez on Twitter about who used to be the tougher waitress.
Van Duyne's gender makes her especially valuable to the Texas congressional delegation. Texas Republicans have always had trouble recruiting female candidates, and she's only the third Republican woman from Texas to be elected to the House—and one of only two serving now. "In Texas, it's difficult for anybody to defeat a sitting U.S. House member," Jones says. "And Van Duyne, as only one of two women Republicans, is likely to be especially protected, in the sense that the GOP realizes it has a serious image problem."
I asked Barnes, the GOP chair, about the most common criticism of Van Duyne: that the way she made a name for herself, pretending to crack down on Sharia law, was not what a growing, diverse—and partly Muslim—area really wanted from its leader. "It may be that we are finding that it was more in line with what the citizens of the area wanted and desired out of their mayor … than may have become public at the time," he said. Indeed, among Republicans in Texas, Trumpism's appeal endures. Trump remains the most popular Republican politician in Texas among GOP voters—more popular than Governor Greg Abbott, Lieutenant Governor Dan Patrick, Senator Ted Cruz, or Senator John Cornyn. Van Duyne is "just reflecting what the Republican base thinks about Donald Trump, and that is that they're very supportive of him," Jones says.
Ahead of last year's election, Democrats had imagined that Trumpist candidates like Van Duyne would seem out of step with a changing Texas. But an ambitious single mother who has become a city-council member, a mayor, a regional housing administrator, and finally a U.S. representative is clearly not out of step. She is walking in precisely the right direction.