Will Kyrsten Sinema Change Her Mind?
The Arizona Democrat's stand in favor of the filibuster has made her the most enigmatic member of the Senate.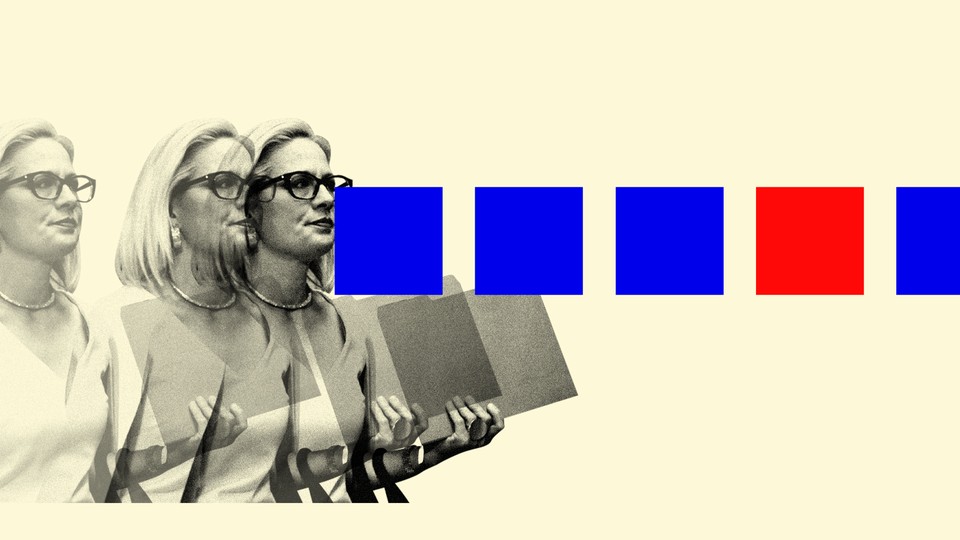 Every other January, the 435 members of the House of Representatives convene in the Capitol and determine, as their first order of business, who will lead them for the next two years. The roll is taken, and one by one, each member says aloud their choice for speaker. In 2015, nearly every Democrat cast their vote for Nancy Pelosi, the longtime party leader. Not Kyrsten Sinema. When it was her turn, the second-term Arizona congresswoman called out the name of Representative John Lewis of Georgia, who she later declared was her hero.
Sinema would vote twice more for the civil-rights icon before moving up to the Senate in 2019. Her votes had no bearing on the outcome—the Democrats were in the minority, and Sinema's defection amounted merely to a gesture. But the votes exemplified a political style that Sinema, 44, has been honing for years, whether by presiding over the Senate in a bright-pink shirt emblazoned with the words Dangerous Creature or forging unlikely partnerships with some of her party's most ardent Republican foes. Sinema likes to stand out, and she's more than willing to stand apart. In the months ahead, those traits could carry far bigger consequences for Democrats than a ceremonial protest, as the party navigates the slimmest of Senate majorities, in which a single vote could mean the difference between victory and defeat.
Barely a month into Joe Biden's presidency, Sinema has already signaled that she will be an obstacle to Democrats' dreams of enacting their agenda on straight-party votes. She has drawn the sharpest line of any Democrat against ending the legislative filibuster, saying she wants to restore the Senate's 60-vote threshold for nominations as well—a position that not even Joe Manchin, the conservative West Virginia Democrat, has taken recently.
Sinema's approach has made her perhaps the most enigmatic member of the new Democratic majority. She began her career as an anti-war activist during the George W. Bush administration and then transformed herself into a centrist, becoming in 2018 the first Democrat elected to the Senate from Arizona in 30 years.
"Quite frankly, Kyrsten may be the most skilled political figure in Arizona," Representative Andy Biggs, an Arizona Republican and a loyalist of former President Donald Trump, told me. Biggs is friendly with Sinema and voted to object to the counting of his state's electoral votes in January. "She reads her constituency as good as or better than virtually any person in political life that I know," Biggs said, adding that perhaps the only other politician he puts in the same category is Trump.
Longtime friends of Sinema say that her stance is consistent with a philosophy that has served her well going back to her days in the Arizona legislature; it is driven, they say, by a genuine desire to build coalitions and consensus across party lines and reflects the moderate values of her constituency. But progressives argue that she has veered much further to the right than is necessary in a state that has elected two Democratic senators in the past two years and backed Biden for president. By their account, she's abandoning the voters—especially Latinos—who got her elected to the Senate. "If she is unwilling to reconsider her stance on the filibuster, all of it is dead," Emily Kirkland, the executive director of the liberal advocacy group Progress Arizona, told me.
More than 40 organizations in Arizona recently circulated an open letter urging Sinema to reverse her support of the filibuster. They are pressuring her specifically on a pair of bills that are both close to her heart and potentially key to her political future. One is a far-reaching election-law bill that could thwart GOP attempts to suppress voting in states like Arizona. The other is the John Lewis Voting Rights Advancement Act, an update of the landmark 1965 Voting Rights Act. Like many who have followed Sinema's career, however, these activists find themselves unsure of what drives her, beyond a desire to stay close to the political center. "It's a mystery," says Tomas Robles, the executive director of Living United for Change in Arizona, a grassroots social-justice group. "We're asking to know who Senator Sinema is. Is she a staunch conservative, or is she a Democrat that understands the people that she represents?"
What's not in dispute is that Sinema will be hard to persuade. Colleagues invariably describe her as charming, frank, and strong-willed. "She said to me, 'You know what, when I make a statement, I don't move from that,'" Senator James Lankford of Oklahoma, a Republican whose office sits next to Sinema's and who has worked closely with her on federal workforce issues, told me. "I've not seen her budge from things when she actually set her mind to it. She locks into it." He offered a friendly warning to progressives trying to persuade Sinema to reconsider her position on the filibuster: "Good luck with that."
The fiercest defenders of the filibuster in recent years have most frequently been the old bulls of the Senate—men like Robert Byrd, John McCain, and even, at one time, Joe Biden. In many ways, Sinema is just about the last person you'd expect to take a stand for a relic of the Jim Crow era. She arrived in the Senate after three terms in the House, and neither her biography nor her public persona would suggest that she'd be a stickler for tradition. Sinema made history in 2012 by becoming the first openly bisexual person ever elected to Congress. More recently, her rotation of colorful wigs—a creative way to avoid salons during the pandemic—have stood out in a chamber where the biggest variation in hair color is among different shades of gray.
Sinema often talks about experiencing poverty as a child after her parents divorced and her mother and stepfather moved the family from Tucson to the Florida Panhandle. They lived in an abandoned gas station, where Sinema has said they went without electricity and running water. This period has been central to the story she tells about herself, though many have questioned her claims that her family was homeless. Sinema graduated from Brigham Young University in two years and went on to earn a law degree, an M.B.A., and a doctorate in justice studies (her dissertation was on the Rwandan genocide). Colleagues joke that they have lost track of how many degrees she holds. All of this, and she has also completed several Ironman competitions.
Sinema got her start in politics working for Ralph Nader's Green Party and spent the first years of the Bush administration organizing against the wars in Afghanistan and Iraq. She lost her first two races for the Arizona legislature running as an independent, before she changed her affiliation to Democrat and won in 2004. She was in a district north of Phoenix that had two open seats, and Democrats wanted to pair her with another candidate, David Lujan. Sinema was initially skeptical. "She didn't think I was progressive enough," Lujan told me, "but things have kind of changed." A onetime Republican, Lujan remains close to Sinema, but he now runs a progressive advocacy group in Arizona and often finds himself pushing her from the left.
By Sinema's own description, she was "a bomb-thrower" during her first year in the legislature, which Republicans controlled then as they do now. "I'd stand up four or five times a week on the floor of the House and give scathing speeches about how this bill and that bill were complete and utter travesties of justice, and the paper would capture one or two of the quotes, and then we'd vote on the offending bills and they'd pass with supermajorities," Sinema wrote in Unite and Conquer: How to Win and Build Coalitions That Last, a book she published in 2009. "Meanwhile, everyone else went to lunch. In short, my first legislative session was a bust." Republicans did not take her seriously, Lujan told me.
By the next session, Sinema had changed her approach. The result, according to colleagues in both parties, was a more effective lawmaker able to operate in what was then a deeply red state, and enact meaningful, if not transformative, legislation. She helped pass laws that protect women who choose to breastfeed in public and forced government pension funds to divest from Sudan during the genocide in Darfur. Sinema had developed a keen sense of the needs of her district—and those of her colleagues. Lynne Pancrazi, a friend and fellow Democrat, told me how, during her own first week in the legislature, Sinema stopped her from opposing a Republican bill favored by farmers and ranchers. "You can't vote against it, Lynne," Sinema said, reminding her to first check with industry leaders in her heavily agricultural district. "What she was trying to tell me," Pancrazi recalled, "was I needed to vote with my constituents."
Sinema applied this pragmatic approach outside the legislature as well. Two years after being elected to the legislature, she spearheaded the opposition to a ballot initiative to adopt a constitutional amendment banning same-sex marriage. Sinema centered the campaign's message on how the initiative would be detrimental to an elderly unmarried straight couple. The effort succeeded, making Arizona the first state in the nation to defeat a same-sex-marriage ban at the ballot box. Despite the win, Sinema received blowback from progressives, who accused her, she wrote, of "throwing the gay community under the bus."
After six years in the state House, Sinema won a seat in the state Senate but remained for only a year. In 2012, she resigned to run for a seat representing a newly drawn congressional district. Republicans tried to use her past to tar her, dredging up interviews in which she had referred to herself as a "Prada socialist." The tactic, which Republicans have continued to employ against her, failed, and Sinema narrowly won.
On Capitol Hill, she made an immediate impression, chatting frequently with reporters off the House floor—The Washington Post called her "a bracingly unfiltered talker" during her first year in Congress—and positioning herself as close as possible to the center. She joined not only the moderate New Democrat Coalition but also the more fiscally conservative Blue Dog Coalition. As in the state legislature, she partnered with Republicans to achieve modest successes; Biggs, for example, credited her with helping win Democratic votes for so-called right-to-try legislation, which makes it easier for terminally ill patients to access experimental drugs.
Sinema's record has long befuddled those who have tried to divine a clear political ideology from the bills she supports and opposes. Many of her colleagues laud Sinema's ability to vote her district and her state. "Kyrsten is Arizona first, last, and always," Senator Patty Murray of Washington State told me. I asked Murray whether she considered Sinema to be a progressive. "I think she has progressive values," she said. "She knows her state better than anybody and knows what she needs to do in order to make sure she is representing the people of Arizona."
According to the University of Virginia's Center for Effective Lawmaking, however, Sinema is one of the most conservative Democrats in the House and Senate. Yet others describe Sinema's voting record as reflective of a politician trying too hard to burnish a bipartisan brand rather than one acting on deeply held beliefs. "It felt to me more about creating an image than actually making policy," a former Sinema staffer told me, expressing a sentiment that was shared by multiple people. "She's not Joe Manchin. She's not actually conservative on certain issues in the way that he is. But she wants to be seen as different."
Her 2015 vote for Lewis was a telling example. For years, a smattering of House Democrats have refused to support Pelosi as a way to distance themselves from a leader whom Republicans have demonized as the embodiment of liberal elitism. Sinema voted for Pelosi immediately after winning her seat in 2012, at a moment when newly elected members of Congress are typically the most vulnerable. The vote never hurt her. Sinema won her next election by 12 points, but only then did she break from her party and back Lewis. "She never had a credible challenge. She owned that seat," says Chuck Coughlin, a longtime Republican political consultant in Arizona who left the party during the Trump years.
Sinema began to eye the Senate soon after she arrived in the House. In 2018, she got her chance when the Republican senator Jeff Flake announced his retirement, leaving an open seat. Sinema easily won the Democrat primary and faced Representative Martha McSally in the general election. Although Sinema appeared on the same ballot as David Garcia, a liberal Democrat who was challenging Governor Doug Ducey, she refused to endorse him. Ducey walloped Garcia by 14 points. Sinema touted herself as independent and won her race by 2.4 points. She benefited from a surge in Latino turnout while winning a majority of white, college-educated voters, especially those in the Phoenix and Tucson suburbs. According to exit polls, nearly two-thirds of voters who described themselves as moderate voted for her. (Sinema's campaign served as something of a model for Mark Kelly, who faced McSally in a 2020 Senate election and won by a nearly identical margin.)
Sinema is no longer the unfiltered talker she was in her early House days: She rarely grants interviews to national media outlets and declined a request to speak for this story, agreeing only to answer (or not answer) questions submitted in writing. Her office instead sent over a list of colleagues who would be willing to talk about her.
By far the most difficult question for Sinema's allies is whether her views have changed over the years along with her approach to legislating. In the book detailing her shift, Sinema referred to herself as a progressive. More than a decade later, is she still? Sinema herself wouldn't answer directly, but what's clear is that she no longer identifies as one. "I pride myself on being a lifelong learner, and I believe a sign of maturity is an interest in learning and growing," she said in a written response that did not include the word progressive. "For me, that means listening to a variety of opinions—even from people with whom I disagree—and doing so in a way that's open enough to be able to learn and sometimes change my views."
Perhaps the most salient fact about Sinema's political career—one that her supporters and critics brought up again and again—is that although she has been in elected office for the past 16 years in four different legislative bodies, until this year, she had never once served in the majority. Her bipartisan approach may have been a choice, but it was also a necessity: Never before has Sinema had the power to achieve anything without Republican support.
That could change this year, progressives argue, if Sinema would agree to wield the power that voters have vested in Democrats. But Sinema is unbowed in her defense of the filibuster. "The Senate was designed to move slowly and thoughtfully," she said in a written response, "encouraging bipartisan cooperation and protecting the power of whichever party is in the minority. Retaining the legislative filibuster is not meant to impede the things we want to get done—rather, it's meant to protect what the Senate was designed to be: a place where senators come together, find compromise, and get things done for our country."
Bipartisan bills are more durable, Sinema has argued, even if they take longer to enact and deliver incremental change. "She doesn't want to work on something that will pass today, only to see it overturned in two years by a new House or a new Senate or a new White House," Chad Campbell, a friend of Sinema's who served with her in the Arizona legislature, told me. One example her allies cite is immigration reform, which Sinema strongly favors. Advocates for a comprehensive bill believe that given Trump's influence on the GOP, eliminating the filibuster might be the sole avenue to success, because few if any Republicans will support a measure that provides a path to citizenship for all undocumented immigrants. The counterargument is that even if Democrats did enact a comprehensive bill on a party-line vote, immigrants would still be vulnerable if a Republican president, along with a Republican Congress, were to reverse the law before they earned citizenship. For this reason, Sinema is wary of the party-line-only approach and is more likely to support a bipartisan bill like the Dream Act, which stands a better chance of winning 60 votes and would be far less vulnerable to repeal.
At the heart of the filibuster fight is a dispute over the Republican Party and whether it's possible to find 10 GOP votes for significant legislation in an era when loyalty to Trump is rewarded and bipartisan collaboration is punished. The Democrats who have changed their mind on the filibuster recently are those who have served in the Senate over the past decade and saw how Republicans thwarted the agenda of President Barack Obama and deployed the procedure as a matter of routine.
"I come down on the opposite place of Kyrsten, but it's a very tough call," Senator Kirsten Gillibrand of New York, one of Sinema's closest friends in Congress, told me. Gillibrand has embraced eliminating the filibuster only in the past two years, and even now, she warns it could pose a grave risk to Democratic priorities whenever Republicans regain power. "It's not a simple matter," she said, "and it should not be a litmus test of whether you support progressive values, because I don't think it is."
Sinema has yet to face a true test of her filibuster stance, but she's already angered liberals during negotiations over the COVID-19 relief bill. She opposed the inclusion of a measure that would increase the federal minimum wage to $15 an hour. A video of her emphatically voting down the amendment while carrying what appears to be a Lululemon handbag went viral. (Sinema, who campaigned for Arizona's $12 minimum wage, told me she would give "due consideration" to a proposal raising the federal standard, although she would not say whether it should be $15.)
The Democratic bills that are most likely to provoke a clash over the filibuster this spring also happen to carry particular significance for Sinema. The For the People Act, or H.R. 1, would mandate expanded voter access across the country, overhaul campaign-finance laws, and limit partisan gerrymandering. The House passed it last week with just a single Democrat defecting. Democrats say the measure has taken on greater urgency as numerous Republican state legislatures rush to enact laws that would reduce and restrict early voting and mail balloting, purge voter rolls, and tighten voter-ID requirements. Republicans who narrowly control the Arizona legislature have proposed a raft of bills that could suppress the vote and thereby imperil Sinema's reelection bid in 2024.
Democrats are also pushing the John Lewis Voting Rights Advancement Act, which restores protections against racial discrimination that the Supreme Court invalidated in 2013, when a Republican-appointed 5–4 majority ruled that the 1965 law's formulas were outdated. Lewis long opposed the filibuster, and at his funeral, Obama for the first time called for its elimination.
Sinema supports both bills, but the question progressives have is how far she'll go to get them passed. Arizona is at the center of the fight over the Voting Rights Act. Just last week, the Supreme Court heard arguments in a case in which the justices must decide whether a pair of the state's election laws violate the act. "That has to be something she's thinking about, and I would think is weighing heavily on her," Sandy Bahr, an old friend of Sinema's, told me. "Because there is no doubt we have voter suppression in Arizona."
If Republicans block the voting-rights bills, I asked Sinema's office, would she stand with them to preserve the tactic that allowed them to do so? "Kyrsten does not believe it is constructive to engage in hypotheticals," her spokesperson, Hannah Hurley, told me, before reiterating Sinema's statement that "we cannot accept a new standard by which important legislation can only pass on party-line votes." Nor would Sinema weigh in on proposals like those from Senator Jeff Merkley of Oregon that would either make sustaining a filibuster harder or exempt certain legislation, especially those bills concerning voting rights. On Sunday, Manchin suggested he might back a reform of the procedure that would force senators to stand and speak on the floor in order to block legislation. Although he would never support eliminating the filibuster entirely, he told Fox News that "maybe it has to be more painful." Sinema, who unlike Manchin does not regularly make the rounds of the Sunday talk shows, has yet to budge at all.
Still, colleagues like Gillibrand, who wrote a Senate version of the bill named for Lewis, believe the coming battles could start to move Sinema. "If we can't pass [the voting bills]," Gillibrand told me, "maybe that will be something that weighs on her and whether she wants to eliminate the filibuster in the future."
The Democrats' desperation to enact election reforms while they hold power, along with Manchin's possible willingness to consider weakening the filibuster, ensures that the scrutiny of Sinema's position will only intensify. She has never before held this much influence, nor has she come under this much pressure. Against many of her Democratic colleagues, and even more of her progressive voters, Sinema is, for now, betting that her decision to empower Republicans will be rewarded rather than punished, and that it will yield tangible results before she next faces voters. "I would imagine," Lujan, her former colleague, told me, "there's going to be some really challenging times for Kyrsten in the next couple of years."