Biden Isn't Talking for a Reason
Yes, he wants to avoid making a gaffe, but he also doesn't want to be an in-your-face president.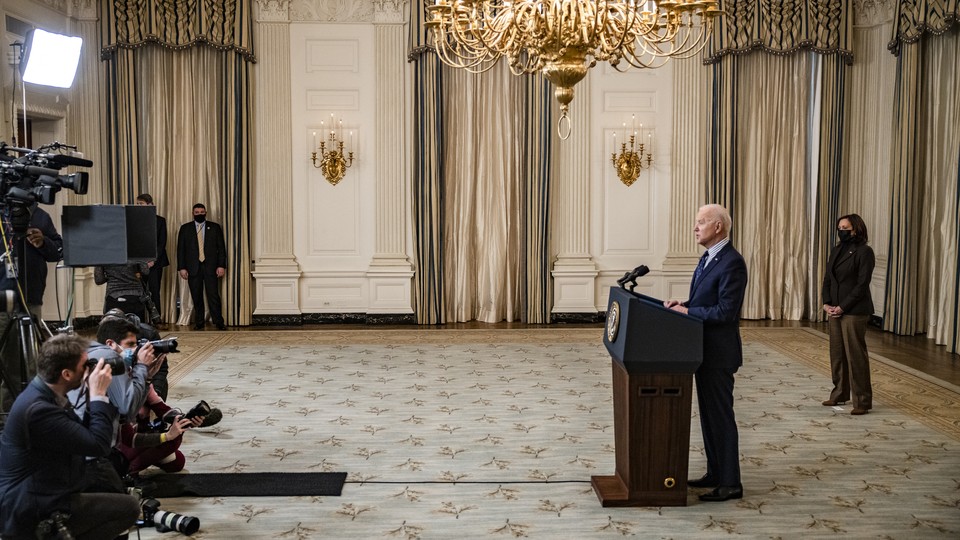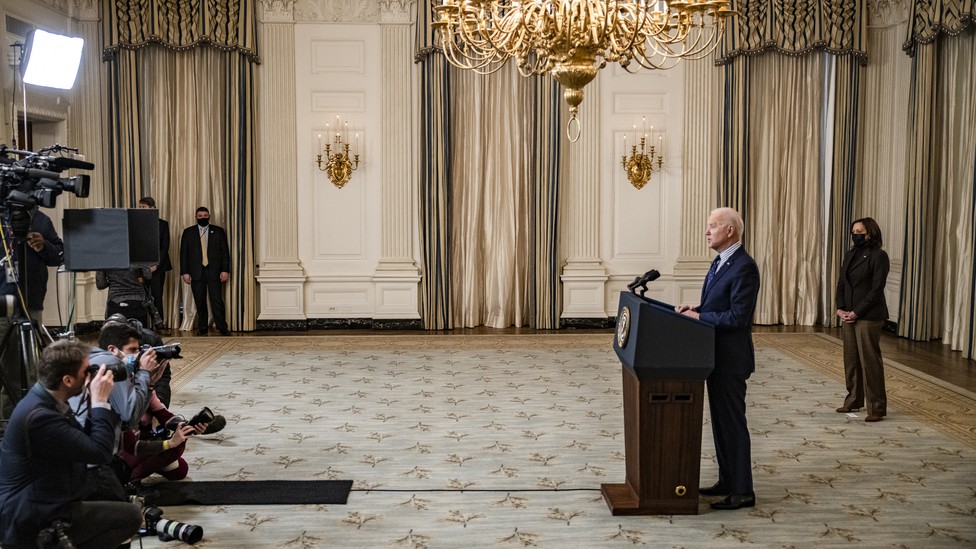 Joe Biden is hardly in hiding. Barely a week passes when he doesn't tour a factory or host a meeting in the Oval Office. He gives interviews and takes questions from time to time as he moves through his calendar. What he has yet to do is hold a formal news conference. Donald Trump, Barack Obama, George W. Bush, Bill Clinton—every president since Calvin Coolidge had given a news conference by a comparable point in his term. Biden's debut comes tomorrow—65 days into his presidency—when he'll appear in the East Room before a press corps who will ask questions, squeeze in follow-up questions, and, in rising desperation as the spectacle winds down, shout questions unbidden.
Pressure for Biden to conduct his first news conference had been mounting for weeks. Reporters were quizzing Jen Psaki, the White House press secretary, at her daily briefings. Opinion writers were chiming in. Which led to a lot of speculation about why Biden was so reluctant to meet with the press en masse. The most popular theory is that Biden aides feared that a president who's at times too loquacious for his own good might flub an answer. "He's not that quick on his feet," Frank Luntz, the longtime pollster, told me. Parrying questions on live television is a skill that tests even the most disciplined speaker, which Biden is not. "Now look, I realize no one ever doubts I mean what I say," he told an audience in 2015. "The problem occasionally is I say all that I mean."
Overlooked is that Biden and his team are also making a strategic bet. Limiting his exposure to the press and, by extension, the public isn't simply a defensive ploy to avoid an embarrassing gaffe. It's a conscious calculation that people don't need—or want—to hear from the president on an hour-by-hour basis, that they will be satisfied if he can revive the economy and end the pandemic. After all, Americans just had a president who entered their life and refused to leave, who gripped the megaphone and wouldn't let go. Biden has no wish to resurrect Donald Trump's in-your-face presidency.
"People aren't beating down the door and saying, 'Why isn't he in my living room every day? Why am I not seeing that big face staring at me and promoting himself in some way?'" Mark Mellman, a Democratic pollster, told me. "People are happy to see Joe Biden when they see him. But they're happy not to see him every day."
Were he advising the White House, Luntz said, he'd recommend delaying the news conference even longer, perhaps holding one at the 100-day mark. "A press conference will not help him and can only hurt him," he said. "There's nothing to be gained from it. His message is getting out, and it's getting out relatively unedited and uncriticized." Luntz added that the audience for a presidential news conference these days is shrunken and fractured. "The problem is, you're talking to the choir," he said. "No Trump voter will listen to Joe Biden, just as no Biden voter would listen to Donald Trump."
As of last week, Biden had publicly spoken about 116,000 words and spent 12 hours on camera as president, Bill Frischling, the founder of Factba.se, a data-analytics firm, told me. Over the same period last year, Trump had spoken nearly three times as many words and been on camera nearly three times as much.
That's no accident. As president, Biden is following a pattern he set during the campaign. Citing the pandemic, he largely stuck to his home in Delaware while Trump raced around the country leading marathon rallies. Biden's victory seems to have reinforced the belief that what worked in the campaign will work in the West Wing. In this view, spooling out news conferences sparingly carries no penalty, only upside. "Joe Biden is not that exciting, right? He's genuine. We love him. But he's not Obama. He's not the orator in chief," one former Biden-campaign aide, who spoke on the condition of anonymity, told me. "He's boring in the best possible way. We need boring. We want boring."
Boring seems to be paying off. A Reuters/Ipsos poll released last week showed that 59 percent of American adults approve of Biden's performance in office, a four-point increase from January. Only 35 percent disapprove.
What incentive, then, does Biden have for showing up at a news conference and risking a misstatement or garbled bit of syntax? For one, it's in the public interest for the president to make himself routinely available to questioning by journalists. For another, there's always the chance Biden will ace the test. Republicans have spent the past two years spreading the notion that Biden suffers from some sort of cognitive infirmity. Against that low bar, he's bound to exceed expectations. "Here's where I think Republicans have made a mistake," Ari Fleischer, a White House press secretary under George W. Bush, told me. "If Joe Biden doesn't drool all over himself at the news conference, he's going to have done better than they expected. They set those expectations at the drool level."
A third rationale is tradition. One of the White House's ambitions is to restore some measure of civility to relations with the news media. Scrubbing a civic ritual that was first televised during Dwight Eisenhower's presidency would send the wrong message. Tomorrow's event will take place during the daytime, though—a kind of dress rehearsal for a prime-time news conference that presumably will come later in the term.
"One thing President Biden said on the campaign trail is, if he was elected, Americans could go back to worrying about their own lives and not worrying about what the president of the United States was up to every day," Kate Bedingfield, the White House communications director, told me. Many of the pollsters, campaign advisers, and political consultants I interviewed made a similar point: When Americans are struggling to buy groceries or are stuck at home with their school-age kids, they have little time for the preening and posturing on either side of the presidential podium.
That sounds plausible, yet the reality isn't so clear-cut. Last week, the research firms Engagious and the Schlesinger Group conducted a focus group of a dozen voters who swung from Trump to Biden. The moderator asked what emotion they feel when they see Biden. A 48-year-old independent from Minnesota said he'd like to see a side of Biden that doesn't look so programmed. "Biden is being handled by people," he said. "He doesn't speak in public. Trump wouldn't shut up, and Biden won't speak in public. So I think there are people behind the scenes who are really controlling how much access he gets with reporters or media or anything."
Over the weekend, I spoke with Mary Videa, and was prepared to hear her say she has no interest in Biden's news conference. She's a 55-year-old school-bus driver living outside Houston. With the federal eviction moratorium about to expire, she will likely lose her $891-a-month one-bedroom apartment. Her 2010 Nissan Xterra was recently repossessed, so she can't pick up additional income delivering food through DoorDash, as she'd hoped. Videa doesn't have the $4,000 she needs to recover the car, even with the $1,400 stimulus check she just received from the COVID-19 relief bill that Biden signed into law on March 11. "I'm working, but I'm not making enough to make ends meet and catch up on things," she said.
Are you interested in what Biden has to say at his news conference? I asked. "If he speaks to the media, it can get to the people," she responded. "The people need to know about his goals and intentions. They need updates on the help that's supposedly on its way." Do you see enough of him? I asked. In my conversations with people in Biden's circle, they'd all said that Americans see plenty of the 46th president. "I'd like to see and hear more," Videa said.