Of Course Andrew Cuomo Isn't Going to Resign
But his dream of a fourth term is slipping away.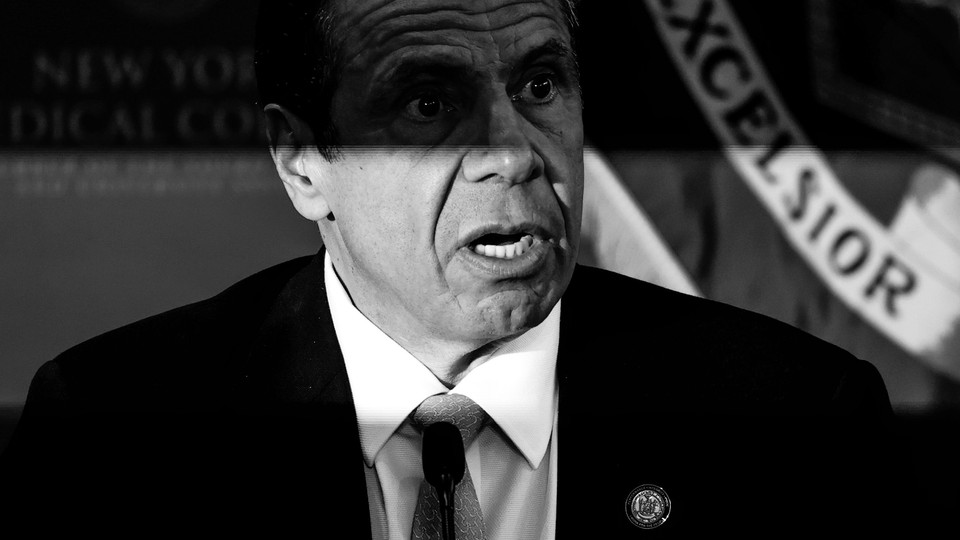 A tale of hubris and comeuppance is unfolding daily around New York Governor Andrew Cuomo. It's a tale of a man who bullied colleagues for years and took time out of managing the pandemic to write a book about how well he was managing the pandemic, but is now facing accusations of harassment, incompetence, and fatal mistakes.
Thousands more people in New York nursing homes died of COVID-19 last spring than was made public at the time, and over the past two weeks, Cuomo's administration has slowly admitted to hiding the numbers. Two former aides have also stepped forward to accuse Cuomo of sexual harassment, in addition to a third woman who has said he touched her back inappropriately and attempted to give her a kiss that she did not want.
But, barring a burst of new allegations, Cuomo absolutely will not resign. "The old resignation playbook is out," a Cuomo adviser told me, requesting anonymity to discuss the private deliberations that have been going on over the past week. Very much on the minds of Cuomo and his team is Virginia Governor Ralph Northam, who refused to resign in 2019 after the discovery of an old racist yearbook page, but who today remains popular with voters. "There's a new path, and that is to wait it out," is how the adviser put it to me. Even several of the small number of New York politicians and advocates who have openly called for Cuomo to leave office seem to doubt that he will. But the pressure could scare him out of running for what he wants most: a fourth term, which he is up for next year. And with how Cuomo's private conversations have been going lately, the anti-Cuomo forces may be getting their way.
Throughout his time in office, Cuomo has derided and demeaned. He has told state legislators that they don't understand anything as well as he does, and that they must fall in line behind him. Over the decade that I covered New York, seeing how he operates made clear again and again why he has no friends among his colleagues, leaving him without anyone to lean on now that he needs the help. Nonetheless, before this latest set of scandals, Cuomo seemed destined to win a fourth term. Being governor of New York is the only thing that he's ever really wanted to be, and winning a fourth term would mean he'd outdo the three gubernatorial terms of his father, Mario Cuomo, who sits constantly in his head like a spectral Elf on the Shelf. The elder Cuomo lost his bid for a fourth term in 1994, and Andrew, who was Mario's closest adviser, has never quite stopped thinking about that loss. ("My numbers are higher than my father's were," he told me in a 2019 interview.)
New York's ever-larger and ever-bolder progressive contingent has been trying to get rid of Cuomo for years, angry with his Machiavellian approach and his many compromises with moderates and Republicans. In 2014, when he was running for his second term, a then-little-known progressive activist named Zephyr Teachout excited the Democrats who hate Cuomo by primarying him. She lost but earned 34 percent of the vote, enough to convince the anti-Cuomo crowd that a better-known candidate could take him out. In 2018, progressives turned to the actor Cynthia Nixon, hoping to piggyback on her notoriety. Nixon didn't end up doing any better than Teachout had.
Horrified as they are by the allegations, members of the Cuomo-haters club—many of whom are ambitious politicians looking to open up spots in state politics after 12 years of him in charge—are reveling in the governor's troubles. Last spring, when Cuomo's popularity soared thanks to his pandemic press conferences turned group-therapy sessions, some political commentators speculated that maybe he'd replace Joe Biden, then facing his own accusations of sexual assault, as the Democratic presidential nominee. Tell me this doesn't end with Andrew Cuomo being president, one New York progressive pleaded with me in April. The silver lining, the Cuomo haters said, would be that at least moving to Washington would get Cuomo out of New York.
Gustavo Rivera, a Democratic state senator from the Bronx, told me that Cuomo has always had a "toxic style of leadership, which doesn't lead to good governance." He thought Cuomo should have quit even before all the revelations of the past few weeks. He believes it even more now. "These allegations just go to a pattern of his pathology of leadership. He is a bully, he is an abuser, and he does this in his everyday life and his political life," Rivera said.
Cuomo has agreed to turn over the investigation into the accusations about his behavior to New York's current attorney general, Tish James, and people who have spoken with him can sense that he's anxious about what could turn up. The investigation is expected to last at least a few months as investigators look for any more women who may be willing to step forward. At the same time, the Department of Justice is looking into the nursing-home deaths.
Cuomo the control freak, for the first time in his life, knows that he's lost control, that winning the fourth term his father didn't might no longer be possible. "He's aware this could be an existential moment," another Cuomo adviser, who was granted anonymity in order to discuss internal conversations, told me. Putting Cuomo even more on edge: James right now looks like the most obvious and strongest challenger if she decides to enter a primary against him next year. She has won statewide, she has progressive credentials and a base in Brooklyn, and she's a Black woman. All of that would make her a formidable candidate, and if she also issues a report with revelations of more sexual harassment or misconduct by Cuomo, the campaign ads almost write themselves. Some operatives are already speculating that James could face a primary for attorney general if the report isn't tough enough, or if she doesn't run against Cuomo. High on the list of expected challengers she could face is Representative Kathleen Rice, who had Cuomo's support when she lost a primary for attorney general in 2010 but has since fallen out with him. Rice responded to the women's accusations against him by tweeting, "The time has come. The Governor must resign." (Rice didn't respond when I asked her to talk more about the governor.)
In a press conference on Wednesday afternoon—held over Zoom so that he could keep more control—Cuomo choked up at one point as he talked about being humiliated, and said he realized that how he had spoken and behaved was wrong. He was adamant, though, that he wouldn't resign. And most New York voters don't seem keen on pushing him out. A Quinnipiac poll conducted in the days just after the allegations came out showed that 55 percent of voters don't want him to resign, though 59 percent of voters don't want him to run for reelection, either. Other polling shows that much of the support for resignation right now is coming from Republicans, who never liked Cuomo and like him even less since the pandemic turned him into a chief antagonist to Donald Trump. "The vultures of the left are not in sync with the voters in New York," the first Cuomo adviser told me. While the folks who have hated him for years are swirling to try to take him down, the reality is that the appetite from the voters to replace a man who has been successful is just not yet evident."
In a sign of how much power Cuomo still has, few politicians are willing to say publicly that he should resign, even as they count down the days to voting for someone else for governor next year. "At some point, he's going to wake up looking for an inner circle to protect him and there won't be anyone left, and he'll have to say, Can I really go on myself now? And I think he'll say no," one Democratic state senator who can't stand Cuomo told me, after requesting that no name be attached to the comments to avoid potential retribution. "Maybe he can't allow himself to imagine resigning himself or not winning again, but I got to tell you, there is no way I believe he can win. That may be a painful exercise for him to realize. It won't be for me."