Why an Infrastructure Deal Everyone Wants May Fail
The need exists, but the path toward a bill is far from obvious.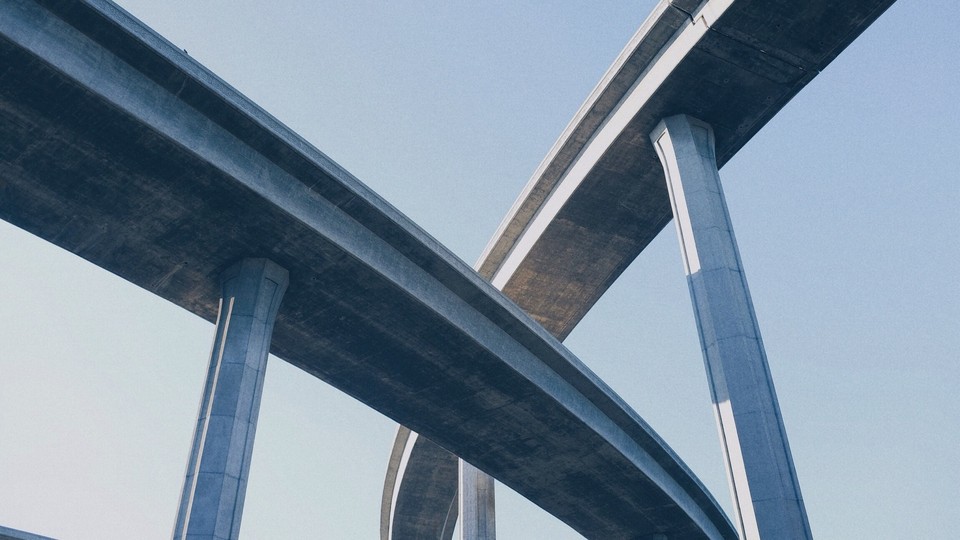 "When you ask individual senators whether they want to see expanded infrastructure, the answer is nearly always yes." — Senator Elizabeth Warren
"This is an area that is ripe with opportunity for bipartisan compromise." — Senator Ted Cruz
"There's an opportunity to do something really good for the American public here." — James Williams, general vice president, International Union of Painters and Allied Trades
"Our members are willing to stand behind elected leaders in both parties who will vote to do the right thing and make those needed investments." — Ed Mortimer, vice president of transportation and infrastructure, U.S. Chamber of Commerce
"I really view this as a historic window of opportunity." — Secretary of Transportation Pete Buttigieg
Democrat or Republican, left or right, business or labor—everyone, it seems, agrees that the United States needs to upgrade its infrastructure, and needs to do it now.
During the presidential campaign, Joe Biden promised a national rebuilding program worthy of Franklin D. Roosevelt. He spoke of half a million new charging stations that would power a growing fleet of electric vehicles; of commuters gliding over sparkling new bridges; of trucks rumbling through freshly bored tunnels.
Last fall's wildfires in California and this winter's ice storm in Texas exposed, once again, the frailties of the country's power grid. The pandemic brought attention, once again, to the great swaths of rural America without broadband. For the past two decades, the nation's civil engineers have compiled a report card that rates the nation's infrastructure. This year, the grade was a C-minus. That's an improvement: Most years, the grade has been in the Ds.
The need exists. Powerful organizations are putting their muscle behind it. Both parties proclaim that it's a top priority. So why will Congress struggle to pass an infrastructure bill? The answer's pretty basic: What's missing is even the outlines of a deal. The two sides cannot agree on just what a package should contain or how it would be paid for. Nor is there unanimity within the parties on either point.
Biden wants to go big, calling for a program that would exceed $2 trillion, respond to global warming, and address economic inequality by paying workers union wages. Progressives aim to go bigger still. Representative Alexandria Ocasio-Cortez of New York and Senator Edward Markey of Massachusetts envision a Green New Deal that would end the nation's dependence on fossil fuels and guarantee that every American has a job that pays a living wage. Senator Elizabeth Warren of Massachusetts wants the package to include provisions for child care. "Infrastructure is about making it possible for people to go to work and for businesses to conduct business," she told me. "For parents to be able to participate in that, we need child care."
The Democratic Party's moderate wing is wary of a package on a scale that their liberal colleagues have embraced. Senators Joe Manchin of West Virginia and Kyrsten Sinema of Arizona voted against the Green New Deal in 2019, as did Senator Angus King of Maine, an independent who caucuses with the Democrats. Manchin, who in a 2010 campaign ad memorably shot a bullet through a climate-change bill, said he was not prepared to forswear fossil fuels.
It's not entirely clear what the Republicans have in mind, other than that they prefer something more modest. A Venn diagram would show that both parties see the need for wiring rural homes for the internet and modernizing highways and tunnels—and not much else. Republicans favor deregulatory steps that speed approval for projects; Democrats are leery of ditching regulations tied to public safety or environmental protection. "It doesn't do any good to spend $1 billion on roads and bridges if you can't get a permit to build the damn road or bridge," Senator Ted Cruz told me. "But we won't see that if Pelosi and Schumer and Biden only listen to the extreme-left wing of their party."
Another sticking point is how to pay for it all. Biden has called for increasing corporate taxes, which would reverse a core component of the Trump tax cut signed into law in 2017. It's hard to imagine that Republicans would agree to this. When I asked Senator Rick Scott of Florida about the best way to fund expanded infrastructure, he was adamant: "I completely oppose raising taxes to do it."
Yet the Republicans have some cover if they're willing to take it. The U.S. Chamber of Commerce says it's open to raising the federal gas tax, which has remained the same (18.4 cents per gallon) since 1993. At the very least, such an increase could finance some of the road improvements both parties envision. Trouble is, the White House doesn't want to raise the gas tax. When Transportation Secretary Pete Buttigieg floated the idea at his Senate confirmation hearing in January, his spokesperson quickly walked it back. "The president has been very committed to the idea that we're not going to raise taxes on people earning less than $400,000 a year," Buttigieg told me. "So that's the starting point that needs to be held in mind." (Many Democrats don't buy that reasoning. As Representative Peter DeFazio of Oregon, who chairs the House Committee on Transportation and Infrastructure, told me, a gas tax is like a user fee, borne only by the people who drive.)
As seems to be true with a lot these days, whether an infrastructure bill will pass and in what form will likely hinge on Manchin. Not only is he a key swing vote within the party, but he also chairs the Senate Committee on Energy and Natural Resources, which will consider pieces of the package. Manchin says he wants the Democrats to make every effort to produce a bipartisan measure—"I am not going to get on a bill that cuts out [Republicans] completely before we start trying," he told Axios. But he has also said that he favors raising taxes to pay for what figures to be a gargantuan government investment. That condition would seem to rule out Republican support. Manchin's position is even spongier than it might appear. He is not making Republican buy-in a nonnegotiable condition. Nor has he ruled out "reconciliation," the parliamentary maneuver that would enable the Democrats to pass an infrastructure bill without a single Republican vote. All he's saying is that he wants Democrats to work hard to corral Republicans. Manchin, in other words, has given himself enough space to land anywhere he chooses, maximizing his leverage as negotiations get under way.
One sweetener that could make an infrastructure deal more palatable is the possible revival of "earmarks," specific projects that lawmakers insert in a bill and steer toward their states and districts. For years, earmarks was a kind of epithet in Washington. Lawmakers used them to lavish money on projects of dubious merit but that would enhance their reelection chances. (A "bridge to nowhere" in Alaska emerged as perhaps the most notorious symbol of wasteful spending.) The abuses mounted, and Congress banned earmarks in 2011. But there is a strong appetite to bring them back—under the anodyne title "community-project funding." Lawmakers say earmarks will be capped and publicized so as to prevent their misuse. Behind the return of earmarks is the recognition that without them, Congress has had a far tougher time making deals on complicated legislation. Many think that earmarks could be an especially powerful inducement in an infrastructure bill, allowing lawmakers to take credit for projects they made happen. "It would probably help us move bills," Senator Richard Shelby, an Alabama Republican, told me.
They could use the help. Bitterness continues to pervade the Capitol, making collaboration tough to pull off. Consider Senator Pat Toomey of Pennsylvania. He should be a Republican whom Democrats have a shot at capturing. He is one of seven GOP senators who voted to convict Donald Trump in the impeachment trial last month. He's not running for reelection in 2022, so he doesn't have to worry about a far-right primary opponent. An American Society of Civil Engineers report from 2018 (the most recent year available) found that Pennsylvania's bridges were 15 years older than the national average and "continue to be in need of repair and modernization." Nearly a third of Philadelphia's water mains were installed in the 1800s, the report showed.
Yet when I asked Toomey recently whether he might vote for an infrastructure deal, he was still stewing over the Democrats' handling of the coronavirus-relief package, which passed both chambers without Republican support. "The president and the Democrats are making it much, much harder to do an infrastructure bill by the way they've approached this one," he said. "The damage they're doing—all of this massive spending and borrowing that's counterproductive—makes it much harder." When I brought up Toomey's concerns with DeFazio, he cut me off at the mention of the senator's name. "He's a first-class jerk," he said. "I don't take him as a credible source."