Is Biden's Outreach to Republicans Real?
Unless Senate Democrats get rid of the filibuster, the president will need GOP support.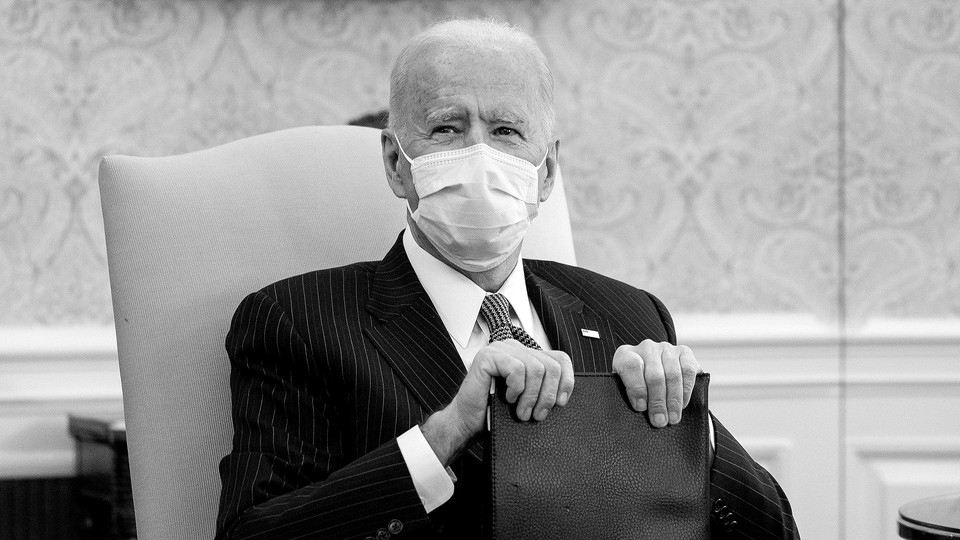 Senator Susan Collins was driving to the airport in Bangor, Maine, for a flight back to Washington, when her cellphone rang. Hours earlier, she and some of her Republican colleagues had sent President Joe Biden a letter objecting to the scale of his $1.9 trillion coronavirus-relief bill. They wanted to come see him. To Collins's surprise, the new president was on the phone. Biden had called her "out of the blue," she later said. The next day, Collins and nine fellow Republicans found themselves in the Oval Office for a discussion that ran one hour, and then two.
The meeting, on February 1, yielded no grand compromise. Biden isn't budging, nor are the Republican lawmakers; the two sides remain hundreds of billions of dollars apart. If Biden prevails in the first great fight of his presidency, the victory will likely be the result of a strict party-line vote and the thin numerical edge that Democrats hold in Congress. (The House passed the bill last Saturday without a single Republican vote in favor. The Senate is expected to take up the package this week.) Yet since Biden's been in the White House, he has routinely made overtures to the opposition.
The question is whether these attempts at bipartisanship are cosmetic, or whether they reflect Biden's natural instincts, represent a calculated strategy, or are some combination of all three. As many have observed, Biden is a throwback to an era when cordiality between Republicans and Democrats wasn't as rare as it is today. "I've had four calls from the president since my reelection," Collins told me as she walked through the Capitol on a recent afternoon. "We go back a long way. I think highly of him. I want him to be successful, and the best way for him to be successful is to resist the pull to the left."
One of Biden's projects is to restore a measure of civility to a politics that, as he said in his inaugural address, "need not be a raging fire destroying everything in its path." He's spoken at funerals for Republican senators who were an anathema to rank-and-file Democrats and has courted Republican lawmakers whom his party tried mightily to defeat. "We certainly have staked a lot of what we are doing on a desire and an intention to unify the country," White House Counselor Steve Ricchetti told me. "We're going to make every effort. [The president] has asked us to do so, and so we're doing it, and he's doing it himself, most importantly." But Biden also has pragmatic reasons for drawing Republicans into a governing coalition. As long as the Senate preserves the filibuster, which requires 60 votes to pass legislation, he will need Republican votes if he's to enact the ambitious agenda he has promised.
Biden's most urgent task is to pass the relief bill, and he's bent on doing it with or without Republican votes. Defeat would be a resounding rebuke, a sign that he couldn't deliver on an initiative that might be the defining act of his term. For that reason, Senate Democrats are planning to speed approval through "reconciliation," a parliamentary maneuver that allows passage of certain bills with a simple majority vote.
Strikingly, Biden's most successful bipartisan outreach has been to Republican mayors and governors who would benefit from the $350 billion in state and local assistance that the package would provide. After a group of mayors and governors met with Biden last month at the White House, Miami's Republican mayor, Francis Suarez, came to the press-briefing room and said that his city would put the money "to good use." Jerry Dyer, the Republican mayor of Fresno, California, declared that the package would help close a $31 million budget shortfall that might necessitate hundreds of layoffs. Because the White House can't reel off names of Republican senators and representatives who back the bill, officials point instead to polls showing that most GOP voters like what Biden has unveiled. Republican leaders say that polling is no substitute for bipartisan buy-in. "I don't know if they're legitimate polls," Collins told me. "They may be the same polls that said I would lose the election, and I won by nine [points]."
"I think we're going to pass the COVID-relief bill and move on," Senator Chris Coons, a Delaware Democrat who is one of Biden's closest allies, told me. "The real question is, if this is passed with only Democrats, what does that mean for bipartisanship and the rest of the president's agenda? I recognize that some of the Republicans don't want to work with President Biden, won't work with President Biden, and aren't looking to work across the aisle. I'm clear-eyed about that, but there are a dozen Republican senators who I think see the importance and urgency of working together on a bipartisan China strategy, on a bipartisan manufacturing agenda, on a bipartisan infrastructure agenda, and on supporting national service. That's just four off the top of my head."
Late last month, Biden met with lawmakers from both parties to discuss flaws in the supply chain for computer chips. He didn't fill the room with friends. Among the senators he invited were the Republicans Mike Braun of Indiana and Marsha Blackburn of Tennessee, both of whom had planned to object to the electoral-vote count certifying Biden's victory on January 6 but changed their mind after the assault on the Capitol. Afterward, Biden described the meeting as the best he'd had yet. "It was like the old days—people actually are on the same page," he told reporters. Did he have anything to say to those who wouldn't acknowledge his victory? a reporter asked. Biden shrugged it off. "You'll have to ask them," he said, laughing.
It's early in the term, but the White House seems to be deploying a model in which Biden consciously plays the good cop while tacitly allowing his staff to play the bad cop. Biden is innately suited to the role, and it also gives him cover when the administration takes a more hard-line stand. When Republicans complain that Democrats are "jamming" the relief package through Congress, they often don't blame Biden. They point to his staff or House Speaker Nancy Pelosi or Senate Majority Leader Chuck Schumer, contending that they're the ones pushing the president to steamroll the opposition. Collins mentioned that when she looked around the Oval Office during the February 1 meeting, she saw Biden's chief of staff, Ron Klain, sitting in the back of the room and shaking his head when Republicans made the case for a smaller bill. Biden, she told reporters at an informal press gaggle in the Capitol, "was very attentive, gracious, and into the details. It was a great discussion." But Klain's body language, she said, "was not exactly an encouraging sign."
As one might expect, White House officials deny that there is anything to the good-cop, bad-cop model. "He's the president, and the staff is executing the strategy at his direction," Ricchetti told me. "He wants this outreach. He wants this dialogue. He has the absolute expectation that even in disagreement on issues of substance that it will be done respectfully and courteously."
Over a long career, Biden has built ties to Republican lawmakers whom his party has viewed with disdain, and Collins is a prime example. Democrats mocked her statement that former President Donald Trump had learned "a pretty big lesson" from his first impeachment trial last year and bristled at her vote to confirm Brett Kavanaugh to the Supreme Court. The party fought to oust Collins in the November election and failed. Now she is starting another six-year term, and some of her detractors hold influential posts in Biden's West Wing. Susan Rice, who is Biden's domestic-policy adviser, tweeted a month before the election using the hashtag #DefeatCollins. Others in Biden's orbit have called her "the worst."
Biden would likely disagree. After leaving the vice presidency in 2017, he appeared in a video shown at an award ceremony for Collins, with whom he served in the Senate for 12 years. Looking into the camera, he described Collins as a "woman of incredible character" who "always put the country first."
"I'm crazy about her," he said.