Democrats Are Failing the Schools Test
The fight between politicians, parents, and teachers over school reopenings could soon affect elections.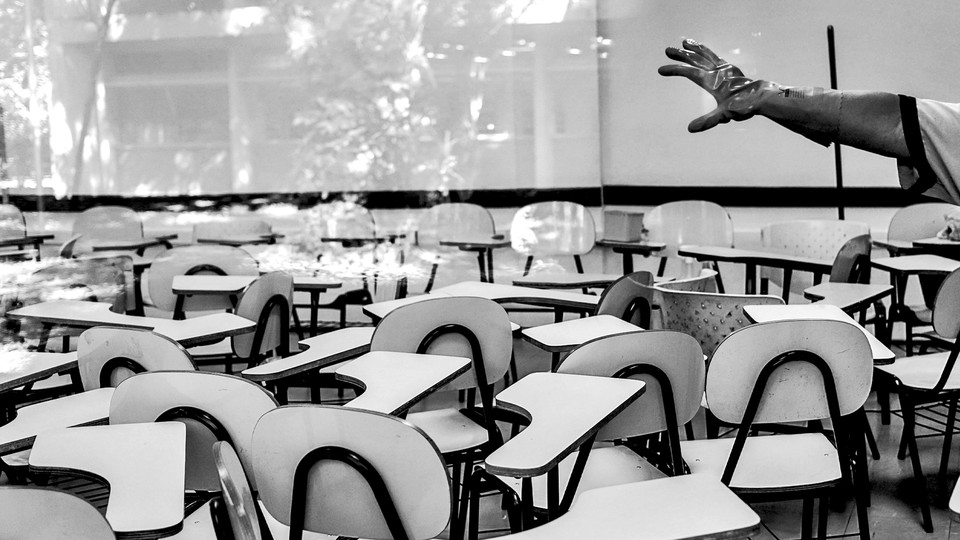 Rory Cooper was a top aide to former House Majority Leader Eric Cantor, the up-and-coming Virginia Republican who lost a 2014 House primary. He was also a prominent Never Trumper, openly detailing how awful he found the 45th president. The cause Cooper has committed himself to for the past year, though, is closer to home. He is, as he puts it in his Twitter bio, "Apparently 'Mr. Open The Schools.'"
A father of a fifth grader, a second grader, and a kindergartner, Cooper is frustrated because the public schools in Fairfax, Virginia, where he lives, have not reopened. Fairfax, in the Washington, D.C., suburbs, is one of the school districts that has moved slowest toward in-person learning, and it's still not close: Only in the past few weeks have students started to return to classrooms, and only about half of those eligible have opted to go back, for an average of two days a week.
Cooper, a lifelong Republican, has noticed a funny thing about his tweets trashing Fairfax and other districts for their pandemic closures: Among the people liking them are chiefs of staff to Democratic senators and top aides at major progressive organizations. He sees this playing out in real life too, whenever he's at meetings in his neighborhood, where he hears how frustrated other residents in Democratic-leaning Fairfax are about the schools. Republicans in Congress have taken note: Tomorrow, Cooper will testify in front of the Senate Banking Committee at the invitation of Senator Pat Toomey of Pennsylvania, who asked him to speak about how President Joe Biden's stimulus plan will affect schools.
Especially with Donald Trump gone, Cooper would like to see Republicans win more elections, and he thinks Democrats who are angry about school closures could be the key. Democrats won in the 2018 midterm elections by turning the suburbs blue and driving up the vote count in cities. Republican gains in the House of Representatives in 2020 were almost all made by candidates who did better than Trump in suburbs and cities. As Republican and Democratic leaders plan for elections this year and next, these are exactly the voters they are chasing.
So, Cooper says, pay attention to his neighbors who had Biden lawn signs alongside signs demanding that Fairfax schools open.
"What Democrats have to worry about is: Are they going to start losing center-left suburban parents who are fed up with some of the special interests who help control Democratic politics?" Cooper told me this week, while his kids were finally, if only part-time, in school. He was trying not to get too angry about policies his children have told him about—for instance, they'd been told to stare straight ahead at their desks and not turn their heads toward one another while eating lunch.
Biden knows that parents' patience is almost gone. He knows that school-reopening questions will likely shape public opinion about his presidency, and will likely be a top concern for voters.
He also knows that he has very little control over whether schools reopen. Most of the key decisions are in the hands of governors, mayors, and teachers' unions. But Biden will get the blame—or the credit—anyway.
Biden's massive American Rescue Plan includes $130 billion to fund new programs and facilities for COVID-19 mitigation in schools, and the president is talking a lot about getting children back in their classrooms—including at the virtual education summit the White House is hosting today. The administration says its goal is to resume in-person learning for most students before the end of the academic year. Skeptics wonder whether the beginning of the next one is even a realistic goal.
The fight over school reopening is a mishmash of many other complex public-policy fights: over how to keep children safe, tackle inequality, support working parents, and protect public health. But a simple explanation exists for the nation's inconsistent mess of restrictions and procedures, Republicans argue: The chaos is the Democrats' fault. "We have kids who haven't been in school for a year because of politics—and that's unconscionable," Senator John Kennedy of Louisiana said at a press conference in the Capitol this week, "and I think President Biden can do something about it if he's willing to." Or as Dee Duncan, the president of the Republican State Leadership Committee, which works with GOP state officials across the country, put it in a statement, "Democrats spent all of 2020 saying we should base school reopenings on the science, but now they want to base them on the priorities of the teachers unions that fill their campaign coffers." Duncan added, "Democrats in key states need to answer for the irreparable harm they have already done to the academic, mental, and physical well-being of the kids they have kept from in-person learning."
The Biden administration, looking to show how seriously it is taking the situation, and well aware of the need to demonstrate that the president's policies can improve Americans' lives, had first lady Jill Biden—herself a community-college professor—accompany Miguel Cardona on his first trip as education secretary, to see schools operating in Connecticut and Pennsylvania. Randi Weingarten, the head of the American Federation of Teachers, joined them at their first stop.
Unions like Weingarten's have complicated reopenings, but Weingarten has been talking about finding a way to resume face-to-face instruction since a few weeks into the pandemic. In addition to her concern for children and their education, she has another reason to want classes to resume: If students start un-enrolling in public schools, that will mean job cuts for her members.
Weingarten told me that her top concern has always been what a return to almost-normal life would be like for students, and described her efforts to bring the various players together. "We need to make sure that kids have a safe and welcoming environment in schools," she said, adding that parents and students are going to feel safe only if teachers feel safe. Some local unions' actions—such as California teachers pushing to get priority in vaccinations without committing to returning to in-person teaching—have seemed to play into the worst caricatures of teachers' unions. But deals struck in districts such as Chicago and Philadelphia have given government officials, union leaders, and parents alike hope of broader progress.
Politicians were depicting teachers' unions as the enemy long before anyone heard of the coronavirus, Weingarten said: "It's duplicitous, it's hypocritical, but yes, it's their normal MO that they don't want working people to have real power in democracy; they don't like public education; they don't like unions." But the fact is that, in many places in America, local teachers' unions have been the most vocal opponents of reopening. I asked Weingarten whether she had conveyed to her members her own commitment to getting schools reopened. She cited a poll conducted in February in which 79 percent of members said remote education doesn't work as well as in-person learning, and 88 percent said they supported a plan for returning to schools that involves cleaning, testing, and mitigation.
"We very much believe that children need in-school learning, but it has to be safe in the middle of the pandemic," Weingarten said. "This is not a binary choice. This is not an 'either/or.' This is a 'both, and.'"
The first political gauge for how mad parents are about schools may come soon. In New York City, the school closures are becoming an issue in the Democratic primary for mayor, and the leading candidate (and former presidential candidate), Andrew Yang, is blaming the teachers' union for students not being in school. In May, Virginia Republicans will hold their (partially remote) state convention. Pete Snyder, who has the support of some of the more Trump-centric figures of the party in his run for governor, has made reopening his top issue; he has accused the Democrats in Richmond of doing long-term damage to children by not prioritizing their needs. (Any Republican will have a hard time winning the general election in Virginia, given the state's shift to the left over the past two decades.)
In California, Governor Gavin Newsom is already facing attacks from Republicans and a fellow Democrat as he heads into a recall election later this year. Meanwhile, New Jersey Governor Phil Murphy is trying to balance complicated state and local politics in the lead-up to his own reelection bid this fall. Murphy has already seen the effects of the Biden administration's national strategy for vaccine production and other pandemic-mitigation measures, he told me. Murphy isn't focused yet on his campaign or how this or other issues might play into it, he added, but he was proud to tick through the progress his state has made since the lockdown began. More than 900,000 of New Jersey's 1.3 million children are now participating in at least some form of in-person education, and Murphy hopes to get all students back to school in person, Monday through Friday, by September 1. For the interim, Murphy's administration has provided students with hundreds of thousands of computers for remote learning. (A year ago, 231,000 New Jersey students didn't have access to a computer. As of this month, that number is down to just 39 students statewide, according to the Murphy administration.)
But New Jersey also hosts some of the nation's most intractable fights over reopening—most notably in Montclair, in the northern part of the state, where teachers have gone to court to fight against returning to their classrooms.
Murphy is a father of four, with two children still in high school, so he said he feels the impact of the school-reopening battle at home. "Is your kids' education at or near the top of any mom or dad's list of things that are important to them in life? Absolutely. There's no two ways about that—and it's more so in the pandemic," he told me. He said he's confident he'll have good news by the fall. "Some states compete by having the lowest taxes. Some states compete by having no capacity limits in their restaurants or no requirements to wear face masks," he said. "We compete with the No. 1 public-education system in America, and we intend to keep it that way."
In the meantime, the standoffs around the country among politicians, parents, and teachers have the potential to fuel voter backlash. Parents who want their kids back in the classroom and on the playground are unlikely to be satisfied by the addition of critical race theory to curricula or the removal of Lincoln's and Washington's names from schools. Trump "spoke to" many Americans' anger about school closures, Cooper told me. It's not hard to see how Republicans other than Trump could capitalize on that anger.
The Biden administration's goal is to have the majority of K–8 students in at least some form of in-person school by the end of next month, Cardona told NBC News last week. Cooper isn't impressed. Everyone involved could do more if they wanted to, he said. The CDC's decision to reduce the six-foot social-distancing restriction in schools to three feet, which will facilitate having children in classrooms, is a change he was hoping for. (Weingarten says she's not yet ready to say that schools should accept that change.) But there's more to do. He has his own children on a waitlist for a Catholic school that has been open for months, and he said he would eagerly move his children there if given the chance. Weingarten's response on the CDC change, he told me, shows that "nothing's ever going to be good enough. They're only willing to listen to the science that allows them to give an excuse to the large districts, which remain closed."
"If Jill Biden, Randi Weingarten, and [CDC Director] Rochelle Walensky said tomorrow, 'Schools should open five days a week as soon as possible,' they would be open in a few weeks," Cooper said. "They have incredible power, yet they act powerless when they're asked for support."