The Window for D.C. Statehood Won't Be Open Forever
But Democrats are taking their time weighing their next move.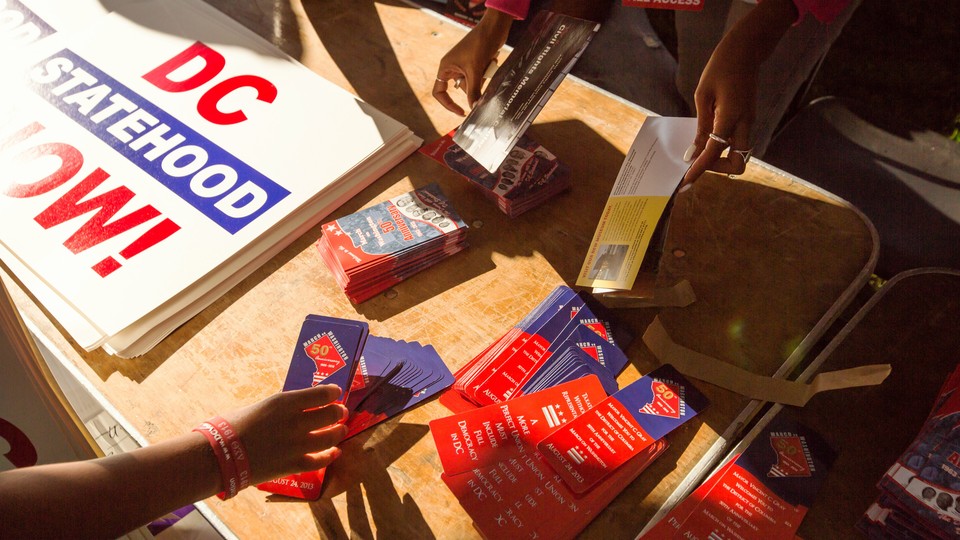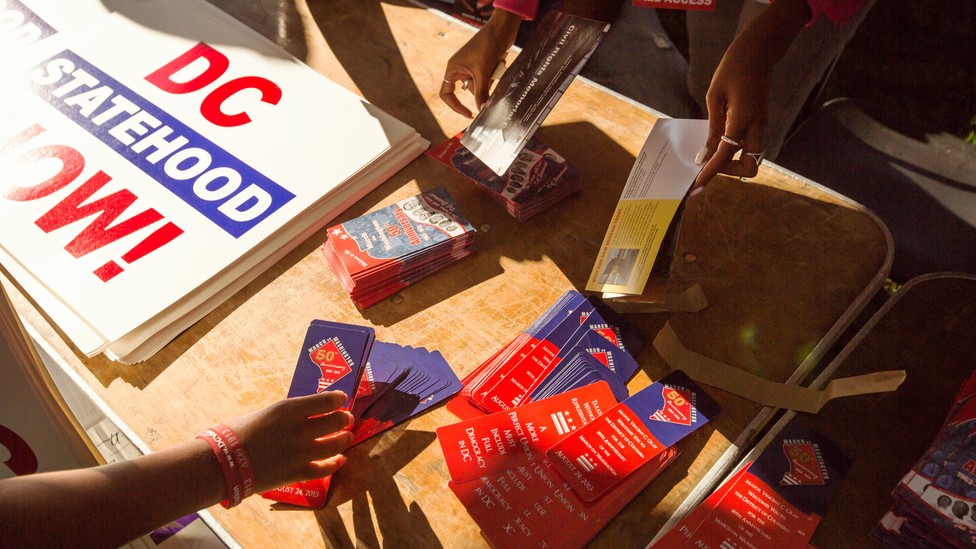 With one move, Democrats could reshape government and potentially lock in their majority in the Senate for years to come. Four of their own stand in the way.
The party may have just a few months to make it happen—but leaders in the House and Senate are taking their time and arguing about the details.
Advocates see statehood for Washington, D.C., as a moral issue, because it would give equal rights and representation to the residents of a city whose population is larger than that of three states. And they see it as a legal issue, because it would clarify the gray areas that result from the federal government's control over some municipal affairs. However, as has always been the case in establishing new states, the issue is almost completely consumed by politics, because what the statehood debate really comes down to is control of the Senate.
The biggest obstacle to D.C. statehood is the filibuster, the Senate's 60-vote threshold for passing most bills. Given D.C.'s history of voting with the Democratic Party, there's no way that 10 Senate Republicans would join the chamber's 50 Democrats to curb their own political power. But Republicans are only part of the problem. First, pro-statehood Democrats may have to convince four members of their caucus: Kyrsten Sinema and Mark Kelly of Arizona, Joe Manchin of West Virginia, and Angus King of Maine, an independent who votes with the Democrats on nearly everything. They are the only senators on the Democratic side who haven't already co-sponsored statehood legislation or indicated that they plan to.
Democrats know that they may struggle to maintain their majorities in the House and Senate in next year's midterm elections. That's one reason Washington Mayor Muriel Bowser has called for a statehood bill to be put on President Joe Biden's desk during his first 100 days in office.
That's why I was surprised that Eleanor Holmes Norton, Washington's longtime delegate to Congress and perhaps the biggest statehood booster around, told me she wants to proceed slowly. Norton, who doesn't get full voting rights in the chamber, said she's convinced that the Democrats are going to expand their majorities in the House and Senate in 2022. And she wants more time for statehood advocates to build up public support. She's worried that any vote will fail if Congress doesn't feel pressure from the American people, or if advocates force a vote ahead of clearer national priorities, such as COVID-19 relief. A setback like that, she fears, could end the momentum that's been steadily building for the 51st-state movement—so she wants Biden to stay away from statehood for now. "If he jumps D.C. statehood ahead of the two or three issues that have priority, people will think he's crazy," she said. "We're not ready to have him jump the issue on D.C. statehood yet. We have to do more homework in the Senate."
D.C. statehood was once the stuff of quirky license plates and not much else. Over the past decade, though, it's become a cause on lefty websites, a topic at liberal cocktail parties, and now a key goal of influential progressive groups such as Indivisible. Democrats have become more attracted to statehood as Senate representation has grown more wildly out of whack with the population. As of the 2020 election, 41 million more people lived in states represented by Democrats than by Republicans, despite the Senate's 50–50 split.
For years, the statehood movement was scattered. During the last Democratic primary, the best idea that advocates came up with was to send students to Iowa all through 2019 to bird-dog the candidates and try to get them on record in favor of statehood. (All of them voiced their support.) D.C.'s two shadow senators showed up in Des Moines a few days before the caucus, but without much of a plan besides sitting in a busy hotel lobby. When I asked Shadow Senator Michael Brown—who, like his colleague, Paul Strauss, has no vote in the Senate—what they were doing to press the statehood case, his answer was "Various events." He told me that part of the reason statehood hasn't happened yet is because most Americans assume that Washington, D.C., is already a state, a claim that seems hard to believe. ("When I travel around the country, they treat me like they would treat any other senator," he said. No, they don't, I replied. "They do! I went to Ohio and they had the governor at an event, and they said, 'We don't know who we should introduce first: you or the governor.'") The discussion was intriguing enough for me to turn on my recorder for a few minutes, but the two senators seemed so unclear about what they were up to that I didn't listen to the recording until I started working on this story a year later.
The statehood debate got a jolt last June. First, Donald Trump responded to the protests after George Floyd's death by effectively occupying the capital, sending unidentifiable federalized forces to patrol the streets. Then, toward the end of the month, a statehood bill passed the House with all but one Democratic vote (Collin Peterson of Minnesota) and no Republican support. Mitch McConnell, then the majority leader, refused to bring it to the Senate floor, but Republicans came out against it anyway. Senator Tom Cotton of Arkansas, who was fresh off proposing that Trump invoke the Insurrection Act to crush the nationwide protests, delivered a floor speech laying out a straight–from–The Onion argument for why small states should get full rights and D.C. should not. Wyoming, whose population is smaller than D.C.'s, "is a well-rounded working-class state," he said, noting that its top industries include mining and logging. Washington, D.C., meanwhile, is full of "bureaucrats and other white-collar professionals."
Other Republicans simply insisted that statehood is unconstitutional, or suggested that Washingtonians should agree to "retro-cession"—Maryland's reabsorption of the land it granted to establish the capital in 1790. That way, the Republican senators figure, D.C.'s votes would go toward two existing Senate seats that are already solidly Democratic.
Their arguments obscure a deeper truth that Republicans like to talk around: If they thought the GOP had any chance of winning D.C.'s prospective Senate seats, they'd be in favor of statehood. And if they thought they could appeal to the city's heavily Black electorate, they might think they had that chance. Throughout American history, new states have usually been added in pairs, from the Missouri Compromise in 1820 to the admission of Alaska and Hawaii in the 1950s. Slave state, free state; Republican state, Democratic state. If D.C. had a red counterpart—perhaps one of the nation's territories—statehood's prospects would probably be different. But the next-likeliest candidate for statehood is Puerto Rico—and although the island voted in favor of it in the November election, the margin was much smaller than in a comparable D.C. vote in 2016. Republicans wouldn't likely support statehood for the island, either: Although Puerto Rico has a strong GOP tradition, and its current delegate to Congress is a member of the party, many Republicans doubt they'd be able to count on winning Senate seats there anytime soon. (Some Puerto Ricans advocate instead for total independence, and several Democrats in Congress believe that should be considered.)
Still, the attention that D.C. statehood has gotten since the summer is working in advocates' favor, Norton told me. "What passage last year did was to break open what had been a very mixed picture," she said. Public support increased slightly at the time, and again after the insurrectionist riot at the U.S. Capitol in early January, when Maryland's governor had to wait for clearance from the White House before sending in the National Guard to help law enforcement, including city police officers. But support isn't high: Recent polls show that only about half the country backs making D.C. a state.
When I asked the White House about statehood this week, I couldn't get an answer about where the issue falls on the president's priority list, though aides did say that he's in favor of it. (Two notable signs of support: Susan Rice, Biden's domestic-policy adviser, wrote passionately in favor of statehood for her hometown after the Trump administration's response to the protests last summer, and Bowser has said that Biden expressed his support to her in a conversation during the transition.)
If Biden wants statehood, though, he'll have to deal with the filibuster first.
Some Democrats have explored a legislative end-run around the filibuster, arguing that it's only applicable to new laws, and statehood technically isn't a law. (They would push the bill through a legislative process called reconciliation, which requires just a simple-majority vote.) Adam Jentleson, a progressive operative who was schooled in the Senate's arcane rules when he worked as deputy chief of staff for former Majority Leader Harry Reid, told me he thinks this strategy would require contortionism on the part of the Senate parliamentarian—and thus is unlikely to happen. He's among the many Democrats who believe his party will get rid of the filibuster in response to Republican obstructionism. And, if it goes, he wants to see statehood addressed immediately: "If you're going to rectify one structural imbalance, you should rectify them all."
For now, statehood advocates' attention is on the Senate bill written by Tom Carper of Delaware—a longtime ally and friend of Biden—which continues to pick up co-sponsors. Carper isn't known for championing out-there causes, but staffers who lived in Washington convinced him to take up the issue in 2013, before it was cool. In conjunction with Norton's office, Carper aides have been examining the intricacies involved in remaking and rebranding D.C.: how to replace the many references to "the District of Columbia" in federal laws; how to transfer city functions currently taken care of by the federal government; and what to do about the D.C. National Guard. (Carper's bill would put the current troops under command of the president and create a new state guard.)
Carper aides, speaking on the condition of anonymity to discuss internal conversations, told me they expect the bill will be co-sponsored by every Democratic senator except for Sinema, Kelly, Manchin, and King. But the aides said they are not sure what exactly is stopping those four. (Some advocates also believe they may have a shot at winning support from Republican Senator Lisa Murkowski of Alaska, who's said that she would consider D.C. residents' support for statehood, and that she understands advocates' fairness argument because Alaska became a state when she was growing up. At the moment, this is like imagining that an ostrich will take flight just because it has wings and feathers.)
For now, how those four senators might vote is a mystery. Sinema has a personal rule against co-sponsoring bills with only Democratic sponsors, but would she vote yes if the bill came to the floor? Kelly, who just won a special election and will have to run again next year, has been sticking close to Sinema. But perhaps he could be wooed if statehood aligns with his agenda—in particular, if it could help Congress enact stricter gun laws in this country. (That issue has been Kelly's driving passion since his wife, former Representative Gabby Giffords, was shot in 2011.) Manchin seems to be using the filibuster as a shield to avoid taking a position—neither he nor Sinema wants to get rid of it. King, however, may be leaning yes. A letter he sent to a constituent last August who wrote him in favor of statehood has been circulating among advocates: "I also appreciate a number of recent events that have highlighted the city's desire to become a self-governing state, on equal footing with the 50 states," King wrote. "While I continue to review the bill's proposal in detail, I acknowledge the outcome of the District's 2016 referendum where residents voted to approve a proposal for statehood, and I fully support a chance for the bill to be debated on the floor of the U.S. Senate."
Of the four holdout senators' offices, only Manchin's responded when I asked about statehood—to say that he hasn't taken a position. His aides may be hoping to duck questions until they absolutely have to give an answer. If the legislation were to get to Biden's desk, though, statehood could happen very quickly: According to the bill's text, the mayor would issue a proclamation to elect senators and a House member within 30 days. Once those elections happen, the president would have 90 days to officially announce the results. And once that happened, the new legislators would get sworn in and D.C. would officially become the State of Washington, Douglass Commonwealth. The mayor would become the governor, everyone would have to sew another star onto their flags, and the politics of the country would never be the same.