Texas's Disaster Is Over. The Fallout Is Just Beginning.
Will Republican officials in the state pay a price for the recent blackouts?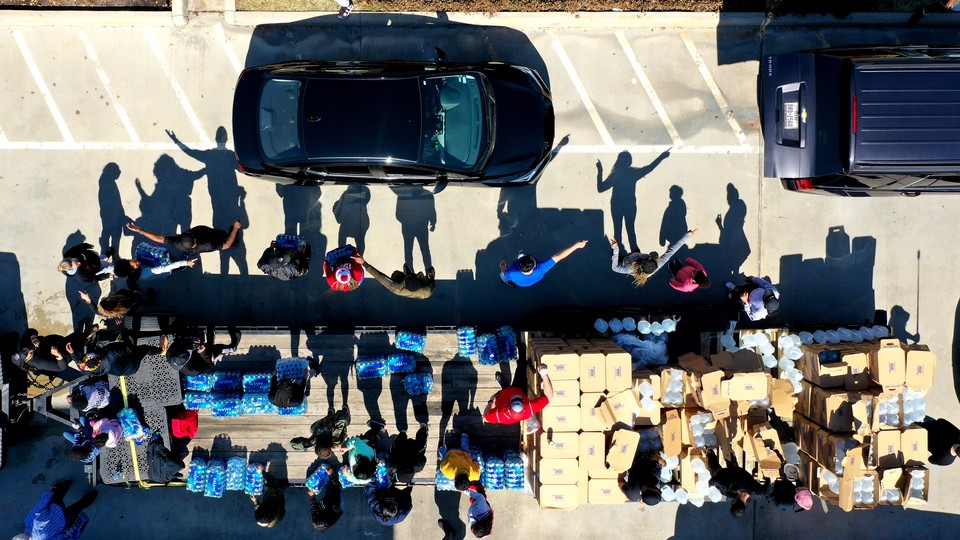 Updated on February 25, 2021 at 9:45 a.m. ET
Dozens of Texans are dead because of the state's energy crisis last week. Some froze in their bed or their living room. Others suffocated in their idling car, poisoned by carbon monoxide. A few perished in house fires while trying to keep their family warm. And millions spent days without heat or running water. Gaming out the electoral ramifications of an event when it's still causing pain may seem crass. But the politics of the energy crisis are inextricable from the event itself. Many Texans blame the collapse of the power grid—the impetus for all this suffering—on a lapse in state leadership. Will voters hold those leaders accountable next time they cast a ballot?
Assessing political liability for a natural disaster is tricky. Texas is still a Republican state. Despite Democrats' progress in recent elections, the power-grid collapse of 2021 is not likely to be the final push that turns the Lone Star State blue. But the specific circumstances of last week's catastrophe make predicting voter behavior more difficult than it might normally be. Political experts I spoke with were confident about at least one thing: The disaster will almost certainly inspire more Democrats to challenge the state's ruling party.
"If you ask who is going to win the governor's race in 2022, my answer is going to be the Republican," Dan Hopkins, a political-science professor at the University of Pennsylvania who studies political behavior, told me. "But events like this can inject uncertainty."
For more than a century, Texas's power grid has been separate from the rest of the country's, which allows it to avoid most federal oversight. Although this so-called energy independence has been a point of pride for many state Republicans, it's also why the grid failed: Leaders neglected to fully prepare the grid for a bad storm. When Texans cranked up their heaters last week, ice-covered power plants couldn't meet their demand, natural-gas wells and wind turbines similarly became unusable, and grid managers had no way to pull in additional electricity from beyond the state's borders. The result was days-long blackouts across Texas.*
State Democrats clearly view this moment as a reckoning—and as an opportunity. They're trying to convince Texans that the disaster was the inevitable outcome of decades-long Republican control, and they're already planning to mobilize voters on the issue ahead of the midterm elections.

Voters' political memories are usually very short: Although it will be difficult for Texans to forget the 96 hours they spent shivering in their homes, time heals most wounds, and especially political ones. The next elections are in November 2022—more than a year away. Republican Senator Ted Cruz, who drew public ridicule after he jetted off to Mexico when the blackouts hit, isn't up for reelection until 2024. Two Novembers from now, the odds will be against Democrats in another way too: Midterm elections in a country with a sitting Democratic president will probably mobilize more conservative voters than liberal ones.
But the Texas energy emergency isn't like other crises. In most cases, natural disasters such as a major winter storm "offer an opportunity for politicians to show what they've got," says Andrew Reeves, one of the authors of a 2011 study assessing how election outcomes are impacted by weather events. An incumbent governor, for example, might temporarily lose his standing with his constituents just by the simple fact of a tornado damaging miles of property in his state. But that disapproval can turn into support if voters see the governor making an effort to respond with care and competence.
In Texas, however, a series of political decisions, not a random act of nature, catalyzed the catastrophe. "Voters are more justified in linking up this phenomenon that happened in the natural world to the governor and other elected officials," Reeves, a political-science professor at Washington University in St. Louis, told me. In other words, incumbent Republicans in Texas, even if they're active in recovery efforts, might not have the same level of protection as the politicians Reeves studied.

That vulnerability is where the Democratic Party comes in. One of the biggest challenges Texas Democrats face is recruiting enough qualified candidates to compete for major offices, Joshua Blank, the research director at the Texas Politics Project, a research and polling program housed at the University of Texas at Austin, told me. But "an event like this makes it more likely that high-quality Democratic candidates who may have been more reticent to run in an off-year [election] might take the plunge," he said. Campaign filing deadlines for the midterms are coming up this year, and an increase in Democratic candidates could be the first sign of the political ramifications of this crisis.
Republican Governor Greg Abbott, in office since 2015, is the clearest target for political retribution. Abbott himself appointed the three members of the Public Utility Commission of Texas, which regulates the Texas grid. Among its other failures, the commission did not mandate winterization standards for the grid even after a similar storm left Texans without power in 2011. "It's true that [Abbott] is one step removed" from the commission, says J. R. DeShazo, the vice chair of the public-policy department at UCLA's Luskin School of Public Affairs, who has researched energy policy and regulatory reform. But he's still on the hook: "Just like any other agency failure, the chief executive was responsible for the appointments."
If Abbott is thrown out after his next reelection race, in 2022, it wouldn't be the first time that voters have ejected a governor who oversaw a mismanaged energy grid. From 2000 to 2001, under the leadership of Democratic Governor Gray Davis, California experienced an energy crisis that caused multiple large-scale blackouts for millions of people. Although Davis was reelected in 2002, Californians booted him in a recall election the following year—an outcome rooted in voters' lingering anger over his response to the crisis. The California disaster is not a perfect analogue: Davis had presided over a major state budget crisis too, and he was already a deeply unpopular politician. Abbott has been generally well liked during his years in office. But his approval rating has been lower than usual recently, due to his handling of the pandemic, so his actions in the coming weeks, as Texas rebuilds, could be key to his political future. "During these rare moments when people pay attention to politics, narratives can solidify around a politician and dog him or her" for a very long time, Hopkins, the University of Pennsylvania professor, said.
Texans are still suffering. They will spend the next few days and weeks repatching their roofs, repairing their cracked pipes, and reflooring their homes. Some will deliver eulogies and bury dead family members. The political fallout will come later, if it comes at all.
---
*This article previously misstated that the rolling blackouts in Amarillo were affiliated with ERCOT's failure.