What Does This Man Know That Other Democrats Don't?
Governor Roy Cooper's winning streak in North Carolina may be hard for purple- or red-state leaders to replicate.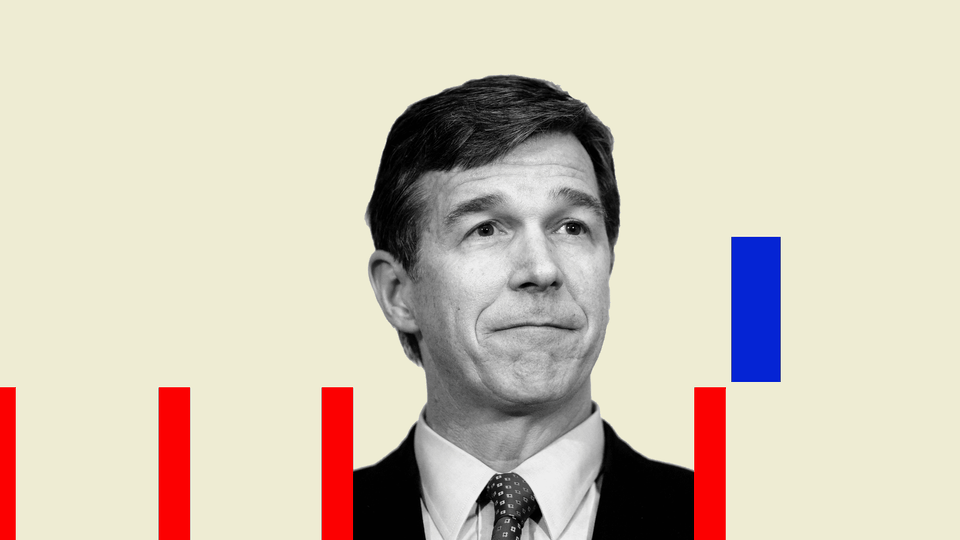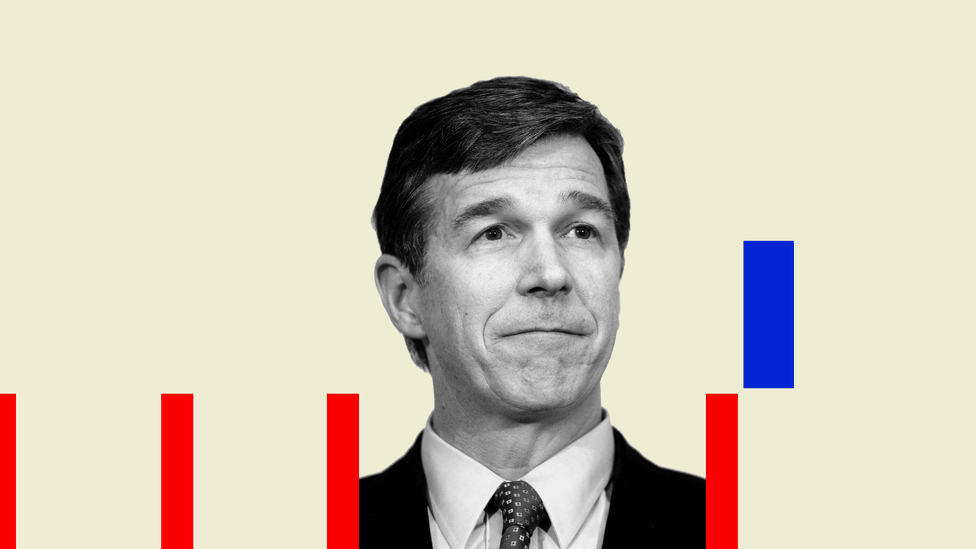 Governor Roy Cooper doesn't know why he keeps winning in North Carolina while other Democrats keep losing.
"I wish there was a secret that I could tell you," he told me a few weeks ago on a Zoom call from the governor's mansion. "I'm not sure that there is. If I had the secret, I'd be out there holding seminars."
In 2016, North Carolina Democrats went into Election Day thinking they could sweep the competitive races for president, Senate, and governor. Only Cooper won. In 2020, the dynamic was the same: three marquee races, and only Cooper pulled it off. Ever since Barack Obama carried the state in 2008, Democrats have predicted that North Carolina will be the next Virginia—that it will rapidly turn blue like its neighbor because of changing demographics, including an influx of college-educated voters to the Research Triangle. But at least in terms of election results, North Carolina is still a red state—it just has a Cooper-blue blotch on its record.
Figuring out why Cooper keeps winning could have potentially huge implications for determining whether he's a fluke or a model for Democrats across the South and in other red states. Cooper's races never became national Democratic causes. He has set no major fundraising records. He's not an otherworldly political talent. And yet his success is already a source of chatter among some political obsessives gaming out the 2024 presidential ticket. Cooper, they told me, could offer a compelling balance to Vice President Kamala Harris as the white male Democratic governor of an important swing state. (Allies of President Joe Biden say he'll run for a second term, but he'll be 82 years old by then.)
In the meantime, the seminars on Cooper's secret have started without him. In late November, the Democratic Governors Association convened a call with political aides to incumbent governors up for reelection next year; many of them are in red or purple states and had watched Cooper's race for pointers.
The presentation wasn't a dissection of the electorate that revealed the North Carolina team's genius. Instead, DGA operatives offered mundane tips. One piece of advice: Make sure voters can see you running a competent and effective government. Amid the pandemic, for example, Cooper took a low-key approach to issuing safety restrictions, calmly explaining the moves during press conferences while avoiding scraps with the Trump White House or other drama. He didn't try to mimic New York Governor Andrew Cuomo, whose daily televised briefings fluctuated between sitcom and soap opera, and led to accusations that Cuomo was more focused on public relations than pandemic administration.
But the secret to Cooper's victories may be hard to replicate—a lot of it may have to do with Cooper himself.
The governor is 16–0 in primary and general elections over the past three and a half decades—in good years and bad years for Democrats, in the North Carolina of his youth and in the very different place his state has become. He moved up through state government as if he were climbing the corporate ladder: state general assemblyman, state senator, state-Senate majority leader, attorney general, and now governor. No governor in America has a winning streak like Cooper's, and few current statewide officials in the country can match it. His career is defined by caution and a savvy sense of the political moment: For example, he twice turned down running for Congress in midterm years that turned out to be massacres for Democrats (once in 1994 and again in 2010).
"The mythology around Cooper [is] that he is some sort of political unicorn and genius, while discounting the impact of the circumstances," Jim Blaine, a longtime aide in the state legislature and now a top Republican consultant in North Carolina, told me. "He is an astute, careful, and talented politician who has had the most valuable thing in politics, and that is absolutely impeccable timing." (It's worth noting that another Democrat, Cal Cunningham, may well have won the Senate race last year in North Carolina if he hadn't been caught in a sexting scandal with a political consultant.)
Even Cooper told me he struggles to understand how, between the 2016 and 2020 campaigns, tens of thousands of people voted for him to be governor and for Donald Trump to be president. "People do tell me that they don't agree with me quite a bit of [the time], but they think I'm coming at it in the right way," Cooper said. "They believe I'm doing what I think is right, and that matters to them."
Polling data reflect those anecdotes. "His job-performance numbers were always higher than his vote share, so even people who weren't voting for him thought he was doing a good job and was fighting for the right things and had the right priorities," says Marshall Cohen, the DGA's political director, who reviewed polling on Cooper over the course of the 2020 campaign.
Some of Cooper's success, he knows, is rooted in his identity as a white man. That may have enabled him to hold on to moderate voters last year who might otherwise have been scared off by trends among Democrats nationally. Cooper, for example, wasn't tied to progressive causes like the "Defund the police" movement. By contrast, Jaime Harrison, a 44-year-old Black Democrat who ran against Republican Senator Lindsey Graham in South Carolina, was tagged with that cause—which frustrated him, he told me, because he repeatedly distanced himself from it.
"Racism exists at all different levels in our society," Cooper told me. "It would probably be easier for me to be way out there on [issues of race and racial disparity] than Jaime, because of the racism that exists out there." Voters may have been "thinking that he may be a certain way because of his race and thinking that I may be a certain variety because of my race."
Another factor that may have helped Cooper: From the beginning of his first term as governor, he's built up his own fundraising apparatus, which means he didn't have to rely on outside groups to support his reelection and could shape his own public image. Meanwhile, he also established (and largely funded) a political operation through the state Democratic Party that recruited and supported other candidates around North Carolina. Those allies helped him break the legislature's Republican supermajority—which, in his first two years as governor, had the power to override his vetoes—and gave him centers of political support around the state.
Then there's Cooper's aggressive messaging: The governor devoted much of the last campaign to ripping into his Republican opponent, Dan Forest, especially Forest's opposition to mask wearing and other COVID-19 restrictions. Cooper and his aides have become famous in Democratic circles for heavily investing in opposition research on Cooper himself—so much so that they record in advance responses to a range of potential attacks. Many of these campaign ads never air, but are ready to go if need be, usually with Cooper speaking directly to the camera.
In last year's election, for example, aides told me Cooper knew he'd likely be slammed for vetoing a bill that would have required local sheriffs to turn over undocumented arrestees to federal immigration authorities. So he recorded an ad explaining that he thought the measure was unconstitutional and would cost the state money. The ad tested well with focus groups, so the campaign ran with it—while responding with their own heavily negative ads attacking Forest on several issues. Cooper's view on going negative: "I think it's important to be up front with where you differ with your opponent and be ready to take that on." One of his political aides was more direct about their approach: "You may score, but you're going to get bloodied."
Now, Cooper says, he wants to put the 2020 election behind him. The legislative session started last week in Raleigh. At least initially, Cooper and the Republican leadership are going through the motions of working together—the Republican state-Senate leader and the governor have probably spoken more since Election Day than they had in the previous year, aides for both men told me. One Republican aide joked to me that maybe this is North Carolina's own "Era of Good Feelings." Republican leaders sidestepped my attempts to get them to share private criticism of Cooper. But few expect the good feelings to last, especially as next year's elections get closer, including the race for the retiring Republican Richard Burr's Senate seat. Cooper told me, as he's told others, that he isn't interested in running for that seat—in part because he doesn't want to embark on another campaign so quickly, and in part because he wouldn't want to relinquish his post to the hard-line Republican lieutenant governor, Mark Robinson. (The two offices are elected separately in North Carolina.)
Years of Republican victories have decimated the state's Democratic bench. But because the Senate race will be open, it's more winnable for Democrats, especially as demographics continue to change, Cooper told me. Democrats can win "if we look for people that exude confidence and trust and a work ethic—I know that sounds trite, but it really is true," he said. "Trying to convince somebody like that to get into the political arena these days is harder and harder because of what you have to put up with."
Cooper demurred when I asked him about his own prospects, and whether a Harris-Cooper ticket is in the country's future. He pointed out that his relationship with Harris dates back to when they were both state attorneys general working on a multistate mortgage settlement following the last financial crisis. "She knows what it's like to hold a state office. I think that that's very relatable to us as governors. And I look forward to continuing that relationship with her," he said. "It'll be very positive."
Despite his long career, Cooper hasn't had a signature issue as governor, due to his own political caution and to Republican control of the legislature. ("He has a hill of a brand, not a mountain of a brand. The path that he has taken has protected that hill," Blaine told me.) He's talked about raising teacher pay, expanding Medicaid, and changing the corporate tax structure, but he hasn't done any of that. Cooper told me he sees his second term as offering "opportunity in crisis." He's long wanted to expand rural broadband; now, with voters relying more on remote learning and telehealth, public support might be on his side. The same goes for expanding workforce training and health-care coverage: With the pandemic leading to significant job losses—and the loss of employer-sponsored insurance coverage—he thinks he has a bigger opening to expand state efforts than he did during his first term.
And he'll be doing something close to those seminars for fellow Democrats in his new role as DGA chair. He wants Democrats to support next year's gubernatorial races in battleground states like Arizona, Georgia, Wisconsin, Pennsylvania, Michigan, and Ohio in a way they never have before. Even high-profile candidates like Georgia's Stacey Abrams (who is expected to run again) haven't attracted the same attention that Senate candidates regularly do.
Even with Washington under full Democratic control, winning more governor's races is crucial for the party, Cooper said. "When you consider the makeup of the U.S. Supreme Court now and how a number of federal protections in women's health, in voter rights, in environmental protection ... now may fall on the states, the kind of governor that each state elects can really dictate basic freedoms and liberties for people like we've never seen before," he told me. "This pandemic just put the importance of this office into focus for me."