The Hole Where Donald Trump Was
How are Trump watchers dealing with a Trumpless reality? Pretty well.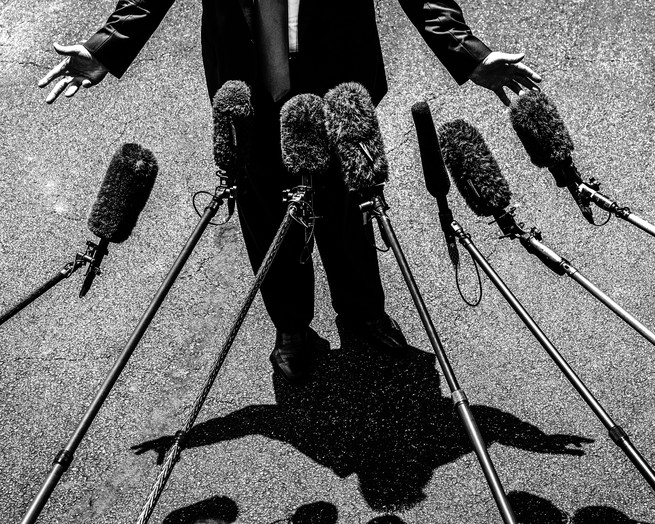 A former president who once shared every trivial peeve, any unformed thought, is suddenly sharing nothing at all. That can be pretty disorienting for anyone who's sunk mental energy into the man now living in silent exile. A loose collection of consultants, fact-checkers, academics, and voters who couldn't look away for professional or personal reasons is now acclimating to the new, Trumpless reality. They're going for long walks and sleeping through the night. They can look at their phone without dreading that he may have shattered an alliance or provoked a war.
"I feel I've been released from a hostage situation," Sheri Berman, a political-science professor at Barnard College who studies democracies and has written about Donald Trump, told me. "I've really enjoyed spending a lot of time on Bernie [Sanders] memes and obsessing about GameStop rather than Donald Trump."
Matt Gertz, a senior fellow at the liberal watchdog group Media Matters for America, led a life that in some ways paralleled that of the 45th president. By tracking Trump's tweets and matching them to Fox News segments, he showed the degree to which Trump's thinking is shaped by conservative television news.
That called for thoroughly inhabiting the former president's world. When Trump tweeted, Gertz would get instantaneous alerts. "I would be with other people and I'd instantly pull out my phone," Gertz told me. "They would shrug and sigh and say, 'What did he do this time?'" Then Gertz would have to scrounge through Fox broadcasts to see what Trump might have been watching that set him off. "That became the day-to-day routine," Gertz said. "He was watching Fox News while sitting in front of the television and tweeting about it. And I was watching Fox News while sitting in front of the television and tweeting about him tweeting about it."
Is there a hole in your life now? I asked. An emptiness with Trump gone? "No," he said. "It's great. I wake up. I go out for a walk with my family. I don't need to worry that the president is going to tweet something and I need to rush back to my house."
Trump will be back, of course. This week, the Senate will hold an impeachment trial over his role in the Capitol insurrection. Even if he doesn't speak publicly, he'll be thrust back into the national spotlight. What's more, Trumpism seems to be metastasizing. A band of congressional acolytes is the newest avatar for the conspiracism and grievance that fueled Trump's movement. "Yes, he's not on Twitter and that makes a difference," Sarah Longwell, the founder of the Republican Accountability Project and an ardent Trump critic, told me. "But he has all these mini-me's—the craziness is still there."
Trump's successor likely isn't sorry to see him sidelined. At a news briefing last week, Joe Biden's press secretary, Jen Psaki, got a question about whether the work goes more smoothly when Trump stays mute. "This may be hard to believe: We don't spend a lot of time talking about or thinking about President Trump here—former President Trump, to be very clear," Psaki replied.
Former president. The idea still takes some getting used to. Len Fonte, a playwright and theater critic in the Syracuse, New York, area, described Trump as "an addiction even for those of us who can't stand him." In the mornings, Fonte said, he would "rush to the television to hear [MSNBC's] Joe Scarborough screaming about him. I had to start weaning myself away from all that." For a respite, he would turn to The Great British Baking Show, just so he could focus on something more benign. (A disclaimer: My wife has me watching the same show and an episode featuring a tart-making competition was indeed a mind-clearing diversion.)
For those whose work routine centered around Trump, the void he's left is even more jarring. Mike Elgan, a tech writer, estimates that he's sent thousands of tweets over the years in response to Trump's feed. One goal was to send them out quickly—within seconds of Trump tweeting—in the hope that Trump supporters would read them and be swayed by whatever counterargument he was offering.
Trump "was just a massive time and energy suck on so many people—including myself," Elgan told me. "I was just thrilled when they tossed him off" Twitter. Does he think his writings had any influence on Trump voters? "One of the stressful things about this was I felt like I had no effect on his followers," Elgan said. "They felt just perfectly impenetrable and immune to argumentation."
With Trump in power, Nick Shapiro lived on a hair trigger. He runs a crisis-management shop in San Francisco called 10th Avenue Consulting, and he had to prep for scenarios he had once considered utterly implausible. At any time, for any reason, the leader of the free world might pick a fight with an American citizen or company. One of his services was to gird clients, such as the former CIA director and Trump foil John Brennan, for instances when "Trump irrationally tweets against you and then, suddenly, you have the MAGA crowd bearing down on you," he told me. No longer does Shapiro, a former Obama-administration official, need to puzzle through a possible response. "I don't know any client worried about President Biden rage-tweeting about them," he said. With Trump, "you started your day with him and ended your day with him, and in between you had to continue to monitor what he was doing."
When Trump is an hour-by-hour preoccupation, he shuts off possibilities for more constructive work. Angie Drobnic Holan is the editor in chief of PolitiFact, a national fact-checking website that found Trump made scores of "Pants on Fire" falsehoods throughout the years. With Biden envisaging a full legislative agenda, she expects that her staff of 15 will devote more time to the debates unfolding on Capitol Hill. "One of the fundamentals of misinformation is it distracts from productive conversation," Holan told me. "We would be fact-checking misinformation that started on the internet, then aired on Fox News, and then got repeated by Trump, instead of a debate on public policy that might result in legislation that would help somebody.
"Exhausting doesn't do the past four years justice," Holan added. "I'm trying to think of a more tiring word."
Relieved as they may be now, the Trump watchers are under no illusion that he's going away entirely. Maybe he'll resurface as soon as the impeachment trial, or next year during the midterm elections. Or maybe he'll run for president in 2024 and once again monopolize the country's attention. Perhaps he'll simply get bored and resume phoning in to Hannity.
Around 3:30 a.m. on Inauguration Day, Fonte woke up and checked his phone. No headlines to worry about. "Oh my God," he thought. "Trump's gone. And I can sleep." For how long is anyone's guess. "The monster is still in the closet," he said. "It's just that he's not coming out tonight."