Newtown's Congresswoman Takes on Marjorie Taylor Greene
Representative Jahana Hayes is leading a push to kick Greene off of the House Education Committee. Should Greene be expelled from the House entirely?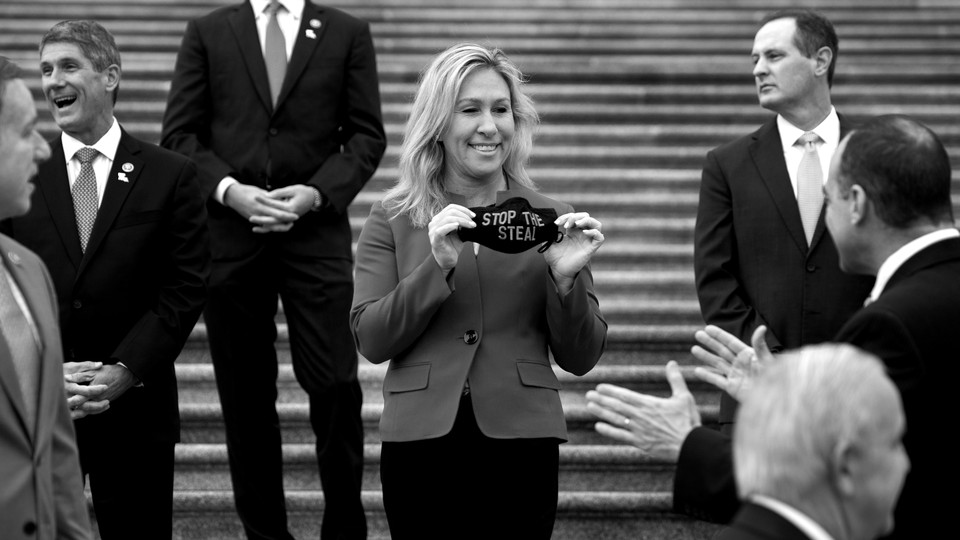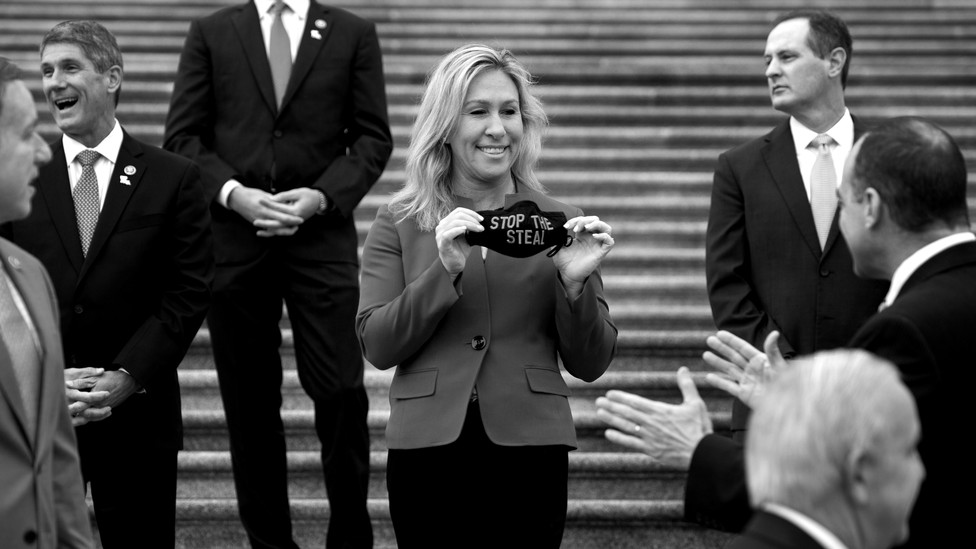 Jahana Hayes stood before her history class at John F. Kennedy High School in Waterbury, Connecticut, trying to assuage her students' fears. Someone had started shooting at an elementary school 18 miles away; Hayes's students were scrolling through texts and social media, trying to understand what was going on. She tried to keep everyone calm—to put the students first—even as she was still processing what was happening.
Just after 9:30 a.m. on December 14, 2012, a 20-year-old man armed with a semiautomatic rifle and 10 30-round magazines blasted the glass panels near the front door at Sandy Hook Elementary School in Newtown. A fourth grader heard someone say, "Put your hands up!" before someone else yelled, "Don't shoot!"  Before the rampage was over, the gunman had killed 20 children and six staff members. One child, a six-year-old, survived the massacre by playing dead in the corner of her class's bathroom.
Now Hayes is in Congress, representing Connecticut's Fifth district, which includes Newtown, and she's trying to hold one of her colleagues, Marjorie Taylor Greene, the newly elected Republican representative from Georgia, accountable for claiming that the massacre was staged as part of an elaborate government scheme to chip away at Americans' constitutional rights.
On Friday, Hayes spoke with parents who had lost their children that day in December. "They couldn't even find the words to articulate it. It just felt like a complete betrayal," Hayes told me. What the parents are upset about—what Hayes is upset about—is House Minority Leader Kevin McCarthy's decision to assign Greene to the House Education and Labor Committee. The parents, Hayes said, do not have any confidence  "in us as a legislative body to protect other people's children."
Hayes has been leading a push by Democrats to kick Greene off the education committee as well as the budget committee (the other assignment McCarthy gave her). The effort picked up momentum after news reports drew attention to social-media posts that Greene had made before she was elected. In addition to spreading conspiracy theories about Newtown, Greene had berated a Parkland shooting survivor, tacitly supported executing prominent Democrats, and advanced the lie that a Jewish cabal had started the 2018 California wildfires with a space laser.
Late last week, Hayes circulated a letter, which was sent to top House Republicans, demanding that Greene not be seated on either committee. "Representative Greene, who has shown such a heinous and wanton disregard for school safety, student trauma, and ultimately, the truth, has proven that she cannot be expected to engage in good faith discussions of policy," Hayes wrote. On Monday, following days of  inaction from Republicans, she and two other Democrats introduced a resolution to strip Greene of the assignments. The House Rules Committee will meet today to take up the resolution. Greene's office did not respond to a request for comment on whether she will testify, but if a majority of the committee votes in favor of the resolution, it will go to the full House, where it is expected to pass as early as this week.
The Democrats' threat is both real—a majority of Democrats support the resolution—and a form of pressure on McCarthy to rescind the assignments. He has done so once before: In 2019 he stripped Representative Steve King of his committee assignments after King's remarks in support of white supremacy became a liability for the party. So far, McCarthy has shied away from explicitly condemning Greene—even though his counterpart on the Senate, Mitch McConnell, recently blasted the freshman lawmaker without naming her. When asked about Greene's social-media posts, a McCarthy spokesperson told me, "These comments are deeply disturbing, and Leader McCarthy plans to have a conversation with the congresswoman about them."
"I'm going to need more than a conversation," Hayes told me. "For him to just say he's going to have a conversation to try to sweep it under the rug is a complete abdication of their responsibility."
Democrats have another option that would render the conversation about committee assignments null: expelling Greene from Congress. But Hayes is wary of that step. "I'm really trying to [be] respectful of the fact that she is the person that the people of Georgia sent to Congress," she said. As Hayes and the Democrats are undoubtedly aware, the House has removed only five members in its entire history—the majority of whom were expelled for disloyalty to the Union by fighting for the Confederacy.
If the Democrats succeed in forcing Greene off both committees but decide not to expel her from Congress, she will remain an embarrassment that they can continue to hang on the Republicans. But for Greene, who has shown no indication that she is in Congress to make policy, keeping her job will allow her continued legitimacy. Her campaign was built around her support of former President Donald Trump, and since arriving in Congress, she has focused almost all of her energies on being a provocateur. Committees may be just an afterthought to her. In her brief time in Congress, she has been the lead sponsor of only one bill: a resolution to impeach President Joe Biden.